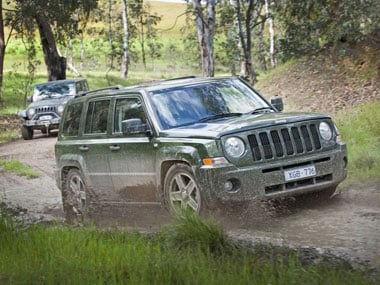 There's an air of optimism at Chrysler NZ, and no wonder. Production has restarted and its relationship with the mighty Fiat empire should ensure a rosy future – provided it has the right product.
The face-lifted Patriot and Wrangler say it has. Wrangler delivers more of the same rough-tough bush-bashing that built the brand's image, while Patriot takes that image to the real world.
And to real-world budgets, for this rather tasty family-crossover SUV-wagon is priced below all three best-sellers in this bracket, the Toyota RAV4, Hyundai Tucson, and Mitsubishi Outlander.
Our launch drive came in Australia, in increasingly wet and sloppy conditions. Not surprisingly Wrangler was in its element during our off-roading stints. But it disappointed on road, where it frankly feels too tuff-truck to cut the daily-drive mustard.
Patriot was certainly at home on road, with compliant ride and reasonable handling for a soft-roading SUV. But as we discovered, it also does a decent job of slippery going.
That's down to the very clever 'Freedom Drive' which transfers urge to any wheel with grip. Three tyres can spin, but as long as one isn't you'll move forward. Which was fortunate, for in places the clay roads we traversed were as slippery as only sloppily wet clay can be. We were on road tyres, and yet we all got through without drama, though things certainly felt dramatic at times.
Patriot even tackled most of our off-road course, only the steepest climbs and more extreme ditches and lumps requiring a detour.
Owners are unlikely ever to challenge the Patriot as we did – but they could, thus justifying this family wagon's rugged looks.
It's good news inside, too. If initial impressions are anything to go by, the redesigned interior is less fussy and better built than before. The new dark colour scheme looks smart, Jeep has replaced the hard plastics with soft-touch surfaces, the ergonomics are good and the Stain Repel seats sufficiently comfy for a long day in the saddle.
The rethink to the boot is practical too, the default surface now carpet, with the floor reversing to a wipe-clean plastic with a raised surround to keep messy detritus from marking the car's trim.
Meanwhile the Patriot also features such expected items as air conditioning, cruise control, and four airbags (add two more for $750), plus a few surprises like that pop-out rechargeable torch. The Limited adds a six-disc CD stacker, leather seats and brightwork details, while cost-extra supplementary packs include such goodies as hands-free Bluetooth, a nine speaker Boston acoustics sound system with two flip-down tailgate speakers, and satellite navigation.
NZ gets the same 2.4-litre, 125kW, 250Nm petrol engine as before, mated to a CVT auto. Thirst is claimed at 9.1l/100km – achievable, if our launch drive is anything to go by.
Jeep has been a bit of a two-trick pony in the past, with Cherokee and Wrangler hogging attention. But Wrangler extracts a lot of everyday, real-world compromises for its undoubted off-road appeal while Cherokee is pricey.
The Patriot name may be overly jingoist for NZ tastes, but the car itself offers real world soft-roading family motoring with a hefty dollop of design character to rival the bland mainstream, at a mainstream price.