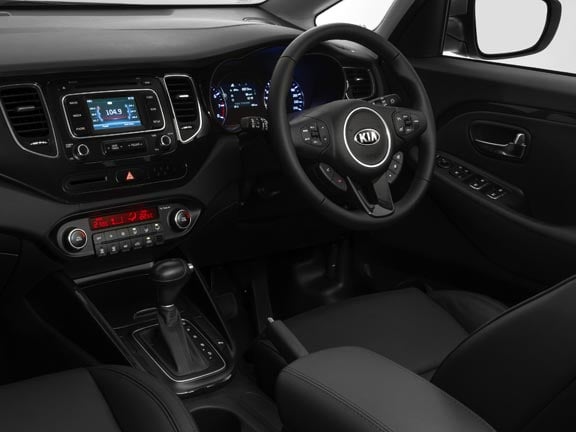 Base price: $37,990.
Powertrain and performance: 2.0-litre petrol four, 122kW/213Nm, 6-speed automatic, front-drive, Combined economy 7.9 litres per 100km.
Vital statistics: 4525mm long, 1805mm high, kerb weight 1589kg, luggage capacity 492 litres, fuel tank 58 litres, 17-inch alloy wheels.
We like: Style, versatility, build quality.
We don't like: Uninspiring powertrain, dynamically interior to smaller Cerato.
How it rates: 7/10
WHAT DO I NEED TO KNOW?
The people mover, or Multi Purpose Vehicle (MPV), is an astonishingly popular genre in Europe. These vehicles, with long wheelbases, monoform body shapes and flexible seating configurations (often with six or more chairs), are seen as the ideal blend of family and recreation transport. They are also seen as being rather cool.
In New Zealand, MPVs are seen as evidence that you've given up on life: that you have nothing more to do with your day than the school and supermarket run. That's a shame but it's also a fact, which is why any company with an MPV-type product to sell will go to any lengths to avoid calling it one.
Kia's new Carens is classic-MPV any way you look at it: a longer wheelbase than the Cerato on which it is based, a one-and-a-bit-box profile, three rows of seating and chairs that fold for versatile combinations of passenger and cargo space.
Nonetheless, Kia New Zealand insists it's more of a spacious wagon – a larger Cerato (although the factory will not allow it to be called that) with a generous boot that just happens to have two occasional seats concealed underneath.
WHAT'S IT LIKE TO DRIVE?
Like a slightly larger, slightly heavier Cerato. So really quite good.
The Carens is no ball of fire, but the 2.0-litre powertrain provides good performance and while the handling is not as crisp as a Cerato hatchback, the 50mm-longer wheelbase improves the ride. So there's some acceptable opportunity cost in terms of dynamics and a bit of a boost in comfort.
IS IT EASY TO LIVE WITH?
Well, that's the whole: ease of use. The seating is arranged is 2-3-2 configuration and while none of the chairs can actually be removed, six of them fold flat to provide a relatively flat load space. Six? Yes, the front passenger seat as well, meaning extra-long items (surf, anyone) can slide in with ease. The rear tonneau cover has its own little storage knook under the cargo floor, so you don't have to leave it at home if you have a full load on board.
Kia's point is taken about the third row being strictly occasional: the seats themselves are tiny and will only accommodate an adult for short trips, especially when access is a little tricky.
The Carens is packed with clever MPV-like features inside: a cooled eight-litre glovebox, massive centre-storage bin in the console, under-floor compartments, fold-up tables for the rear seats, rear ventilation outlets – you get the picture. It's all about people.
SHOULD I BUY ONE?
While the Carens certainly has the Cerato family look (no bad thing, by the way), there's no mistaking it for a small station wagon. For a start, it's quite large. But it's also clearly designed to an MPV template, so let's just accept that and enjoy the results.
It's hard not to be impressed by Carens in an MPV context. It's good-looking, well-made and pretty useful. At $37,990, something of a metal-for-your-money bargain as well.
EQUIPMENT CHECKLIST
Air conditioning: Dual climate
Audio: CD, iPod compatible
Automatic lights/wipers: Yes/yes
Blind spot warning: No
Bluetooth: Yes
Cruise control: Yes
Driver footrest: Yes
Gas discharge headlights: No
Head-up display: No
Heated/ventilated seats: No
Keyless entry/start: Yes/Yes
Lane guidance: No
Leather upholstery: Yes
Parking radar: Yes with camera
Power boot or tailgate: No
Power seat adjustment/memory: Yes/No
Remote audio controls: Yes
Satellite navigation: No
Seat height adjustment: Yes
Self-parking technology: No
Split/folding rear seats: 40/20/40 second row, 50/50 third row
Steering reach adjustment: Yes
Stop-start: No
Trip computer: Yes
Find a Kia Carens HERE