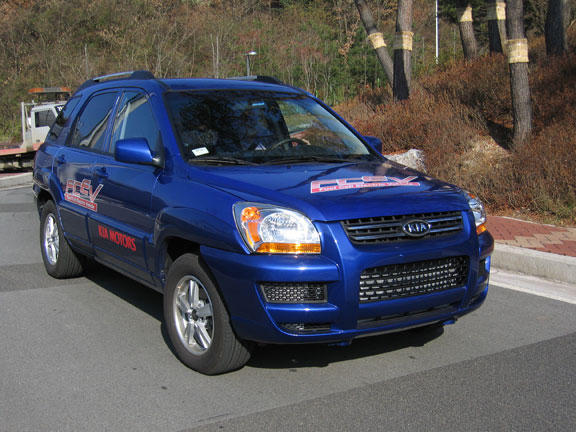 Japanese cars were once the poor relations of the motoring world. Then it was the Koreans. But Hyundai and Kia have rather blown that idea into the weeds.
Of course Kia has been something of a quiet achiever in New Zealand. Its last Sportage did well, but the rest wasn't worth buying for anything other than price. Yet the recent line-up has impressed, and judging by the latest crop of show concepts there's more, and more exciting, to come.
Those show concepts come courtesy of the company's new design chief, Peter Schreyer.
The German design star was head-hunted from Volkswagen in 2006, having worked at Audi until 2002 where he shaped the TT roadster and the Bauhaus-inspired 1997 Audi A6.
Schreyer doesn't look his mid-50s age; no doubt being tasked to make Kia exciting has rejunvenated him. Certainly there's an air of barely suppressed enthusiasm in his otherwise dry presentation to the assembled journos of the Asia-Pacific; clearly the hovering Kia PR man has insisted he follow the rather sober-suited Korean way of transmitting information. But that's the thing with Kia, you feel that under their business-like demeanour, they're awash with the joys of success and the liveliness a new line of fresh designs can bring. Think of the Kia Kue sports car, or Detroit's Kee coupe.
Of course Schreyer might be supplying the front-of-house excitement, but it's the more technical behind-the-scenes stuff that will consolidate this car-maker's position in a future dominated by alternative fuels.
A quick drive of the hybrid Rio – albeit only in a remote part of the Namyang R&D centre (perhaps they were worried we'd nick it?) impressed. It's part of a test programme that will see 3390 Kia and Hyundai hybrids operated by Korea's Ministry of the Environment within two years. The 1.4-litre petrol engine is mated to a 12kW electric motor that boosts the petrol unit's rather anaemic powerplant during acceleration, starting and hill-climbs. Regenerative braking charges the battery, while the petrol motor automatically switches off – and restarts – when you come to a standstill for more than a few seconds.
Under our restricted test conditions the system worked at least as well as for its Japanese equivalents on our roads, the only spoiler being the much reduced boot space.
Perhaps Kia is working on that. Perhaps it's looking further ahead, as our drive of its hydrogen-fuelled Sportage suggests. That took place at the impressive Mabuk Environmental Technology Centre, with its recycled tyre floor; it's double-skinned glass walls, its vacuum toilets and natural light systems worked via solar reflectors. Opened in 2005 at a cost of US$60 million, it's the centre for Hyundai-Kia research into environmentally-friendly tech, mainly fuel-cell related – the Centre's electricity is generated during the fuel cell tests integral to developing the technology.
At Mabruk we not only drove the hydrogen Sportage, but spoke to its Korean senior research engineer Kim Saehoon – another Kia employee overflowing with enthusiasm for his work.
Saehoon is convinced hydrogen is the next big thing. Only a lack of refuelling plants stands in its way, a shortcoming he's convinced will be resolved within the next decade. After all, Honda is already working on home refuelling using solar energy to split water into oxygen and hydrogen; commercial-sized refuelling stations are proliferating; and agreements have already been made to standardise the filler on hydrogen-fuelled cars.
Our drive was again a brief one, albeit a touch more demanding than that of the Rio. The 2wd Sportage looks standard, bar the under-bonnet view (an uninspiring flat metal plane) and boot (a higher boot floor, with the batteries stacked beneath).
Inside a fuel gauge shows the level of hydrogen. There are no gears – it uses a one-step reduction gear, but may eventually be two-step. When it's ready to go, a light glows; it's a tad slow today, snow on the ground testifying to the chilly temperatures. Until recently hydrogen-fuelled cars wouldn't start in cold weather; now they do, at up to 30 degrees below zero. Ours pulled silently away, accelerated briskly – electric motors are at their strongest at low revs – and cornered better than a standard Sportage, no doubt thanks to the better weight distribution (the battery's in the boot, hydrogen tanks under the floor and the electric motors up front, plus one in each rear wheel).
Saehoon sees advantages to hydrogen-fuelled cars quite apart from the eco-friendly fuel. "There's no oil to change!" Other maintenance? "I don't know – we're still in development. But I don't imagine it would be more – when we have a battery and cell with a long enough life cycle, it'll only need cooling water changed. There will be a lot of small electric motors – for the steering, the air conditioning – but otherwise everything will be done by electricity, there will be no moving parts."
Initially hydrogen-fuelled cars will cost more – Saehoon estimates as much as 20% more in 2012 – "but there will be many intelligent customers who think they should run a car that's better for the environment even if it's a little bit expensive."
Won't they be worried by the short, 1500-hour fuel stack life? "The car won't stop then," Saehoon says, though the stack's efficiency will reduce. His goal is to see no more than a 10% drop in efficiency after a decade of use.
Clearly Kia's come a long way since its 1944 conception as a manufacturer of bicycle parts; from producing Korea's first passenger car – the Brisa – in 1974 to developing its own hydrogen-fuelled vehicle in little over 30 years. No doubt there's more to come.