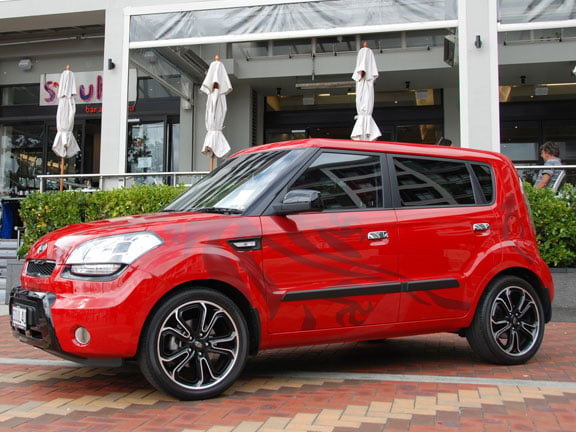 A newly-launched car doesn't always deliver what's promised; indeed, the more extravagant the promises, the worse the car often is.
So when Kia spent some time comparing its allegedly funky new Soul with the latest Mini, I was prepared to be disappointed.
But not so. This really is a funky-looking car in the flesh – both inside and out. And perhaps more surprising, it works. At least, as far as I could tell from our very limited launch drive.
This thing's about Suzuki SX4 size and like that car, it's aimed at drivers who seek a bit of cross-over action – usable cabin, 'command' driving position – without the cross-over downsides, such as rock-n-roll handling and thirst.
This is a front drive car, with a boxy outline well hidden by the wrap-around window-line with its pillars underplayed by dark paint. The car's skin gets lots of nice design touches – take a close look at the front and rear lights – yet they all fit into a cohesive whole, even before you start ticking options boxes. I'd go for the black petal wheels…
Open the door and you'll find a highish seat height which does deliver a better-than-the-average-hatch view, especially appreciated round town. The cabin design may be a little less quirky than the car's skin, but it's enough different to please, without compromising ergonomics. Don't know about the luminescent 'Soul' seat fabrics though, and the red-and-black combo for the up-spec Burner's a brave move.
These engines don't break new ground, though the 1.6-litre diesel's a development of the rather good unit fitted to Hyundai's i30. The family relationship is further underlined by the platform, based on the soon-to-launch Hyundai i20.
But where Hyundai offers grown-up cars that are perhaps a little safe in character, the Kia's got flair.
Our drive route barely skimmed the open road, where the initial impression is that Soul handles competently. Instead we spent a lot of time in thick traffic, which may be where most owners spend most time. However, it didn't tell us much we didn't learn in the first five minutes. The view out is good, the diesel pulls well, the reverse parking sensor's handy (there's a rear-view camera for the top-spec car), and the various secondary controls are well laid out and easy to use.
Families will appreciate the 340-litre boot (and 13 storage cubbies), plus a waterproof under-floor boot tray that's standard for diesels. Meanwhile standard features include ABS, ESP and six airbags.
Yes, it'd be nice if we were all good drivers; we're not. If some idiot puts you in harms way and you can't evade it, you're better off in a car designed with occupant safety in mind.
The 91kW/156Nm 1.6-litre petrol manual's the base model but the 94kW/260Nm 1.6-litre common rail diesel is the engine to have. Kia expects the Soul Plus to be the biggest seller, but gadget-lovers will want to upgrade to the evocatively-named Burner. Not just because the sound system's better but for the frivolous extras. I suspect owners will soon get bored with red LEDs pulsing in the door speakers, but passengers will be impressed every time.