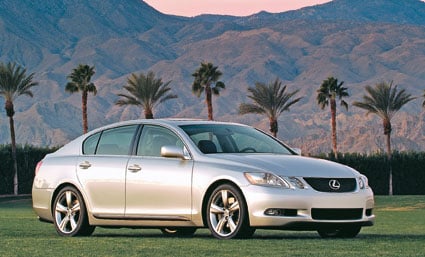 Lexus' GS300 four-door sports sedan expanded the luxury Toyota marque's range in the 1990s, and went some way towards filling the $100,000 price gap between the front-wheel drive ES and range-topping LS sedans.
The first generation GS – few of which came to Mew Zealand – was a very capable sporting all-rounder with the excellent Toyota 3.0-litre 24-valve straight-six motor, which developed 157kW at 5800rpm.
The GS was highly equipped, exceptionally well-built and quick enough, accelerating to 100kph in 8.7 seconds and hitting 230kph flat-out.
In 1999 it was replaced by the striking VVTi-engined (variable valve timing) car pictured here.
Where the previous model looked a little ungainly, the new car had distinctive and purposeful styling which reflected the extra punch from the reworked six-cylinder motor.
It now delivered 166kW of maximum power and peak torque of 298Nm, and the new car price crept up to the $100,000 mark.
The GS300 was now a more convincing alternative to prestige sports saloons like the Audi A6 and BMW 5-series. Not many GS300s were sold new in NZ but numbers have been boosted by Japanese used imports.
The rear-wheel drive GS300 has a reputation for coping effortlessly with endless commutes and cross-country blasts to the point of appearing bulletproof.
But the GS also proves that a reputation for unfailing reliability need not make it boring. The only problem is that the GS is caught between being a sports sedan and a middleweight luxury cruiser, giving it something of an identity crisis. It exhibits a good deal of muscle while sacrificing none of the so-called virtues of luxury motoring.
Equipment levels are very high and cars will invariably be found with full leather upholstery as standard, along with 16-inch alloy wheels, climate control air-conditioning, ABS brakes, electronic traction control, four airbags, electrically-adjustable seats, and six-disc CD changer.
Nice touches include the English wording on all minor controls, the superb pathfinder main beam headlights and the air-conditioning system, which is a lesson in simplicity and efficiency.
Overall, the GS300 is a multi-talented spacious family car with fine performance, plenty of street cred and rock-solid reliability. It is outpaced and outgraced by few prestige competitors and impresses as a refreshing non-European alternative that is likely to provide a painless ownership experience. 
On the road
The GS300 backs up its powerful presence on the road. The straight-six VVTi motor is urgent from low revs, brilliantly flexible and emits a wonderful bellow from its twin exhaust pipes.
The mid-range punch is very satisfying and drivers will find themselves looking for excuses to open up the throttle on the open road. The rest of the driving experience is perfectly sound, if not quite so characterful.
The five-speed auto has three distinctly different modes, the most sporting of which really clings to gears and makes the most of the potent powerplant. With twin cams and four valves per cylinder, the in-line six seldom sounds anguished when extended.
The big brakes work very efficiently, as they must on a sporting sedan weighing more than 1700kg. But despite its size, the GS300 is still simple to manoeuvre and the steering is light but generally communicative at all speeds.
The ride is somewhat compromised, though. It's well damped and controlled but the stiffened suspension makes the GS feel less than luxurious on bumpy city streets. Still, this is undoubtedly a car that will dispose of long distances without troubling or overly tiring the driver.
The seats are broad and spacious, the infinitely variable air-conditioning is capable of cooling occupants on the hottest days, and top-notch build quality eliminates any rattles or squeaks.
The leather upholstery blends nicely with the fake-looking wood trim and the cabin appears quite sober but very tastefully laid out. One of its biggest assets is its functionality – everything from the seat and steering wheel adjustments to the six-speaker stereo are very pleasant and simple to use.
What to look for
Faults are rare on Lexus cars.They deserve their reputation for top reliability and customer satisfaction surveys support that reputation.
Because the GS300 is a sporting model, buyers will often have bought it for the performance and driven the car accordingly. A result can be heavy brake wear and standard-fit Yokohama tyres that require regular replacement.
Engines, transmissions and electrics are all thought to be pretty well bullet-proof and interiors are very hard-wearing.
As with any prestige vehicle, watch out for a full service history and consider an independent specialist inspection before purchase.
We found three Lexus GS300s on autotrader.co.nz. One, a 2002 model had 72,000km on the clock; a 2003 car had covered around 71,000 and the third, a 2004 model had a touch under 32,000km on the odo.
They were priced at $24,990, $26,370 and $28,800 repsectively.
So the cars hang on to their value reasonably well, and offer top-drawer quality and performance at a good price. A classic for the future?