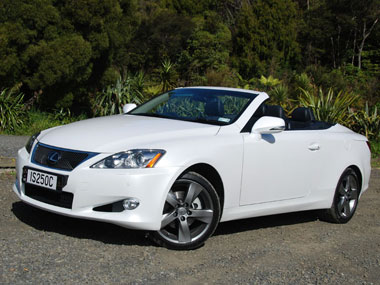 I'm not a big fan of convertibles. I like dynamic excellence, and chopping the roof off rarely imparts it. I like brisk acceleration, and the extra bracing convertibles require – especially if they're derived from another car – adds weight.
But I was prepared to like this Lexus IS250C because I like the IS sedan; because I like the subversiveness of a car that looks like a tarted-up Toyota, but behaves like a lotto winner's dream.
Perhaps I expected too much. For a start, this isn't as practical a convertible as you might expect. Roof up, the boot's roomy enough. But press that button to electronically fold it away, and it takes up most of the boot. Two of the four luggage barrier clips actually slot into the floor; that cuts space from 391 to just 136 litres, only seven more than Suzuki's truly tiny Alto can muster.
The remaining space is shaped for a single set of golf clubs – weekends away will require minimal baggage, or roof-up travel.
That was a pleasant enough experience once I'd opened and closed the roof to banish an errant and uncharacteristic squeak. Ergonomics in the dull but comfy cabin are effective. Roof down, there's not much wind buffet either – my long hair remained moderately controlled even at 100kph.
If ruffled hairdos are a worry, this is your sort of convertible. It's a cruiser, not a bruiser – and its performance is relaxed at best.
The 2.5-litre 153kW/252Nm V6 engine is mated to a six-speed auto transmission, the combo rather hamstrung by this car's 125kg of extra weight. In 'normal' mode progress is sedate. It's not much better in sport, and only manual gear changes impart a semblance of urgency.
I suspect the suspension could handle more power. Drive is delivered to the rear wheels and ride is supple despite the firmer suspension fitted to the drop-top, and though the steering and handling feel a tad remote, the body remains controlled through bends. The bracing has done a reasonable job of keeping the body stiff – it's just a shame it compromises performance, for the base sedan is a delightful drive.
If a delightful drive is what you're after then, go for the sedan – or buy a slightly pricier BMW 3 Series equivalent.
If comfort is more your thing, sit back, relax and enjoy the gizmos at your fingertips. The rear seats that could actually fit a pair of compact adults; the cruise radar; the satnav; the touch screen and reversing camera that helps offset the reduced rear three-quarter vision that comes with convertible territory.
Style? This IS250C is handsome enough with the roof up, less so roof down. I suspect its buyers will be those for whom the Lexus build and service rep is worth exchanging for visual and aural character, and a sparkling drive.
See the Lexus IS250C for sale here.