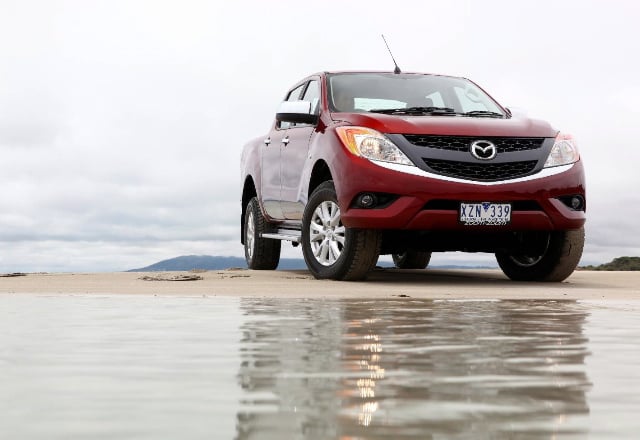 So let's just say there are photographs with this story, so you can make up your own mind. Styling is a matter of personal taste, after all.
The big issue about the BT-50 is really how it drives. As you will no doubt know by now, the Mazda is derived from the Australian-designed Ford Ranger (previously, Ford utes were spun off the Mazda product) and both have really redefined how pickup trucks should perform and drive.
Our mid-range BT-50 GSX double cab ($45,495 in 2WD or $56,895 in 4WD) is powered by the same turbo-diesel engine as the rest of the range: a 3.2-litre five-cylinder with a mighty 147kW/470Nm. It still sounds like a diesel and the six-speed manual gearbox is subject to a bit of drivetrain shunt when you're on and off the throttle – but that's because there's just so much torque fighting to get free. The noise isn't such a bad one, either: there's an interesting harmonic quality to engines with an odd number of cylinders.
Having driven the six-speed automatic recently, I'd say the extra money is well spent. It's a very slick shifter, responds quickly to the throttle and the torque converter puts a little bit of a buffer between your right foot and rear-wheelspin (remember, even the 4WD version runs in 2WD on the road).
It's too easy and a bit lazy to fall back into saying a ute is "car like". The BT-50 is more car-like than any other pickup (except the Ranger of course), although it's not exactly like a car. It turns into corners with alacrity, holds its line on-road incredibly well and has an amazing stability control system that helps without ever intruding. Although it's still bouncy when unladen, it rides infinitely better than its one-tonne rivals. Really, it's a pleasure because all that power never feels it's going to overwhelm the chassis.
And yes, the BT-50 is still a hard-core off-road vehicle, with separate-chassis construction, a live rear axle and low-range. Every BT-50 has a locking rear differential as well – a specification one-up on the rival Ranger, which only offers that crucial mud-plugging feature on certain models.
Not that you'd be thinking of off-roading from the inside. The BT-50's interior is pretty much the same as any Mazda passenger car, with curvaceous mouldings in place of the truck-like squares you might expect to find.
The GSX is pretty well kitted up: front, side and curtain airbags, cruise control, 17-inch alloy wheels, running boards, Bluetooth and USB input for the audio.
While I have trouble understanding why utes are so costly compared with cars – a Mazda CX-5 with a high-performance turbo engine, leather upholstery, fully loaded, is $48,995 for example – the BT-50 is still excellent value compared with its light-commercial rivals. Especially when you factor in the Mazda Commercialcare service plan, which guarantees that owners will pay no more than $200 per service for three years/100,000km. Which is also a class-leading deal. Even if the BT-50 looks a bit funny.