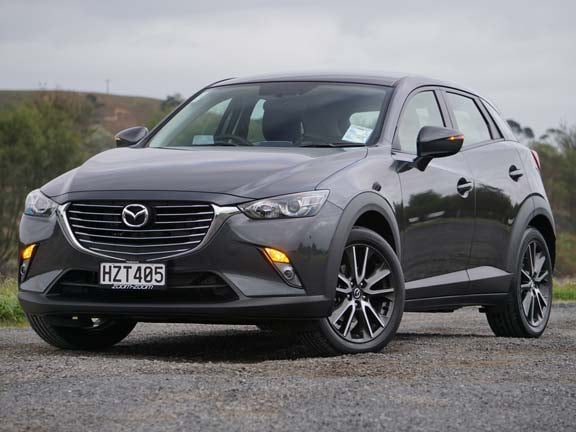 Base price: $38,695.
Powertrain and performance: 1.5-litre turbo-diesel four, 77kW/270Nm, 6-speed automatic, all-wheel drive, Combined economy 5.1 litres per 100km.
Vital statistics: 4675mm long, 1550mm high, 2570mm wheelbase, luggage capacity 264-1174 litres, fuel tank 48 litres, 18-inch alloy wheels on 215/50 tyres.
We like: Good rolling acceleration, excellent fuel economy, CX-3 remains a class-leading small-crossover package.
We don't like: Sluggish low-speed response, noisy engine.
How it rates: 8/10
WHAT DO I NEED TO KNOW? The CX-3 is a pretty safe bet in the small-crossover class: it looks great, it drives well and it comes with a choice of powertrains. Success awaits.
That's not to say Mazda New Zealand doesn't take the odd risk. Alongside the CX-3 petrol models, it offers a couple of versions with a novel 1.5-litre turbo-diesel powerplant. It's a model with extremely limited sales potential – less than 10 percent of the CX-3 sales mix, according to the company –but it's there to add substance to the lineup and allow buyers to move away from the beaten track if they so choose.
Quite literally, since you can only have the CX-3 diesel in all-wheel drive specification. It's available in both the mid-range GSX model tested here and the flagship Limited (which is also the only way you can have a CX-3 Limited in all-wheel drive, because the petrol version is front-drive only).
WHAT'S IT LIKE TO DRIVE? The 1.5-litre turbo diesel engine is obviously very low on power and obviously quite torquey, all at the same time. It's definitely a powerplant that takes some getting used to.
This is not a model that will major on first impressions. It can seem painfully slow from a standing-start in traffic, with poor throttle response at low speed and a sense that the gruff little diesel is struggling to build up momentum.
Yet, it also has an impressive amount of pulling power once you're up and running. The peak torque figure of 270Nm is actually more than the 2.5-litre petrol engine that's used in the Mazda3, so from 1600rpm (where peak is on tap) the diesel CX-3 does have the ability to lope along in quite relaxed fashion.
The six-speed automatic gearbox lacks the pushbutton Sport mode of the petrol models, but perhaps that's just as well – there's already enough of a split-personality going on with the diesel engine.
The chassis remains sporty, albeit with more weight to carry and softer suspension than the petrol CX-3. So this is probably not the one to choose if you like to drive briskly on the open road, as it lacks throttle response and has inferior body control to the petrol models.
On the plus side, Mazda tends towards the firmer side in its suspension tuning anyway, so a little more compliance in the diesel version does pay dividends in urban driving (which will be the most common kind for this type of vehicle).
The GSX has a comprehensive suite of driver-assistance features, including head-up display, blind spot monitoring and rear cross-traffic alert (which will warn you of approaching traffic as you reverse out of a parking spot or driveway).
However, you have to step up to Limited specification to get the full package of lane departure warning, autonomous braking and automatic high-beam control.
IS IT EASY TO LIVE WITH? We've said previously that the CX-3 cabin borrows too much from the Mazda2 supermini. That's still the case, but it's more a conceptual problem than practical because it's a nice (albeit familiar) place to be.
The command seating position and raised rear chairs give the CX-3 a more airy ambience and some of the cheaper materials are offset by the excellent build quality.
The GSX lacks some of the racier trim elements of the Limited, but you could make a strong case for the cloth upholstery being a more practical and comfortable trim choice than the Limited's leather. Not as upmarket, but more supportive for sure.
The CX-3 gets the seven-inch MZD Connect information and entertainment screen, which works via touch (when the vehicle is stationary) or with a rotary controller. It's compatible with select smartphone applications, including Pandora/Stitcher and can connect with social media feeds such as Facebook and Twitter.
A head-up display is also standard on GSX. It's not quite the system you'd get on a high-end European car, as it projects onto a flip-up piece of Perspex rather the the windscreen. But it does the job of presenting important information above the dashboard, rather than the driver having to look down and refocus on the instruments all the time.
SHOULD I BUY ONE? The CX-3 diesel is one you'd have to choose for the character of the powertrain rather than any perceived fuel-economy benefits. It does sip over a litre less fuel per 100km than the petrol model, but New Zealand's Road User Charge (RUC) tax system renders any such advantage from a small diesel useless in terms of running costs.
It's a quirky powertrain, this one. You have to drive around the low-speed lethargy to enjoy the mid-range muscle. It'll be a very personal choice.
Perhaps a better question for potential buyers to consider is whether the diesel is worth the $2000 premium over the GSX petrol all-wheel drive. Much as we admire the quirky nature of the diesel, life looks pretty hard for it.
Or consider this: for virtually the same price as the GSX diesel all-wheel drive, you can have the Limited petrol front-driver. Assuming you don't need or want the extra traction, that could be the toughest test yet of your enthusiasm for diesel.
EQUIPMENT CHECKLIST
Blind spot warning: Yes
Lane guidance: No
Cruise control: Yes
Automatic lights/wipers: Yes/yes
Parking radar: Rear with camera
Self-parking technology: No
Head-up display: Yes
Satellite navigation: Yes
Keyless entry/start: Yes/Yes
Stop-start: Yes
Air conditioning: Single-zone climate
Heated/ventilated seats: No
Power seat adjustment/memory: No
Leather upholstery: No
Power boot or tailgate: No
Split/folding rear seats: 60/40
Browse Auto Trader's range of Mazda CX-3 cars for sale.