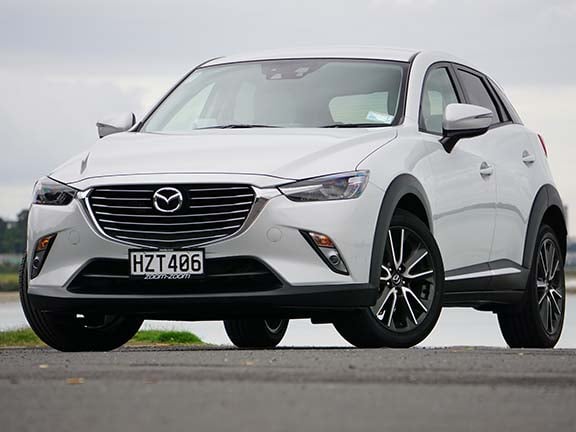 Base price: $38,595.
Powertrain and performance: 2.0-litre petrol four, 109kW/192Nm, 6-speed automatic, front-drive, Combined economy 6.1 litres per 100km.
Vital statistics: 4675mm long, 1550mm high, 2570mm wheelbase, luggage capacity 264-1174 litres, fuel tank 48 litres, 18-inch alloy wheels on 215/50 tyres.
We like: Sensational style, great to drive, smart cabin, excellent equipment levels.
We don't like: Engine sounds raw when extended, tiny boot.
How it rates: 9/10
WHAT DO I NEED TO KNOW? If you're the type to take notice of advertising and marketing, you'll have noticed that Mazda refers to its striking-looking baby-crossover as the "first-ever CX-3".
Yes, it's a new vehicle for the brand in what is a relatively new segment. It's also the latest in a relentless launch programme of SkyActiv-technology models from Mazda since 2012: CX-5, Mazda6, Mazda3, Mazda2 and now CX-3.
SkyActiv is a modular platform, so all of these models are closely related. But the CX-3 could reasonably be called a development of the Mazda2: they have the same wheelbase and same basic interior architecture. For the record, the CX-3 is 215mm longer overall, 55mm higher and 70mm wider than the Mazda2.
The CX-3 comes in a range of models, with petrol and turbo-diesel power, in front and four-wheel drive. Our test car is the flagship petrol model, the Limited, which nonetheless is only available in front-drive. You have to opt for the diesel if you want a Limited-specification CX-3 with all-wheel drive.
WHAT'S IT LIKE TO DRIVE? Sprightly, since the petrol CX-3 comes not with the 1.5-litre petrol engine of the Mazda3 but the 2.0-litre used in Mazda's larger SkyActiv models. The idea is to give the CX-3 a sporty edge and it works, even if the powerplant lacks refinement when you work it hard.
The petrol models have a six-speed automatic transmission (again, Mazda's own work) with a pushbutton Sport mode which livens up the powertrain even more. You give up something in terms of traction with the front-drive model (the petrol GSX is available in all-wheel drive guise) but there are gains in fuel economy: the front-drive powertrain consumes 0.6 litres less per 100km.
The steering is light but the chassis is quite sporty. If you're determined with the steering wheel, the CX-3 turns in quite aggressively and because it has a relatively short wheelbase and very good balance, the cornering attitude can be adjusted with the throttle.
As an aside, for enthusiast buyers the front-driver is probably still the best bet: the all-wheel drive models are 100kg heavier and have softer suspension, which brings better ride but also means opportunity cost in higher-speed body control.
Active safety remains a Mazda-SkyActiv strength. All CX-3 models from the mid-range GSX upwards have a head-up display, blind spot monitoring and rear cross-traffic alert.
The Limited also gets automatic high-beam control, lane departure warning and the so-called Smart City Brake Support-Forward (SCBS-F) system, which provides autonomous braking in urban driving situations.
IS IT EASY TO LIVE WITH? The CX-3 might owe a lot to the Mazda2, but there are some clever packaging techniques in the cabin to make it more accommodating than your average supermini. You sit higher of course, but the front seats (lifted from the larger Mazda3) are positioned further apart than the Mazda2 and the rear seats are 37mm higher, theatre-style, to help with family relations front-to-rear.
The dashboard is almost identical to that in the Mazda2, but don't let that put you off: it's beautifully styled and nicely finished, including red stitching on the Limited.
There's excellent space up front and adequate accommodation in the back for adults. The biggest downside of the CX-3's diminutive dimensions and wheel-at-corner stance is the tiny boot: at 264 litres it really is just supermini-sized, although the split-folding rear seats give you the potential for more cargo space when required.
Don't be alarmed by the Range Rover-like white leather of our test car: it's an no-cost option for the Limited and fitted to the first shipment of cars from Japan, but the standard colour is a more conventional and durable black.
As with other new-generation Mazda models, the CX-3 gets the seven-inch MZD Connect information and entertainment screen, which works via touch (when the vehicle is stationary) or with a rotary controller. It's a superb system and is compatible with select smartphone applications, including Pandora and Stitcher. It can also connect with social media feeds such as Facebook and Twitter.
There are a few luxury touches unique to the CX-3 Limited: Bose audio system, privacy glass, extra side-sill trim and of course that leather upholstery.
SHOULD I BUY ONE? For a Mazda-first, the CX-3 is a stunningly accomplished package. It looks amazing, is pleasing to both driver and passengers and is loaded with equipment. It's a real standout in this burgeoning small-crossover class.
Reservations? There's a little too much shared with the Mazda2 inside, especially when Mazda New Zealand argues that the CX-3 competes not just with supermini-based crossovers such as the Ford EcoBoost, Holden Trax and Peugeot 2008, but also with larger models such as the Nissan Qashqai. Semantics perhaps.
The CX-3 is certainly not cheap in Limited form. But given its style, equipment and safety technology, it still looks like fantastic value next to its immediate competition.
EQUIPMENT CHECKLIST
Blind spot warning: Yes
Lane guidance: Yes
Cruise control: Yes
Automatic lights/wipers: Yes/yes
Parking radar: Rear with camera
Self-parking technology: No
Head-up display: Yes
Satellite navigation: Yes
Keyless entry/start: Yes/Yes
Stop-start: Yes
Air conditioning: Single-zone climate
Heated/ventilated seats: No
Power seat adjustment/memory: No
Leather upholstery: Yes
Power boot or tailgate: No
Split/folding rear seats: 60/40
Browse Autotrader's range of Mazda CX-3s for sale.