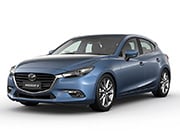 1. The New Mazda3 comes in six petrol versions available in either hatch or sedan. All models can also be had with either a six-speed manual or six-speed automatic transmission.
2. The mid-spec Mazda 3 Touring Hatch auto, tested here, costs $27,290 (AUD).
3. Its direct-injected 2.0-litre four-cylinder petrol engine generates 114kW of power and 200Nm of torque. These numbers provide adequate, if not sparkling, performance. For an extra $400 drivers can upgrade to the 2.5-litre SP25 powertrain with much-needed additional oomph (138kW/250Nm).
4. The Touring comes with leather trim – a classy finish for a competitive price.
5. Its suspension is exceptionally smooth thanks to the smaller-than-average 16-inch wheels. Chalk up another handling win for smaller alloys and bigger tyres.
6. Claimed fuel consumption is a very low 5.8L/100km. The reality, over more than 160km of stop-start city driving, was closer to 9.3L/100km. 
7. The Touring comes with an easy to use, intuitive multi-media system and a 7.0-inch touchscreen that also offers click-wheel controls.
8. While the rear seats are comfortable for either two adults or three small kids, they lack both air vents and adequate storage options.