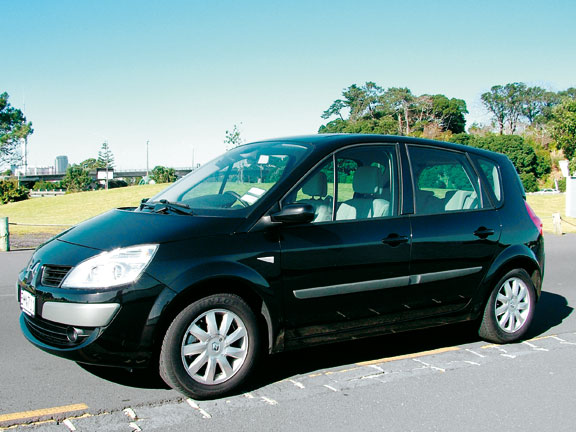 Renault is in rebuild – you might almost call it starting again from scratch – mode in New Zealand.
It's a marque which commanded strong sales in the early 1970s when its locally-assembled R12 front-driver was a threat to NZ market stalwarts like the Ford Escort Mark 1, but has now almost vanished from the new car sales radar.
Sales in recent years have been pitiful, and some models have vanished – like the accomplished Clio, which was simply too expensive to compete in the small hatch segment.
There are less than a handful of standard Meganes unsold and the proud French brand's best performers are cars like the Megane sports saloons – the five-door, fast and ultra-capable RS225 and its no-nonsense three-door sibling, the RS F1 Team R26.
They're special order members of Renault's NZ line-up and the R26 is a mind-blower, with stunning handling and enough get up and go to give the Japanese cut-price supercars like the Mitsubishi Evo and Subaru WRX a hearty challenge.
The R26 wears its heart on its sleeve, with chequered flag graphics and a colour range that includes Renault's traditional Formula 1 yellow. There's a yellow one sitting on the forecourt of Renault dealer Archibald and Shorter in Auckland's Greenlane that calls out to me and sets me to slavering every time I pass it.
Some colleagues think the R26 is too harsh and uncompromising but I think it's just fine – but then I'm smitten – and I can even detect a hint of French suppleness in the suspension, though when I say so, my mates look at me as if I've lost my senses.
Maybe I have as far as this French hot hatch is concerned, but the R26 figures strongly as one of the best cars I've driven this year.
It's over-the-top, a little impractical where the Megane-based Scenic, the subject of this road test, is practical and solicitously sane.
The only unusual thing about it is its styling, which builds on the regular Megane's bustle-bum looks, making the bulbous behind look a little less prominent courtesy of the Scenic's greater height.
The Scenic, more properly Scenic II, has a coterie of followers but is yet to be discovered by most of the MPV crowd.
Which is a pity, just as the relative obscurity of the standard Megane five-door hatch is a pity – because both are very good cars and much better built than we've come to expect from the French motor industry.
Renault distributor, Motorcorp Holdings, has dropped the petrol-engined Scenic from the range and you can have any Scenic you like so long as it's a 1.9 litre dCi diesel, with front-wheel drive and an automatic gearbox.
The turbocharged motor has direct common rail injection and develops a strong 96kW of power at 4250rpm and a solid 250Nm of peak torque from a useful 1600rpm.
That's enough to punt the Scenic to 100kph in around 10 seconds. Top speed? Renault isn't saying and anyway this is a vehicle you're supposed to use for carrying your kids.
It's a quietish unit, especially at cruising speed, and it delivers its power and torque smoothly. It drives the front wheels through a four-speed Proactive Automatic gearbox, which is the Scenic's least-likable feature.
It has typically French calibration, which means noticeable downshifts as the unit changes to keep you in the sweet torque range; and when you slow for, say, traffic lights, down the box it goes, sometimes – though, for some reason, not always – finishing with a jerking thump.
The received wisdom in the motoring journalism business is that the French think people who want an automatic are crazy and program the transmissions accordingly.
Doesn't sound likely to me: but if you're going to sell cars in NZ you need an auto.
Still, I've driven worse examples of French automatics than the one in the Scenic. Unlike some current French cars whose suspensions have been stiffened up in the quest for razor-sharp handling, the Scenic retains a traditionally Gallic supple ride quality.
Its suspension soaks up bumps nicely, delivering good comfort; yet body roll is well-contained and handling doesn't suffer too much.Turn-in is crisp and the car goes where it's pointed, though there's noticeable understeer if you're pressing-on on twisty roads.
It's not sledgey understeer, more a case of a tendency to run a little wide, requiring winding on more steering lock.
Steering used to be a real Megane family bugbear. The electrically-assisted steering was completely lacking in feel, and early versions of the current-shape Megane felt like you were steering a rally or NASCAR arcade game. They now offer more feel, and the steering in the Scenic felt fine.
The turning circle is a tightish 10.7 metres, which makes the Scenic nicely manoeuvrable.
Fuel economy? It's a diesel which means you'll have to pay the iniquitous road user charges but Renault reckons the Scenic is good for 7.1 litres/100km on a mix of urban and highway running.
The 60-litre fuel tank will give a useful range.
The Scenic is a five-seater, with excellent headroom and the three individual rear seats can be removed completely to load the kids' bikes, for instance. The front passenger seat can also be folded to allow carriage of long loads.
Nice touches abound – like plenty of storage cubbies (including under-seat and under-floor drawers), air-chilled glovebox, tinted-glass, rear side window retracting sunblinds, automatic climate-control air-conditioning, rain-sensitive automatic windscreen wipers, light-sensing automatic headlights, foglights, power windows and door mirrors and an electrically-operated parking brake.
The safety kit is comprehensive, with Electronic Stability Control, ABS braking, front and side airbags for driver and front seat occupant, cabin-length curtain airbags, lap-sash seatbelts on all four seats and side-impact bars and honey-combed padding in the doors.
In all, a comprehensive package for $44,990. Comfort is high, and the cabin is roomy with a welcoming air – a nice place to be.
The Scenic is nimble, good-riding and satisfying to drive, a fine example of commonsense design mixed with a good dollop of flair.
We could even learn to live with the gearbox's antics as the car brakes to a standstill.
Like the undersung Renault brand as a whole, the Scenic II is an unsung hero in the MPV field, and one worthy of much more attention than it receives. It deserves to be better than a well-kept secret among its coterie.