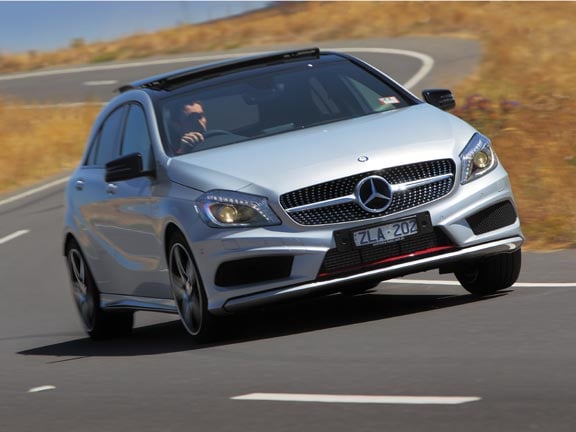 Base price: $64,900.
Powertrain and performance: 2.0-litre petrol-turbo four, 155kW/350Nm, 7-speed dual-clutch automated manual, front-drive, Combined economy 6.6 litres per 100km.
Vital statistics: 4292mm long, 1434mm high, kerb weight 1370kg, luggage capacity 341 litres, fuel tank 50 litres, 18-inch wheels on 225/40 tyres.
We like: Genuinely sporty attitude, powertrain, quality.
We don't like: Fussy styling detail, twin-clutch gearbox struggles in city driving.
How it rates: 8/10
WHAT DO I NEED TO KNOW?
The latest Mercedes-Benz A-class is all about style and a sporty attitude. So nothing like the previous model then.
Nowhere is this more evident than in the current flagship of the range, the A 250 Sport. The less powerful A 180 and A 200 models are quite driver-focused anyway, but the A 250 really takes things to the next level. It was created with input from the AMG division and boasts a powerful turbo, reconfigured suspension and a lot of unique styling detail.
Loud as it may look, the A 250 Sport is not to be confused with the forthcoming A 45. That will be a pure AMG model, even more specialised, with four-wheel drive.
WHAT'S IT LIKE TO DRIVE?
The petrol engine has verve and likes to rev – no doubt about that. It's crisp and the dual-clutch gearbox is calibrated to give a satisfying rasp when it changes gears under hard acceleration (it quite a different state of tune to other A-class models).
In short, the A 250 powertrain certainly has the ability to engage your emotions. For a car that can still achieve 6.6 litres per 100km, this is good clean fun.
That sporty edge is not at the expense of urban driveability either. The 2.0-litre engine is very strong on torque (it has even more than the A 200 CDI turbo diesel), so it's relatively easy to drive on a light throttle.
More torque is better when it comes to the A-class's automated dual-clutch gearbox, which can slip and feel a bit jerky in low-speed driving. It's still an issue with the A 250 Sport, although the extra pulling power means the powertrain operates more smoothly than that in the A180 or A 200 (petrol) models.
We've criticised the A-class's firm ride in the past. The A 250 Sport is even stiffer, but that's acceptable in a vehicle with such overtly sporting aspirations. It's a great car in the corners: nimble and responsive, with direct steering.
For the first time, Mercedes-Benz has a small car that can compete with arch rival BMW for driver appeal.
IS IT EASY TO LIVE WITH?
As with other A-class variants, the A 250 Sport is small in size but big on cabin quality. The trim of this flagship version might not be to all tastes, though: it's highly decorated with faux-carbon-fibre dashboard inserts, red rings around the ventilation outlets and a much more intricate package of detailing than other A-class models.
It's a bit much, to be honest. The same might be said of the exterior, which has an aggressive body kit but also has a seizure-inducing 'diamond effect' grille.
Equipment unique to the A 250 Sport includes sports seats, nappa-leather steering wheel with a flat bottom, brushed stainless steel pedals, special trim on the door centre panels and a panoramic glass roof. Plus more red everywhere you look: floor mats, seat stitching, seat belts.
SHOULD I BUY ONE?
The A 250 Sport sets out to be an exciting, driver-focused small-car and it succeeds admirably on both counts. It's not for everyone… but then it's only one of four in the A-class range. Don't buy it if you simply want the most expensive and/or luxurious A-class.
But do buy the A 250 Sport if you want a small Mercedes-Benz with youthful vigour that aims to entertain. And that's not something we've been able to say for a long time.
EQUIPMENT CHECKLIST
Air conditioning: Dual-zone climate
Audio: CD, iPod compatible
Automatic lights/wipers: Yes/Yes
Blind spot warning: No
Bluetooth: Yes
Cruise control: Yes
Driver footrest: Yes
Gas discharge headlights: Bi-xenon
Head-up display: No
Heated/ventilated seats: Yes/no
Keyless entry/start: Yes/yes
Lane guidance: No
Leather upholstery: No
Parking radar: Yes with camera
Power seat adjustment/memory: Yes
Remote audio controls: Yes
Satellite navigation: No
Seat height adjustment: Yes
Self-parking technology: No
Split/folding rear seats: 60/40
Steering reach adjustment: Yes
Trip computer: Yes
Find a Mercedes-Benz A250 HERE