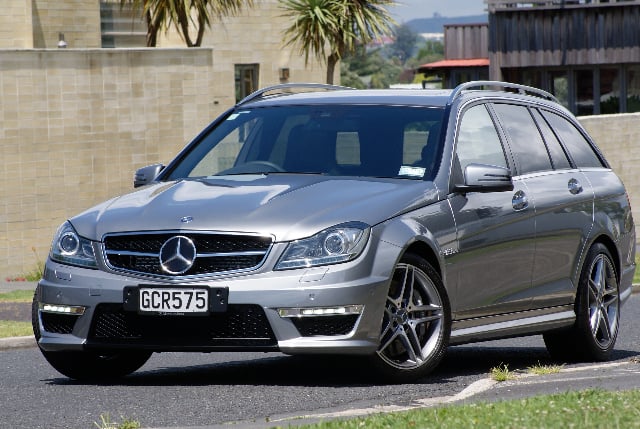 But it's not beyond reproach: in recent years, AMG has been much criticised for applying its magically mechanical high-performance touch to too many – or rather, the wrong kind of – vehicles.
The low point was perhaps the R 63 AMG of 2006. The high-performance version of the Three-Pointed Star's slow-selling people-mover was not well received, not just because of the genre of vehicle but because it wasn't all that good to drive: fast in a straight line, but unremarkable everywhere else. That model was discontinued after only a year. A future collectible perhaps?
Anyway, Mercedes-AMG no doubt learned a lesson or two from that vehicle about straying too far from the driver-focused nature of the brand. Seems obvious in hindsight, right? But luckily, that hasn't stopped it stretching the envelope just a little at times – with the likes of this, the C 63 AMG estate.
Of course, fast wagons are a familiar concept to New Zealanders. We love them. But the C 63 load-lugger is still something of an oddity in its exclusive little segment. BMW does not make an M3 estate, nor does Lexus have a two-box IS-F. Audi is the only maker with a potential rival, in the shape of the forthcoming RS4 estate, but that's unlikely to land until 2013. So for now, the C 63 AMG estate is unique.
Oh, and awesome. The straight-line performance is sensational, as it always is with AMG product. The C 63 retains the old-school 6.2-litre naturally aspirated V8 (newer model lines have a 5.5-litre twin-turbo V8), which now drives through an uprated seven-speed MCT automatic gearbox. The figures are impressive – 336kW/600Nm, 0-100km/h in 4.5 seconds – but so is the noise. In aural character this is a pure muscle car that rumbles low-down and howls at the high end.
The chassis is the crucial element, of course. Even more so when you're talking about a compact-class car with a monster V8 engine. In fact, the C 63 was hailed as being arguably the most complete driver's car from AMG when was launched back in 2007, and the facelifted version has done nothing to undermine that.
It's far more than a go-faster version of the C-class. The steering, suspension and stability control have all been redesigned for this application. The ride is hard and the grip plentiful, but the C 63 does also have a delicate dynamic flavour that makes it a remarkably complete car even when you don't have full access to a racetrack.
Which makes the estate version especially appealing. The five-door is even more attractive than the sedan, so there's no reason why looks would hold you back. Practicality isn't the main focus of this body style, so don't expect van-like cargo-carrying capacity. But there's enough extra space to make the C 63 a useful tool: just 10 litres more than the sedan in standard configuration, but up to 1500 litres when you fold the rear seats down.
A $169,900 (including the $3000 premium for the wagon) tool, mind. But if you consider this car's badge-status and sheer breadth of talent, which includes everything from supercar acceleration to carrying the kids' bikes – you could probably argue it's even quite good value.