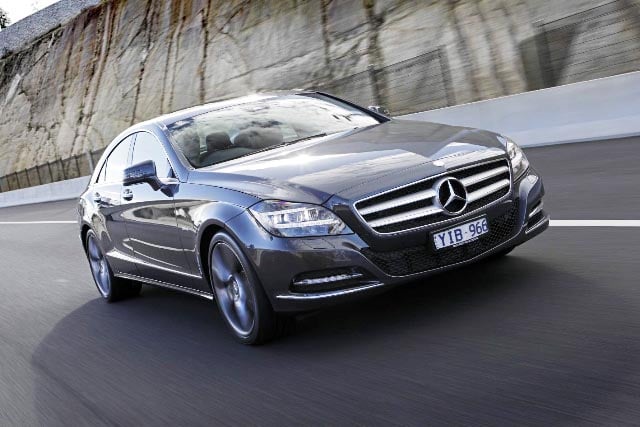 Mercedes-Benz has always seen value in giving a stylist nod to its rich heritage here and there. But the CLS is perhaps the last place you'd have expected the Three-Pointed Star to be looking backwards. The previous model, remember, was a radical design exercise that threw the Mercedes styling rulebook away and provided a catalyst for an industry-wide fascination with what we now call four-door coupes.
The new model runs along the same conceptual lines – sleek looks, a curvaceously low roofline – but also showcases some old-school styling cues, such as the "roundy" rear guards from the marque's 1950s sedans.
An odd combination? At first glance, yes. Although I've come to rather like the look of the latest CLS, especially when you start to notice the cues from the marque's contemporary sports cars like the SL. It's certainly still achieving the CLS mission statement: to provide a more individual and design-led alternative to the E-class, on which it is still based.
It's great to drive, too. Especially our $197,000 CLS 500 test car, which is powered by a brand-new 4.7-litre direct-injection twin-turbo V8. With 300kW/600Nm it can rocket to 100km/h in 5.2 seconds, yet achieves a remarkable Combined fuel economy figure of 9.9 litres per 100km. The seven-speed automatic transmission even has a stop-start system, in order to save juice in heavy traffic.
It's tempting to think of the CLS 500 as a poor man's AMG, but in reality they have very different characters. The AMG machine is obtrusively muscular all of the time: the CLS can be startlingly swift when you want it to be, but it also has even more of an ability to play luxury-car, with deeply impressive refinement and a broad range of talents.
At nearly 1.9 tonnes the CLS 500 is no sporting sedan, but it's swift and smooth around the corners and if you have the $4700 option of Airmatic suspension as fitted to our test vehicle, you have the ability to select softer or former chassis settings. At a price, of course.
The CLS is certainly more practical than it's ever been. As before, there are only two rear seats, but leg and headroom is now generous and the luggage space is impressive: 520 litres, which is only 20 litres less than the squared-off E-class.