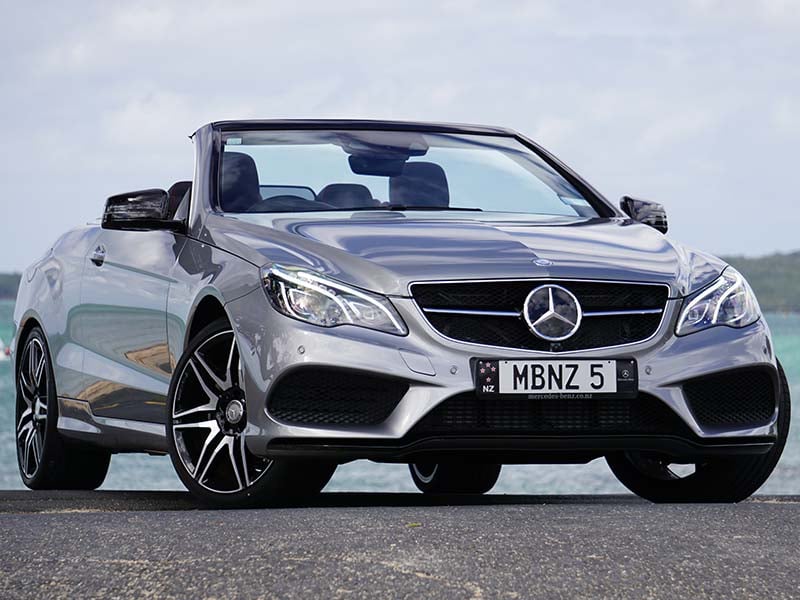 Base price: $118,900.
Powertrain and performance: 2.0-litre turbo-petrol four, 155kW/350Nm, 7-speed automatic, rear-drive, Combined economy 6.5 litres per 100km.
Vital statistics: 4703mm long, 1398mm high, 2760mm wheelbase, luggage capacity 390 litres, fuel tank 66 litres, 19-inch alloy wheels.
We like: Still stylish, incredible value and equipment.
We don't like: Cabin dated by modern Mercedes-Benz standards, tiny boot for such a large car.
How it rates: 7/10
WHAT DO I NEED TO KNOW?"Customer advantage" is car-industry-speak for "free stuff". When a model is getting a bit long in the tooth, its maker will often try to keep it moving out of showrooms by adding extra equipment without increasing the price.
This is seen as preferred practice to dropping the retail sticker, since that plays havoc with residual values for existing customers and creates an impression of desperation.
The Mercedes-Benz E-class is now one of the oldest models in the marque's range, being launched back in 2009 and getting a major facelift in 2013. See where we're going with this?
Meet the Mercedes-Benz E 250 Night Edition cabriolet, a new model with $15,000 worth of free stuff. Sorry, we mean customer advantage.
It brings the AMG Sport Plus option package, plus extras like Dynamic Handling suspension, 360-degree parking camera, Harman Kardon audio, Nappa leather instrument panel and of course a striking black finish for exterior elements such as grille, wheels and mirrors.
WHAT'S IT LIKE TO DRIVE? It might look the part, but our Night Edition test car was delivered in E 250 specification, with the entry-level 2.0-litre turbo-four under the bonnet (you can also have a very fast E 400 version with a biturbo six).
Problem? Not really. This powerplant is well proven in the E-class and it certainly delivers on power and torque, even if the aural experience doesn't live up to the glamorous styling.
The E-class has always been a car with great chassis reserves. The cabriolet loses a little in the way of rigidity and handling precision, but it's still pretty solid and accomplished on the road.
Not the first choice in the range from a driver's point of view of course, but then that's never been the point of a cabriolet. You buy it for style and comfort and the E 250 delivers on both those fronts.
IS IT EASY TO LIVE WITH? The E-class is not top-line luxury material, but there's an undeniable sense of opulence in the Night Edition cabriolet. It's partly due to touchy-feely details such as the Nappa leather dashboard covering, AMG sports seats and Airscarf function, which can blow hot air on your neck through a vent in the head restraint.
And it's partly due to the fact that this car is loaded with high-tech equipment. It has the full Distronic Plus adaptive cruise control system with semi-autonomous steering (Mercedes-Benz's system is still by far the best on the market), a 360-degree camera that gives you a bird's eye view of the car for easier manoeuvring and an awesome Harman Kardon sound system.
Having said that, the E-class is still feeling dated under that veneer of extravagance. The smaller C-class has established a new template for Mercedes-Benz interior design, with clean lines and classy materials. In comparison, the E-class takes you back a generation (at least) with chunky architecture and masses of tiny buttons on the centre console. The control for the roof is located under a flip-up lid, which is also a bit cheesy.
Other downsides? Nobody expects great rear-seat space in a cabriolet, but the E 250's back chairs are still pretty tight for such a large car. While the soft-top stows quickly, it does take up 90 litres of bootspace, leaving you with a supermini-like 300 litres: again, pretty small for a car that's 4.7 metres long.
SHOULD I BUY ONE? The E 250 cabriolet is showing its age, no question, even if Mercedes-Benz is trying its hardest to conceal the fact.
It's not just the inside. You might have noticed that the 2013 facelift for the E-class removed the retro-roundy rear guards in favour of a more contemporary shape on the sedan. You might also have noticed that the cabriolet and coupe retained that old-school shape, despite getting the new nose.
But the E-class cabriolet also has a tremendous amount of on-road presence, especially in its new Night Edition clothes. It's a highly capable cruiser and it will certainly get you noticed. In fact, in terms of glam-for-your-buck it's something of a bargain.
Plus, there's no C-class cabriolet. Yet.
EQUIPMENT CHECKLIST
Blind spot warning: Yes
Lane guidance: Yes with steering assistance
Cruise control: Adaptive with stop and go
Automatic lights/wipers: Yes/yes
Parking radar: Front and rear with camera
Self-parking technology: No
Head-up display: No
Satellite navigation: Yes
Keyless entry/start: Yes/Yes
Stop-start: Yes
Air conditioning: Dual climate
Heated/ventilated seats: Yes/No
Power seat adjustment/memory: Yes/Yes
Leather upholstery: Yes
Power boot or tailgate: No
Split/folding rear seats: Through-loading in armrest only
Browse Autotrader's range of Mercedes-Benz E250 cars for sale.