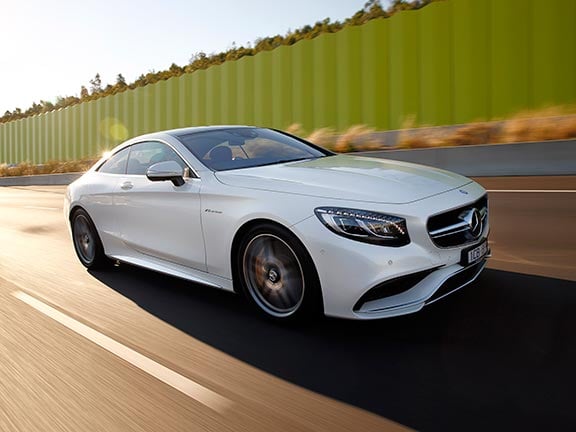 Base price: $350,000.
Powertrain and performance: 5.5-litre biturbo petrol V8, 430kW/900Nm, 7-speed automatic, rear-drive, Combined economy 10.2 litres per 100km, 0-100km/h 4.2 seconds.
Vital statistics: 5027mm long, 1411mm high, 2945mm wheelbase, luggage capacity 400 litres, fuel tank 80 litres, 20-inch alloy wheels.
We like: Understated exterior style, cutting-edge driver-assistance and safety technology, super-luxury cabin.
We don't like: Too refined and opulent to be an AMG vehicle, white carpet – what were they thinking?
How it rates: 9/10
WHAT DO I NEED TO KNOW? The new S-class coupe is the pinnacle of the Mercedes-Benz passenger-car range. There might be a semantic argument against that statement that involves long-wheelbase limousines, but model-for-model the two-door sits above the S-class sedan in the lineup. It's more expensive and has more technology and equipment.
And it is now called the S-class coupe. The previous generartion was badged CL, but Mercedes-Benz is slowly renaming its specialist models to align more closely with the cars on which they are based. The S-class in this instance.
Our S 63 AMG test car is 90mm shorter than the equivalent sedan but 25kg heavier, thanks to the wealth of equipment it carries. Less is more, even in luxury cars.
WHAT'S IT LIKE TO DRIVE? Where to start? The powertrain is the most familiar part, for the S 63 is powered not by Mercedes-AMG's new 4.0-litre biturbo V8 but by the venerable 5.5-litre (also biturbo V8) unit shared with so many other models.
It's tempting to call it old-school when there's a new-generation engine just launched, but in reality this one is still deeply impressive: its makes a staggering 430kW and propels the S 63 to 100km/h in just 4.3 seconds.
Don't be misled by the AMG badge. In fact, this model is all about luxury and refinement. There's no feral howl from the exhaust or neck-snapping initial acceleration from standstill: the S 63 coupe may be outrageously fast but it's all achieved with an incredible degree of decorum.
Combined fuel consumption is an equally impressive 10.2 litres per 100km. It's also completely unrealistic if you're driving around town or driving fast (two things the S 63 will spend a lot of its time doing), but it is achieveable in gently open-road driving. No, really.
Even more intriguing is the chassis. Like the S 63 sedan, the coupe has Airmatic suspension and a trick system called Magic Body Control, which uses stereo cameras mounted in the windscreen to read the road ahead and prepare the damping accordingly.
But unique to the two-door model is an additional feature called Curve Tilting Function. It's a separate selectable mode – there's also Comfort and Sport – that uses those same cameras to predict curves ahead and tilt the car into the turn like a motorcycle, by up to 2.65 degrees. That's not a lot, but it is enough for the occupants to feel what's happening and have a significant effect on the car's cornering stance.
Again, it's not about ultimate performance. The idea behind Curve Tilting is to provide the ultimate in comfort, by anticipating and therefore prevent body movement through corners. Almost makes Dynamic Seat – another standard feature that pumps up the side of the seat as you turn corners – redundant.
The overall impression and indeed intention of this car is luxury-with-a-capital-L. The steering is too light, structure too heavy and visibility too restricted for the S 63 AMG coupe to be a true driver's car. But it's an extraordinarily fast, uncannily smooth and eerily quiet car at high speed.
Naturally, you get all of the Distronic Plus features familiar from other Mercerdes-Benz models: the cruise control keeps the correct distance to the vehicle in front and works right to standstill (and then starts again), while the
Mercedes-Benz claims the S-class sedan is the best car in the car (to appropriate Rolls-Royce's long-running epithet). So it follows that the new coupe version is a bit better than that.
IS IT EASY TO LIVE WITH? The S 63 coupe's cabin is an incredible place to be. More so in our test car, which was finished in Porcelain Nappa leather with white carpets. A nightmare to own, but quite something to behold for a few days.
The dashboard of the S-class coupe is similar to the sedan but the architecture is unique. The basic technology is carried over though, including the twin 12.3-inch screens and virtual instruments.
If you think there's nothing you can add to a $350,000 car, think again. Our test vehicle had Night View Assist Plus ($4650), head-up display ($2300), an Air Balance package that allows you to scent the air conditioning with a fragrance of your choice ($800) and a wood/leather steering wheel ($525). To name but a few options.
It's an extravagant machine in every respect. The front seats are low and mounted more towards the centre of the car, meaning that even this enormous coupe has very little rear-seat space. If you want to carry passengers, buy the sedan: a coupe is just for you, obviously.
SHOULD I BUY ONE? Let's start with the obvious and say that the S 63 AMG coupe is an incredible piece of design and engineering. Very few of us can imagine having $350,000 to spend on a car, but this Mercedes-Benz shows just what that kind of investment brings: exquisite attention to detail and the last word in safety and driver-assistance technology.
In the larger picture, when we're less overwhelmed by such opulence, this car does represent a bit of a conundrum. It's an AMG product, yet it doesn't feel the least bit sporty. In that sense, it might be the last of a particular line; it'll almost certainly be the last-ever Mercedes-Benz AMG-branded model to come from the tuning division.
As you might know, Mercedes-Benz is rebranding its niche models. Full AMG cars will now be known as Mercedes-AMG, while there's a new super-luxury division called Mercedes-Maybach.
The upshot is that AMG is no longer the only brand to house these super-exclusive models. The S 63 AMG coupe is just so luxurious, maybe a variant of it will find a place within the Mercedes-Maybach family?
EQUIPMENT CHECKLIST
Blind spot warning: Yes
Lane guidance: Yes with steering assistance
Cruise control: Adaptive with stop and go function
Automatic lights/wipers: Yes/yes
Parking radar: Yes with 360-degree camera
Self-parking technology: No
Head-up display: Yes
Satellite navigation: Yes
Keyless entry/start: Yes/Yes
Stop-start: Yes
Air conditioning: Dual climate
Heated/ventilated seats: Yes/Yes
Power seat adjustment/memory: Yes/Yes including massage function
Leather upholstery: Yes
Power boot or tailgate: Yes