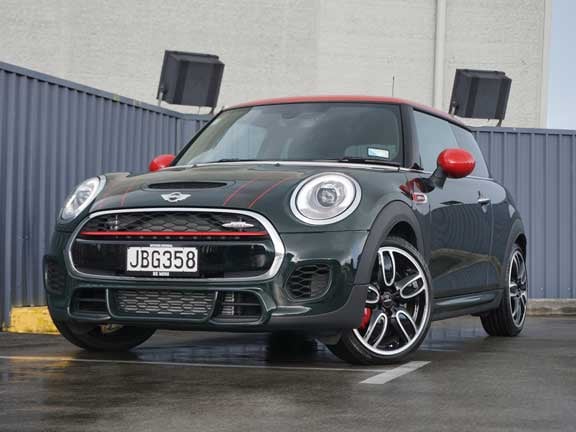 Base price: $54,800.
Powertrain and performance: 2.0-litre turbo petrol four, 170kW/320Nm, 6-speed automatic, front-drive, Combined economy 5.7 litres per 100km, 0-100km/h 6.1 seconds.
Vital statistics: 3874mm long, 1414mm high, 2495mm wheelbase, luggage capacity 211 litres, fuel tank 44 litres, 17-inch alloy wheels on 205/45 tyres.
We like: Increased performance, more efficient, suitably crazy styling.
We don't like: Not as mad-feeling as it used to be, eye-wateringly expensive.
How it rates: 8/10
WHAT DO I NEED TO KNOW? You can create a performance brand with great heritage, like BMW has done with its Motorsport (M) division. Or you can just buy one, like BMW has done with its Mini John Cooper Works (JCW) division.
As you will no doubt know, John Cooper was the great man responsible for sporting versions of the original Mini. His son Michael created JCW in 2000 to make tuned versions of BMW's new Mini (or MINI as they like to call it, but we don't). Anyway, BMW liked the company so much it bought it, so since 2008 it's been the authorised performance arm of Mini.
WHAT'S IT LIKE TO DRIVE? So this new JCW model is the ultimate version of BMW's baby: the smallest and lightest Mini with the most powerful engine ever fitted to the marque.
What's new? Well, the 2.0-litre engine has had a pretty comprehensive makeover in JCW form, with changes to internal components including the pistons, and different induction/exhaust systems. It's gained 10 percent in power and 23 percent in torque compared with the previous JCW, and of course it monsters the standard Cooper S's 141kW/280Nm.
There's no question about the JCW's performance: it's brisk both to 100km/h and in rolling acceleration. But it doesn't feel quite as feral as past JCW incarnations, delivering that acceleration in a much more linear fashion. Perhaps that to be expected: BMW is always looking to broaden the Mini market and there's an advantage in making the flagship (which will appeal to many simply because it's the flagship) a bit less intimidating.
The same can be said for the automatic-transmission option fitted to our test car. If you're an enthusiast you'll probably why anybody would want a three-pedal gearbox in the maddest Mini on sale. But plenty of Mini buyers want to go fast without fuss and the six-speed automatic certainly achieves that. In fact, it's 0.2sec quicker to 100km/h than the manual and drinks a whole litre of fuel less per 100km in the European Combined cycle. Go figure.
Handling and ride are similarly polished. The JCW's suspension has been substantially modified compared with the standard Cooper S, with new springs, dampers and anti-roll bars. It still has the quick steering response and nimble chassis dynamics you expect of a sporting Mini, but's certainly not at the expense of ride – even on the 18-inch alloys that come as part of the $5000 Chilli option package fitted to our test car. Plush it isn't, but the JCW's ride is certainly acceptable for around-town driving.
The JCW chassis can be as sophisticated as you want, with BMW-style adaptive dampers also on the options list.
IS IT EASY TO LIVE WITH? You have to take some things as read with a new-generation Mini. Things like over-the-top interior styling, a tiny rear seat and minimal luggage space.
The JCW cabin goes even further over the top, with faux carbon-fibre dashboard inserts, bright red stitching and chequered-flag motifs everywhere, including the border of the enormous central display screen.
The $5000 Chilli package brings extra equipment on the inside as well, including special leather upholstery with heating for the front chairs and a Harman Kardon sound system. The JCW also has a handy head-up display – although it's of the Perspex pop-up type instead of the usual BMW system of reflecting information directly onto the windscreen.
The Mini hatchback remains a car for two, or perhaps one if your passenger is of a nervous disposition. In that context it's quite spacious up front and with the rear seats folded down it's actually quite a practical two-seater. There's also a novel system for adjusting the rear seats to sit at 90 degrees, which makes them less-than-comfortable but does liberate a little more cargo volume.
SHOULD I BUY ONE? The fact that this is the ultimate Mini makes it desirable right from the outset. It should also prepare for the ultimate pricing. The base price of $54,800 for the JCW is considerable already, but we'd be surprised if anybody left a showroom in one of these without some customisation.
There's certainly plenty to choose from. Add the Chilli package fitted to our test car and the price rises to $64,650. You could go a lot further.
Not that Mini buyers are particularly sensitive to price. It is and always has been a premium small car.
The latest JCW's less ferocious character will probably also please many people. It's faster and more refined than ever before – although we can't help but feel that enthusiast drivers will miss some of the feral character of previous models.
EQUIPMENT CHECKLIST
Blind spot warning: No
Lane guidance: No
Cruise control: Yes
Automatic lights/wipers: Yes/yes
Parking radar: Rear standard or $750 with camera
Self-parking technology: No
Head-up display: Yes
Satellite navigation: Yes
Keyless entry/start: Yes/Yes
Stop-start: Yes
Air conditioning: Dual climate
Heated/ventilated seats: Yes with Chilli package ($5000)/No
Power seat adjustment/memory: No
Leather upholstery: Yes with Chilli package ($5000)
Power boot or tailgate: No
Split/folding rear seats: 50/50
Browse Autotrader's range of Mini Coopers for sale.