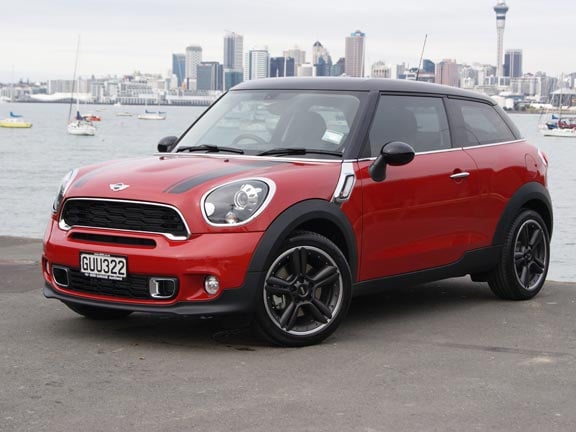 Base price: $53,500.
Powertrain and performance: 1.6-litre turbo-petrol four, 135kW/240Nm, 6-speed manual, front-drive, Combined economy 6.6 litres per 100km, 0-100km/h 7.5 seconds.
Vital statistics: 4109mm long, 1518mm high, kerb weight 1255kg, luggage capacity 330/1080 litres, fuel tank 47 litres, 18-inch wheels on 225/45 Continental ContiSportContact SSR tyres.
We like: Sensible size for a hot-hatch, characterful cabin, cheerful dynamics.
We don't like: Too slow to do justice to Cooper S name, expensive with options.
How it rates: 6/10
WHAT DO I NEED TO KNOW?
If you think the Paceman is a bit big for a Mini, you obviously haven't been paying attention lately. BMW's premium small-car brand is bent on expansion and as such it's no longer interested in producing a single, tiny model. The company has said Minis will continue to be the smallest cars in the segments in which they compete, but there's no guarantee they will be small per se.
To make the Paceman, you start with the Countryman pseudo-SUV. That's a five-door of course, but trim the body down to three doors, introduce a coupe-like roofline and you have made your very own Paceman.
So you could look at it as a crossover-coupe if you like – a bit like a BMW X5. Or you could simply see it as Mini hot hatch that's grown into proper small-car dimensions. In fact, it's just a little smaller than a Volkswagen Golf GTI.
WHAT'S IT LIKE TO DRIVE?
The Paceman is sold exclusively in Cooper S form in New Zealand, so it's really supposed to be a hot-hatch of sorts.
It is. Of sorts. What it's not is fast, with the 135kW/240Nm turbo engine not quite conquering the car's kerb weight when it comes to get-up-and-go. Acceleration is brisk without being startling.
But hot hatches are not necessarily about drag racing. The Paceman has the direct steering and crisp handling response you expect of a Mini. It's a lot of fun and the slightly higher seating position certainly does not hurt down-the-road visibility.
The Paceman is available with all-wheel drive in some markets, but not here: it sticks with front-drive and a choice of six-speed manual or automatic transmission. IS IT EASY TO LIVE WITH?
What Paceman does offer is the cheerful dynamic character of a Mini with decent cabin space for four adults – something you simply don't get in the regular Mini three-door. The sloping roofline means the rear seats are not exactly airy, but there's plenty of space and the four-seat layout (with a rail through the middle for sliding cupholders and the like) creates an interesting ambience.
The dashboard is straight from the Countryman, although there are a few detail changes – such as the window switches, which have been moved from Mini's signature central position to the door armrest. Just like a normal car!
Being a Mini, there's plenty of opportunity to spend up large on options. Our test car had the $5000 Chilli package with leather, upgraded audio, bi-xenon lights and 19-inch wheels, plus black headlight trim ($300) and stripes ($200).
SHOULD I BUY ONE?
Tricky one, that. The Paceman is really positioned to compete with premium hot hatches like the Golf GTI and Renault Megane RS, but it really doesn't have the sheer performance or track-day dynamics to cut it in that company.
Where it does score is in exclusivity and bringing Mini character – visual, dynamic and otherwise – into a much larger three-door package. The styling isn't to all tastes – especially the rear, with its horizontal lights (a first for Mini) and old-school script across the tailgate – but you will never mistake the Paceman for anything other than a Mini.
EQUIPMENT CHECKLIST
Air conditioning: Single climate
Audio: Single CD, USB and auxiliary
Automatic lights/wipers: Yes/yes
Blind spot warning: No
Bluetooth: Yes
Cruise control: Yes
Driver footrest: Yes
Gas discharge headlights: Optional with Chilli package
Head-up display: No
Heated/ventilated seats: No/No
Keyless entry/start: No/No
Lane guidance: No
Leather upholstery: Optional with Chilli package
Parking radar: Yes
Power boot or tailgate: No
Power seat adjustment/memory: No
Remote audio controls: Yes
Satellite navigation: No
Seat height adjustment: Yes
Self-parking technology: No
Split/folding rear seats: 50/50
Steering reach adjustment: Yes
Stop-start: No
Trip computer: Yes
Find a Mini Cooper HERE