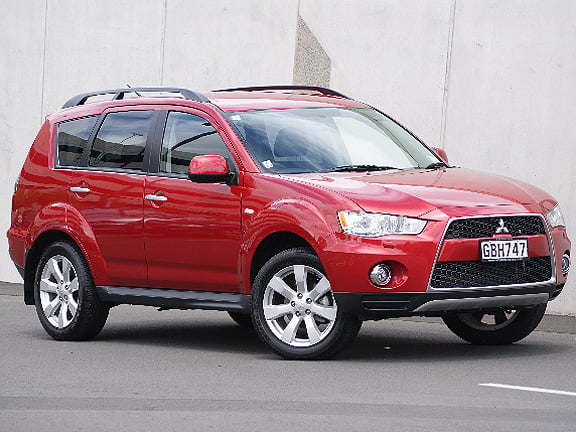 That face, for a start: Mitsubishi is by no means a guaranteed source of sexy styling, but the Outlander has always looked sharp. A little more classy prior to the pretentious 'jet fighter grille' facelift of 2010 perhaps, but striking all the same.
Practicality is another strong point. In the crossover scheme of things, Outlander competes with soft-roaders like the Honda CR-V and Toyota RAV4, yet it has the advantage of seven seats in every model upwards of our mid-grade XLS and a very versatile load area.
Granted, the third-row chairs are fiddly to erect and strictly occasional, but they're just the thing for short hops between kids' sport engagements or emergency transport for family gatherings. The car's cargo-carrying configuration is genius: the third row folds flat into the floor and you really wouldn't know it's there, under a massive 882 litres of load area. The tailgate is split into two and the bottom section will support 200kg, so you can sit on it at picnics or sports events.
If you want to go all-out into van mode, the 60/40-split second row automatically flips forwards out of the way at the touch of a button, giving you a large, flat load bay.
So there's a lot to like about the Outlander. Peugeot-Citroen obviously agrees, for the Mitsubishi forms the basis of crossover wagons for those marques too – take a close look at the Peugeot 4007 and you'll see a mildly-made-over Outlander on the outside, albeit with the benefit of an excellent diesel engine (something denied the Mitsubishi here) underneath. As it happens, the Outlander also lends its underpinnings and some styling elements to the smaller Mitsubishi ASX (the two even have the same wheelbase) – and therefore Peugeot's forthcoming 4008 compact crossover.
Outlander: it's influential! It's also been a big seller in the past, although it's dropped down the sales charts in recent times as new entrants like Holden's Captiva (also a seven-seater) have come along in what is a hotly contested segment. That's to be expected: Outlander is getting near the end of its life cycle and the crossover market is partly about fashion.
It's still good thing, though: nicely designed and dynamically well-sorted. The all-wheel drive models have a pleasingly simple rotary dial to select front-drive, on-demand all-wheel drive or a 50/50 lock for slippery surfaces. The front-drive setting might appeal to extremely eco-conscious drivers, but I reckon all-wheel drive is the place to leave it: it stays in front-drive anyway until you start to loose traction, so it's nice to know you will have all-wheel-drive to call upon if it's suddenly needed.
The powertrain is perhaps the biggest disappointment. There's a growly 3.0 V6 available, but it's very thirsty if you use the performance on offer and most Outlanders are sold with our test car's 127kW/230Nm 2.4-litre four. It does good work but is matched to a continuously variable transmission (CVT), which isn't much fun to drive. Nor does it appear to aid the car to the excellent fuel economy that this type of transmission is usually renowned for: 9.3 litres per 100km is okay but not outstanding, Outlander.
The XLS is $45,990 and comes with steering-wheel controls for the Bluetooth cellphone connection, gas-discharge headlights and 18-inch alloy wheels. Another $5100 and you can step up to the VR-X, with full leather, premium Rockford Fosgate audio (worth having) and reversing camera, which is almost a must-have for a high-riding family vehicle like this.