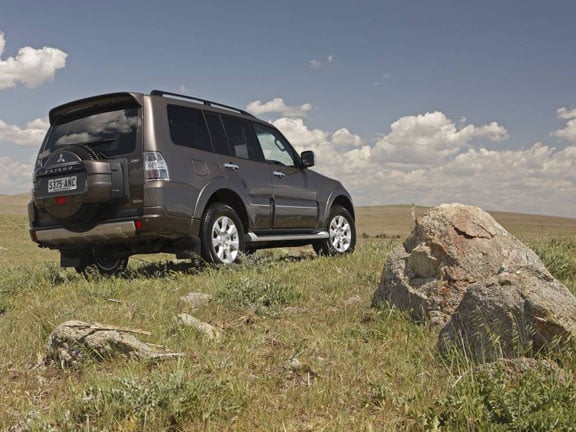 Once upon a time, vehicles of this type were the default choice if you wanted a recreational application and seven seats: economy-sized off-roaders with truck-like separate-chassis construction, low-range and massive towing ability (3300kg in this case).
Circa-2012, trucks like this are an endangered species. So-called crossover wagons are now the thing to have: vehicles that look like off-roaders, but are in fact based on passenger-car underpinnings. Low range? The phrase has more relevance to the low-fuel warning light than anything to do with the transmission these days.
The old guard is dying: you can still buy a Pajero, Mitsubishi Challenger or Toyota Land Cruiser, but even a former stalwart like the Nissan Pathfinder is moving to a crossover configuration in its next generation.
This is happening for a reason, of course. When they're new, these types of vehicles spend a lot more time on the road than off it (if they go there at all), so lighter weight and better on-road dynamics hold a lot of appeal.
Still, there are some who still want to tow big stuff, take the family on holiday and be satisfied in the knowledge that their vehicle is Tonka tough. There are plenty of utes to choose from, but they're not quite wagons and they don't have seven seats. So for now, people can still buy a Pajero and even be a bit posh if they have $87,590 to spend: that's the price for the flagship Exceed with a 3.2-litre turbo diesel engine.
The Pajero's familiar, now-rather-rather quaint styling and old-school cabin ambience has retro-appeal. Call it ironic consumption if you must, but that's another benefit/consequence of just hanging around in the market for a long time. None of it is easy on the eyes, but it's novel all the same.
Less appealing on the ears is the truck-like diesel engine, which churns out 150kW/440Nm and never lets you forget it's working. It might be a bit less intrusive if the five-speed gearbox had another ratio or two, but there's enough torque on tap to keep the big fella rolling along quite nicely regardless.
Handling? It has some, although the slow steering, fidgety ride and sheer bulk of the Pajero mean it's a machine that prefers the straight and narrow. This is the reality of heavy duty off-road ability, so we really can't complain if the big Mitsubishi is a bit wobbly: the Exceed really makes more sense when there's something large hooked on the back of it.
Crude it may be, but the Exceed still has a few tricks up its sleeve when it comes to practicality and cabin convenience features. The seats lack shape, but they are upholstered in leather and the middle row can be either folded or completely removed for extra load-carrying capacity.
The latest Pajero Exceed does boast some high-tech features: gas-discharge headlights, Bluetooth with steering wheel-mounted controls, a high-powered Rockford Fosgate audio system, rear air conditioning and a roof-mounted DVD player help to keep both driver and family on long-haul trips.
There's no getting away from the fact that the Pajero feels old. Because it is. If you're spending $90k on a full-size family wagon, the Exceed won't exactly have you running for the nearest Mitsubishi showroom. But in about a decade, when you're looking for a tough off-roader to tow the boat and bash around at the bach, I know exactly what you'll be buying: this car right here.