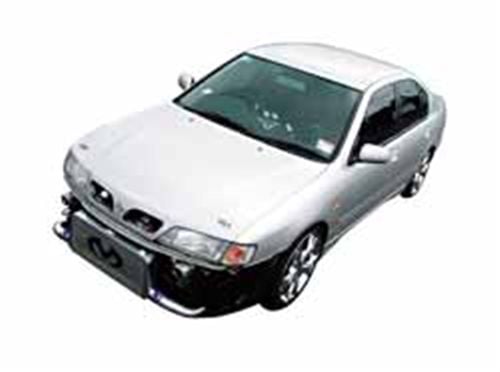 Instead of only concentrating on just the engine or the aesthetics, Nick Green center on descent power, handling, looks, comfort and sounds for his street-cultured Primera. While the bling-bling theme of fitting huge chrome mags to Japanese sports cars may be becoming a thing of the past, its appeal stems from the SR20DET conversion with a custom turbo set-up. Nissan never envisaged a turbo for their domesticated Primera. However, it wasn't all mundane for the Primera, with it boasting a successful history in the British Touring Cars Championships, in the late 1990's.
Sourced from a Nissan Pulsar GTI-R, the 2.0-litre twin cam fuel injected turbo SR20DET was ready for modification by Mitech Performance on Auckland's North Shore. The first step was to swap the standard turbo for a Garret T28 counterpart from a GTR. It was high-mounted with a custom stainless manifold. Mitech placed an emphasis on cooling the Garret with a massive front mounted Mitech aluminium intercooler and radiator, complete with Samco silicon piping and aluminium plumbing. An aftermarket blow off valve rids turbo lag, and a pod air filter supplies sufficient air for the SR20. The battery needed to be relocated to position the air filter away from the engine heat whilst giving ample airflow.
Rather than the engine bay or boot accommodating the battery, Mitech went for a novel approach to fit it forward of the front guard. Depleting used gases is a RPS stainless muffler via a 2.5-inch exhaust. The fuel pump was replaced with a S14 item, and the factory injectors remain. The standard ECU is fine at the moment, however a new tune able computer is on the to-do list, as is an even larger turbo. Since the car has only just rolled out of the workshop, no dynamometer graphs or performance figures are given.
Front-wheel drives are inherently not as fun as rear-wheel drives nor do they handle close to a four-wheel drive. They do however benefit from only a small loss in power due to the short distance between the flywheel and the wheels. In this Primera the stock gearbox is retained, the flywheel has been lightened and the clutch is now a four-puck variety. The factory non-limited slip differential is a limiting factor on handling and getting power to tarmac so a limited slip version is on its way. Lowering the ride height are Nismo shock absorbers and springs.
Heavy chrome-dipped 18-inch Volk 2 rims shine on all four corners, shod with 215×35 tyres. Slowing the Volk 2's, is aftermarket Diablo slotted rotors with Metal King race pads.
A naked frontage proclaims its turbo presence for oncomers??. While the earlier models may look mundane, Nick's latter shape Primera has more European panache. Intentionally, Nick left the boot spoiler-free, providing a more flowing and understated appearance. The package is finished in a brilliant silver paint, contrasted with tinted windows.
Inside is where it's all at. A deafening sound and a multimedia system, plus a few performance extras dominate the interior. Firstly rpm, voltage, cylinder head and water temperature, oil and boost pressure VDO gauges relay information to the driver. A MOMO gear knob and aluminium styled floor pans were installed.
Being gregarious Nick has created a theatre to entertain his passengers. Consisting of a 7.5-inch VDO roof mounted plasma screen for the rear occupants, as the front passengers have an in-dash 7-inch Alpine screen.
A choice of entertainment is offered via a Sound Stream DVD player or a Playstation2 gaming unit under the seat. Rupturing eardrums are two 12-inch Soundstream Db drag subwoofers, featuring dual voice coils enclosed in the boot. Powering these competition subs is an absurdly large Sound Stream Tarantula 4000watt amplifier. Another four channel VDO amplifier also resides, with its job to run the 5.25-inch components up front and the 6.5-inch components in the rear. The set-up features four-gauge cables and two 1-Farid capacitors. Completing the entertainment package there is a smoke machine. To top this off, Nick can screen a movie on to a wall anywhere with the boot lid mounted projector.
Nick's Primera has an overall improved driving package, plus a plethora of entertainment equipment, the essential for being cultured in the street.
Words and photography by Lloyd Bassett-Smith