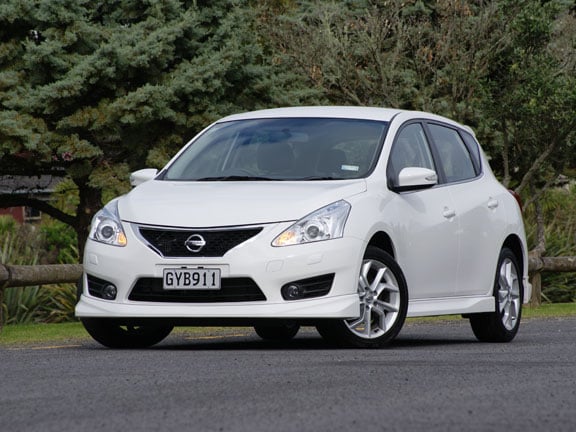 Base price: $39,990. Powertrain and performance: 1.6-litre turbo-petrol four, 140kW/240Nm, continuously variable transmission, front-drive, Combined economy 7.8 litres per 100km. Vital statistics: 4295mm long, 1520mm high, kerb weight 1340kg, fuel tank 52 litres, 17-inch alloy wheels.
We like: Surprising turn of speed, decent chassis and equipment. We don't like: Aloof nature of CVT, hard ride, humble cabin.
How it rates: 6/10
WHAT DO I NEED TO KNOW? Not every carmaker has a badge in its heritage that instantly excites people. Nissan is lucky enough to have 'SSS' to call upon, although there's a superhero ethos that certainly applies: with great power comes great responsibility. The latest Pulsar is a competent but fairly ordinary family hatchback. Nissan has succumbed to temptation and launched a SSS version, in an effort to inject some sizzle into the lineup. Here's the question: does this car do the badge justice, or is it a case of marketing hype over sheer muscle?
WHAT'S IT LIKE TO DRIVE? On paper, there are aspects of the Pulsar SSS that are quite promising. The 1.6-litre turbo engine has been pumped up to 140kW, which is certainly in the hot-hatch ballpark. It's good for 0-100km in eight seconds, which is brisk enough without being over-the-top. The Pulsar SSS also rides on lowered suspension and wears a chunky body kit. It doesn't quite deliver the driver-centric experience you might be expecting, though, because for the New Zealand market the Pulsar SSS comes exclusively with Continuously Variable Transmission (CVT). In other markets you can have a conventional six-speed manual. While CVT works well for mainstream cars, there are issues when you strap this type of gearbox technology to a relatively high-output engine. A turbo engine likes its revs and unfortunately CVT is not great at administering them. Rather, it'll let the engine rush to the redline and then stay there, which means a lot of sound and fury. Not in a good way. You can hand-shift the CVT through seven steps, which does help. But if Nissan was serious about making the SSS more engaging, it could at least have equipped the car with shift paddles. As it stands, the CVT makes enthusiastic driving a bit frustrating at times. Still, you cannot argue with the Pulsar's sheer turn of speed. It's slow to get off the mark but is fast and furious enough to earn its stripes in a straight line. In corners? It's effective, but lacks sophistication. The steering is accurate but devoid of weight. The chassis is tied down tight and the car is tenacious in tight turns, but is a little too stiff for Kiwi roads and can skip over bumps that it really should absorb.
IS IT EASY TO LIVE WITH? This is where the Pulsar's humble origins come into play. It's a tall hatchback designed to be as practical and spacious as possible, and that applies as much to the flagship SSS as it does to the most humble fleet-focused model. The Pulsar certainly has space and a relative degree of luxury. There are a lot of hard plastics in the cabin and the styling is simple in the extreme, but the SS does gain goodies such as leather upholstery, climate-control air conditioning, satellite navigation and reversing camera – although it's a shame those last two items are undermined by a tiny display screen.
SHOULD I BUY ONE? That would depend on your expectations. The Pulsar does not deliver a hot-hatch experience in the traditional sense: the powertrain and chassis are too remote for that.
However, the SSS does have a pretty good turn of speed and it is one of the more practical and spacious small cars out there. If only you could have the performance fizz without the pretentious badge and body kit. In fact, you can. Nissan offers the Pulsar ST-S, which has the full 140kW under the bonnet but eschews the warpaint and the extra cabin kit. Suddenly, the Pulsar goes from a little bit embarrassing to excellent value and surprisingly sprightly. So buy that one instead.
EQUIPMENT CHECKLIST
Air conditioning: Dual climate
Audio: CD, iPod compatible
Automatic lights/wipers: Yes/No
Blind spot warning: No
Bluetooth: Yes
Cruise control: Yes
Driver footrest: Yes
Gas discharge headlights: Bi-xenon
Head-up display: No
Heated/ventilated seats: No
Keyless entry/start: Yes/Yes
Lane guidance: No
Leather upholstery: Yes
Parking radar: Front and rear with camera
Power boot or tailgate: No
Power seat adjustment/memory: Yes/No
Rear ventilation outlets: Yes
Remote audio controls: Yes
Satellite navigation: Yes
Seat height adjustment: Yes
Self-parking technology: No
Split/folding rear seats: 60/40
Steering reach adjustment: Yes
Stop-start: No
Trip computer: Yes