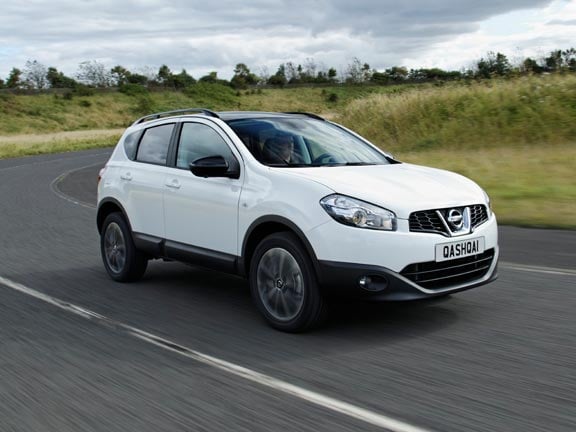 Base price: $45,490.
Powertrain and performance: 2.0-litre petrol four, 102kW/198Nm, continuously variable transmission, front-drive, Combined economy 7.6 litres per 100km.
Vital statistics: 4330mm long, 1645mm high, kerb weight 1455kg, luggage capacity 410/860 litres, fuel tank 65 litres, 18-inch wheels on 215/55 tyres.
We like: Style, trick 360-degree-camera parking assistance, value.
We don't like: Underwhelming powertrain, small for a family crossover.
How it rates: 7/10
WHAT DO I NEED TO KNOW?
The Ti is no longer the flagship model in Nissan's Qashqai range. For another $4400, the Ti-L model brings the maker's novel Around View Monitor (AVM) 360-degree parking assistance system, a touch-screen with satellite navigation and leather/heated seats.
The Ti-L is available only as a five-seater hatchback; the larger seven-seat Qashqai continues in entry-level ST specification only.
WHAT'S IT LIKE TO DRIVE?
The Qashqai has always been more about style and genre-bending than sheer driving pleasure. There's nothing drastically wrong with the dynamic package, but the powertrain is a little underwhelming: a modest petrol four matched to a continuously variable transmission (CVT).
No surprise there: CVTs are very much Nissan's thing (it even fits one to its Pulsar SSS hot hatch). But while this 'gearless' type of transmission brings benefits in fuel economy and smooth low-speed driving, it does distance the driver from the workings of the engine and it isn't a lot of fun if you're pressing on. Hard throttle use produces faster forward motion but even more noise, as the CVT seamlessly winds on all available revs for maximum acceleration – and holds them until the bitter end.
Even in less enthusiastic driving, engine speed does not always translate to road speed – such is the way of the CVT. However, there are plenty of people sold on this transmission technology and lots of carmakers are very keen on it too: Nissan but also Honda and Subaru. It's an acquired taste.
So Qashqai is not sporty. But it rides nicely even on the Ti-L's standard 18-inch wheels and the handling is utterly predictable. It's front-drive, of course; while Qashqai might look like an off-roader, in New Zealand it's marketed as a family-car alternative (it replaced the Primera in Nissan's local lineup) and isn't offered with the four-wheel drive system that's available overseas.
IS IT EASY TO LIVE WITH?
Could not be easier really, which is the whole point. The Ti-L's party trick is its Around View Monitor (AVM), which is similar to the system used on high-end Audi, BMW and Mercedes-Benz models. Four lenses around the car provide a 360-degree view of your surroundings to help you park. The images are presented as a bird's eye view, although the effect is simulated through the use of wide-angle lenses.
It's a handy setup, especially since you can isolate one camera or another to get a closer view of, say, the left-hand side of the car when you're parking beside another vehicle.
However, AVM is not perfect: the screen on the centre console is quite small and you have to be aware that the picture you're getting is quite distorted in order to give you the widest possible view.
High-tech parking aside, the Qashqai is a model of ergonomic simplicity, with plenty of standard equipment but a minimum number of buttons and dials on the dashboard. It's not a big car (shorter than a Toyota Corolla, for example) so don't expect SUV levels of passenger and cargo space. But it's a usefully compact and fairly practical machine for an urban family.
SHOULD I BUY ONE?
The Qashqai has its work cut out circa-2013: its right at the end of its model life and the compact-crossover segment is bursting with talented new models.
However, the Qashqai has always stood somewhat apart by refusing to be categorised as an SUV (Nissan New Zealand simply calls it a 'hatch') and even after all these years it's still an attractive vehicle.
It's not as good to drive as a Ford Kuga or Mazda CX-5, but with a price tag of $46k and the enhanced equipment level of the Ti-L, this is a lot of family car for the money. It's certainly the one with the most parking cameras.
EQUIPMENT CHECKLIST
Air conditioning: Dual climate
Audio: CD, iPod compatible
Automatic lights/wipers: Yes/yes
Blind spot warning: No
Bluetooth: Yes
Cruise control: Yes
Driver footrest: Yes
Head-up display: No
Heated/ventilated seats: Yes/No
Keyless entry/start: Yes/Yes
Lane guidance: No
Leather upholstery: Yes
Parking radar: Yes with Around View Monitor (AVM)
Power boot or tailgate: No
Remote audio controls: Yes
Satellite navigation: Yes
Seat height adjustment: Yes
Self-parking technology: No
Split/folding rear seats: 60/40
Steering reach adjustment: Yes
Stop-start: No
Trip computer: Yes
Find a Nissan Qashqai HERE