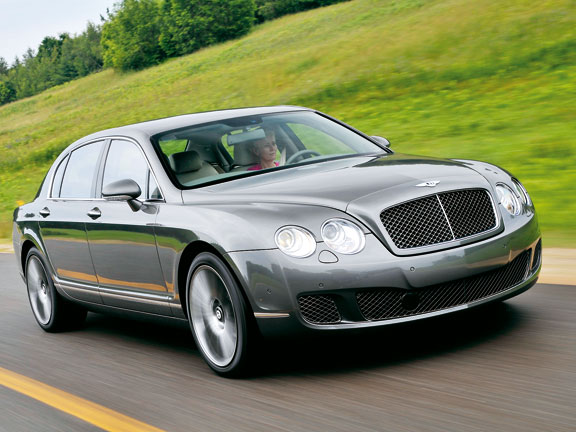 This may not be the most expensive rolling sound system I've ever ridden in – that was the Rolls-Royce Phantom. But by heck this one's no slouch. Shut your eyes and you could be in that concert hall, that jazz club. Not nestled into the rich leather of the latest Bentley Flying Spur.
But because you're in the Spurm, you don't want to shut your eyes. For then, you'd miss the sight of light on gleaming wood, of the road streaming ahead of you into a horizon that tempts you to test the car's legs.
We're in the Speed at present, the faster of the two Flying Spurs now on offer.
The previous generation came in one format, but customers wanted more comfort, more speed and more luxury. Hence the 'comfort' or standard Flying Spur and its faster, rortier Speed sibling. And hence a wider array of custom-choices for people with the money to play.
Certainly the Boston, Massachusetts, launch location was surrounded by folk who do have that money. Boston is an aristocrat of American cities; central to the revolution that gave the country its independence, yet now a conservative and very moneyed enclave in which the Bentley feels right at home.
Herds of cows died for this car, and if not quite forests of trees, at least much of a tree, with real wood slathering the interior. Real wood that's hand-sanded, with each car's wood set taking more than 13 days to complete. Hell, it takes 72 hours alone for the lacquer to dry. That attention to detail is evident everywhere except, perhaps, under the bonnet.
For the standard car's 6.0-litre W12 twin-turbo engine gets the same 412kW and 650Nm as before, though the Speed's has been considerably worked on.
The result is a stonking 449kW and 750Nm of torque – available anywhere from 1750 to more than 5500rpm. Zero to 100kph arrives in 4.8 seconds, half a second faster than the standard car. Thirst? If you can afford a Flying Spur, you won't care.
You might care that you only hear that engine under hard acceleration when the Speed, especially, emits a truly hairy-chested roar and an intoxicating wuffle on the over-run that'll have you lifting off just to hear it sing.
Stick to cruising, though, and it's refined all-but-silence, in part thanks to eiderdown-thick sound-proofing and five-layer glass, plus other changes to reduce NVH mandated by Naim, the audio specialist.
The Flying Spur has never been a sports car, though handling was always impressive for a hefty luxury sedan. The standard car's softer subframe bushings impart more compliance and the Speed gets firmer settings for the revised suspension bushes, spring and damper rates and anti roll bars.
Its steering rack is rigidly mounted for greater accuracy, it rides 10mm lower and all of that sharpens response enough for a gentlemanly suggestion of more sporting appeal.
The Speed would be my pick. I like hearing my oversize engines and making the most of what they offer. Not that much hoonery was available in the States, with conservative speed limits and plentiful policing.
But despite its name, this car isn't really about speed – it's about luxury. The luxury of power, the luxury of prestige, and the luxury feel of those appointments. Heated and massaging seats front and rear, for example, plus cooling if
sir wishes.
Fold-out tables with lights and make-up mirrors are  of an options list the size of a phone directory. Watch a movie or, as we were doing, play with that Naim sound system. Naim is famous for its top-end audio. You can pay more than a million for a Naim system, and its reputation for perfection meant a certain amount of negotiation with Bentley when developing this car.
Naim wanted thicker cables; they compromised door opening and were nixed. Naim wanted better sound-proofing – even playing pure notes in a bodyshell to check acoustics – and got it.
Even the standard cars benefit. But pay the expected sixteen grand premium for the Naim for Bentley system, and you'll achieve a level of audio perfection that I, for one, don't have ears sharp enough to fully appreciate.
This stuff will even offset the shortcomings of digital. Can't tell the diff? You can still boast about the massive 15-channel amp – which Bentley says is the biggest fitted to a production car.
The outgoing Flying Spur was impressive, a plush luxury sedan with plenty of heritage, and the sort of opulent, exclusive appeal the likes of Mercedes would kill for. This one – expected to sell here at around $400,000 – is just that little bit better.
Of course it has to be. Bentley has had the V12 luxury sedan bracket virtually to itself. But with the RR4 Rolls-Royce, Porsche Panamerica and Aston Martin Rapide looming, it's got to keep on its patrician toes.