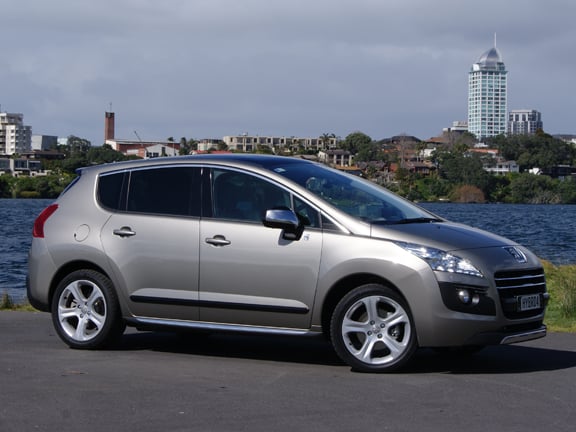 Base price: $59,990.
Powertrain and performance: 2.0-litre turbo diesel four driving front wheels with electric motor driving rear wheels, total system output 147kW/500Nm, 6-speed robotised manual gearbox, Combined economy 3.8 litres per 100km, 0-100km/h 8.5 seconds.
Vital statistics: 4365mm long, 1639mm high, wheelbase 2613mm, luggage capacity 512-1604 litres, fuel tank 60 litres, 18-inch alloy wheels.
We like: Excellent performance and handling, multi-faceted hybrid operation.
We don't like: Not immediately easy to drive, very limited zero-emissions range.
How it rates: 8/10
WHAT DO I NEED TO KNOW?
Just when you thought hybrid vehicles were becoming completely mainstream, here's something completely new: the Peugeot 3008 Hybrid4 (or HY4, as it says on the badges) is the world's diesel-electric hybrid.
Trust the French: they are such fans of diesel passenger cars. But the genius of this powertrain is that it's completely modular, because the turbo-diesel engine is the standard unit you'll find in many other Peugeot and Citroen models. The electric motor is simply added into the mix.
While the diesel motor drives the front wheels (as it would in any other 3008), the electric motor drives the rear. This allows the 3008 HY4 to mix-and-match and give you front-drive, rear-drive zero-emissions or full-time four-wheel drive.
Being modular, the HY4 powertrain can also be used in other vehicles. In fact, it is: Peugeot's flagship 508 RXH uses pretty much the same setup.
WHAT'S IT LIKE TO DRIVE?
Weird. That's meant in a good way, but you do have to understand that the 3008 HY4 is not a hybrid vehicle you can simply get in and drive, without understanding how it works.
It's very obvious when the powertrain changes modes, partly because the machinations of the diesel engine are aurally obvious, but also because the powertrain employs a single-clutch automated gearbox, which also requires a little bit of finesse on the part of the driver for smooth progress. It's not a set-and-forget hybrid like, say, a Toyota Prius.
However, if you put in the time, the HY4 has the potential to be a much more satisfying drive than many of its hybrid rivals. Being based on the conventional 3008, it has excellent steering and handling. The automated gearbox is more driver-focused than the continuously variable transmissions favoured by the likes of Toyota and Honda. The brakes offer good pedal feel, because they are not regenerative (most other hybrids draw energy from the brakes to recharge their batteries): instead, the HY4 simply draws power from the wheels when decelerating or coasting. The only drawback with that is a lot of drag when the throttle is off. Don't expect to coast down hills without a care: in fact, you sometimes find yourself having to accelerate to the bottom.
The driver can choose between four settings for the powertrain: automatic, sport, zero emissions vehicle (ZEV) and four-wheel drive. Automatic is the default. You'll be surprised by the leap in responsiveness in sport, and perhaps a bit disappointed by the limited range in ZEV: Peugeot claims up to 4km, but even that's a big ask. The powertrain does, however, automatically switch into ZEV model for short periods whenever possible.
IS IT EASY TO LIVE WITH?
Once you get the hang of driving it, yes. That because apart from the powertrain, the HY4 is pretty much standard 3008: quirky looking, but with a cabin of high quality materials, excellent visibility and plenty of passenger pace.
Peugeot calls the 3008 a crossover but there's plenty of multi-purpose vehicle in there as well. The seats are excellent and there's a real sense of a well-thought-out cabin – even down to touches like a split tailgate, with the bottom half opening outwards to allow easy loading, and the top half opening fully upwards even in tight spaces.
SHOULD I BUY ONE?
The 3008 HY4 is not a car that's going to grab you after a quick drive around the block: it takes time to really appreciate how it works and what it can offer.
But that's okay, because it's also a relatively expensive machine, so anybody interesting in buying one will no doubt be doing so because they want that hybrid technology.
The 3008 HY4 offers that diesel-electric powertrain and fuel economy with very little compromise in dynamics. Not to mention quite a bit of French flair.
EQUIPMENT CHECKLIST
Air conditioning: Dual climate
Audio: CD, iPod compatible
Automatic lights/wipers: Yes/yes
Blind spot warning: No
Bluetooth: Yes
Cruise control: Yes
Driver footrest: Yes
Head-up display: Yes
Heated/ventilated seats: Yes/No
Keyless entry/start: Yes/Yes
Lane guidance: No
Leather upholstery: Yes
Parking radar: Yes
Power boot or tailgate: no
Remote audio controls: Yes
Satellite navigation: Yes
Seat height adjustment: Yes
Self-parking technology: No
Split/folding rear seats: 60/40
Steering reach adjustment: Yes
Stop-start: Yes
Trip computer: Yes
Find a Peugoet 3008 HT4 HERE