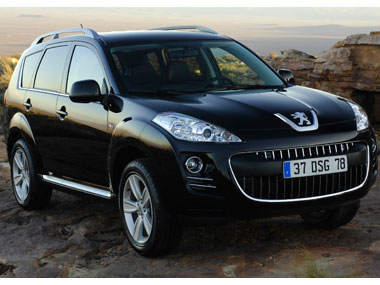 No wonder its launch overshadowed news the 207 entry-level hatch has dropped in price by $2500, under-cutting some mass-market small cars.
The soft-roader's Kiwi debut came in heavy rain, which prevented photography but showed this car off at its best.
It's based on Mitsubishi's excellent Outlander, a relationship Peugeot doesn't try to avoid. Such vehicle sharing suits today's cash-strapped environment, and creates cost-savings for all the companies using the same basic underpinning: the platform is used by Mercedes' B-class and Hyundai's Tucson and Santa Fe, while Mitsubishi, Peugeot and Citroen all share the basic car with some detail changes.
The donor vehicle suits its swoopy Peugeot face, with chrome embellishments and smarter cabin materials considerably lifting ambience even for the five-seat manual-transmission entry-level car.
The other two variants are seven-seaters with a clever third row lifting out of the flat boot floor. It's a fiddle to produce first time around, but the two-tag pull is easy once you get the hang of it, and will be appreciated by car-pooling parents.
The 4007 is a more refined drive than the outgoing Outlander (Mitsubishi's facelift car was launched as this text hit the web). Road noise is still louder than expected – curse our coarse chip tarmac – but this double-clutch six-speed auto is a beauty, especially when mated to Peugeot's tasty 115kW, 380Nm 2.2-litre common rail diesel engine. It's torquey at low revs and a smooth performer at high; our bendy, rain-slick country drive revealed a car as happy at open road speeds as any petrol equivalent, but naturally more fuel-frugal. Mitsi claims 7.3l/100km; we got closer to the urban claim of 9.3, but that included some demanding hill work and a bit of grassy four-wheel-driving.
Only a bit, because our off-road route became too waterlogged to traverse. However, a quick twirl of the dial from 2wd to four sends power from the front to rears if needed, with four-wheel-drive lock for more tricky conditions. Wet grass and waterlogged ruts on road tyres proved no obstacle, the car smoothly sending torque hither and yon without bothering the driver.
Meanwhile, back on road ride and handling again felt better than the outgoing Mitsi – Peugeot uses the same basic suspension set-up but with different springs boasting a stiffer rating.
All these cars get generous features, with climate control air, a chilled glovebox, cruise control, auto headlights and wipers plus leather trim. There's ABS brakes, ESP stability control and six airbags, and 16-inch wheels as standard.
The Sport adds 18-inch alloys, but the biggest seller already is the luxury-trim version with its full leather interior, electric heated seats, Bluetooth for your hands-free cellphone and additional chrome gewgaws. New to Peugeot, though, is a list of after-market options, like mud flaps, boot liners, roof bars, bull bars and of course tow bars – there's a 2000kg tow rating.
Peugeot has hit a good price point with this car, its base model starting where Mitsubishi's top-spec Outlander ends – the brand cachet, extra spec and added refinement reasonably justifying the price premium.
See a range of Peugeot cars for sale here.