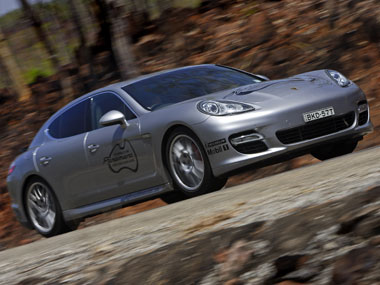 Don't assume Porsche's further watering-down its sporting DNA with the four-door, four-seat Panamera. This is no Cayenne, as you can see from the pics. There's no mistaking its pedigree whatever the angle. It's every-inch a Porsche.
Which initially made the car's round-Australia launch seem counter-intuitive. Just look at my three-day leg from Darwin to Alice via Kakadu, with long days in the saddle and rarely a bend to spoil the view. What curves there are would hardly challenge a car like this.
But the Panamera isn't all about bends – certainly not in many of its world-wide markets. It's as much about carrying four in style and comfort as it is about swervery; as much a grand-tourer as anything else.
Hence my 1700km stint amid a 17,000km total that ends in Melbourne the day the Panamera goes on sale.
Two drivers, two passengers in a $260,000 normally aspirated rear-drive S and a $350,000 four-paw Turbo; one back-up Cayenne diesel laden with spare tyres and wheels; and lots of bottles of water later, we have a verdict.
This car is bloody impressive.
It uses a reworked engine based on the Cayenne's 4.8-litre V8. That means natural aspiration for the 294kW/500Nm S, and twin turbos and 368kW/700Nm for the Turbo, each with a seven-speed PDK transmission and active suspension management. The Turbo then adds stuff like Porsche's clever traction management and adaptive air suspension with dynamic traction control.
I haven't driven it in NZ yet, but these outback roads were hardly hot-mix heaven. Lumps, bumps and potholes, drifting red dust and extremely erratic wildlife made for challenging conditions.
Yet the Panamera proved unflappable, even at the 130kph speed limit. Such corners as there were disappeared almost unnoticed, the single stretch of swervery confirming only that the Turbo's handling is a touch inert, the S more lively, and that yes, you do feel these cars' added weight and larger dimensions.
But you also feel their pedigree. They compete with the world's fastest sporting sedans, where dynamic ability and power are as important as cosseting seats and ride comfort.
Daly Waters air strip offered a legal opportunity to let rip. Given such a chance you'll find the Turbo handles almost literally as if on rails, topping out at over 300kph. The barely slower S again feels more lively, the wheel wriggling in your hands – wriggling, yet self correcting as it transmits the road profile direct to your palms.
As for comfort, select 'normal' for relatively compliant ride given these cars' sports focus. Select sport and she tightens up, yet remains comfy enough for long days in the saddle. Our 930km stint to Alice Springs was spent sharing the driver and passenger seats, and ended with participants mentally fatigued but physically fine. The rear isn't capacious but is certainly roomier than expected.
Mind you, small children would hate it, the front sports seats blocking the view ahead, and the high waistline the side aspect.
That rising windowline is part of Porsche's attempt to give these cars a sporting profile. The high rump is barely noticeable on the road. The rear, front and three-quarter views are all pure Porsche, all muscle. It's the side view that divides opinion. For me, it's a blunt torpedo – all purpose, and a wholly appropriate link from front to rear, though I admit it doesn't photograph well.
Owners won't care. The Panamera looks great in the flesh, out-trumps the Maserati opposition, and should see off the upcoming four-door Aston Martin too. There's an options list as long as your arm that even includes a champagne fridge, luxury and comfort, plus eye-watering speed and traditional Porsche design cues.
But for all the Turbo's range-topping talents I'd still take the S, for its liveliness best personifies the brand's sporting persona.