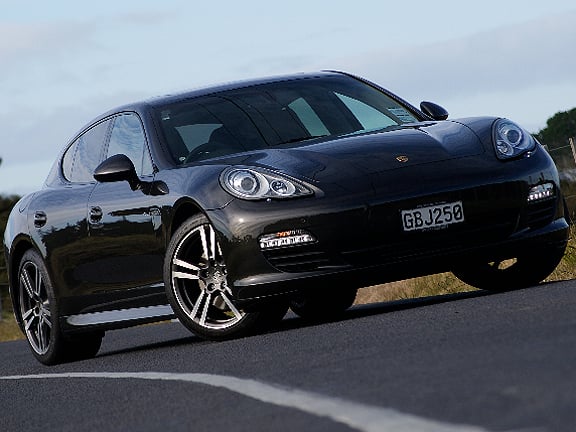 Porsche continues to make some of the most exciting sports cars around – including all-new Boxster and 911 models to be launched this year. But that's only part of the marque's story circa-2012. For the past decade it has been expanding into some pretty radical product places – how does a Porsche diesel-powered luxury limousine sound?
A Panamera diesel: I guess we shouldn't be surprised. It's not the first Porsche with compression-ignition power, is it?
No indeed. Porsche has offered turbo-diesel versions of the Cayenne crossover for many years. Since the super-luxury Panamera is actually based on the Cayenne, a diesel version seemed inevitable – although Porsche says it as only added to the programme late in the piece, once it saw how successful other diesel-powered luxury cars were becoming.
The Panamera's 3.0-litre powerplant is borrowed from Audi – it's basically in the same 184kW/550Nm state of tune as A8 V6 TDI models sold in Europe. Interesting to note that the diesel has a conventional eight-speed automatic gearbox, not the dual-clutch PDK of the performance petrol versions. That's a good thing, as it's much smoother and better suited to this luxury express.
Pub fact: with Combined consumption of 6.5 litres per 100km, this Porsche can do over 1200km on a tank?
Impressive. But would you want to? It's no 911, after all.
No, it's not a sports car. But it has qualities that I'd argue make it the best Panamera you can buy. You get all of the advantages of a diesel (massive torque at low speed, outstanding economy) and none of the clatter – at least not inside, where the Panamera is astonishingly quiet. It's no slouch either, with 0-100km/h in 6.8 seconds.
There's no four-wheel drive option with the diesel, which doesn't make a lot of difference to the driving experience of such a massive vehicle (five metres long, two tonnes), but may limit its usefulness as a weekend ski-express.
At $192,400, it's the same price as the entry-level Panamera V6 petrol and really there's no contest. The more powerful V8 petrol-powered performance models have the option of all-wheel drive and more dynamic appeal, but you can't escape the impression that the diesel powertrain suits the Panamera's character better than any other. In case you were wondering, the only visual cue is a small 'diesel' badge in classic Porsche script on the front guards.
This is all very well, but a luxury-diesel Porsche? Why not just buy an Audi or Mercedes-Benz instead?
That's a fair point and perhaps you should. The Panamera does have a unique selling proposition though: this is true Business Class travel for passengers, with extreme levels of cabin luxury and two massive individual seats in the back that are bisected by a high centre console. You sit low like you're in a sports car, but you have the legroom of a limousine. It's oddly appealing and quite a bit more special-feeling than its obvious rivals. If not as pretty…