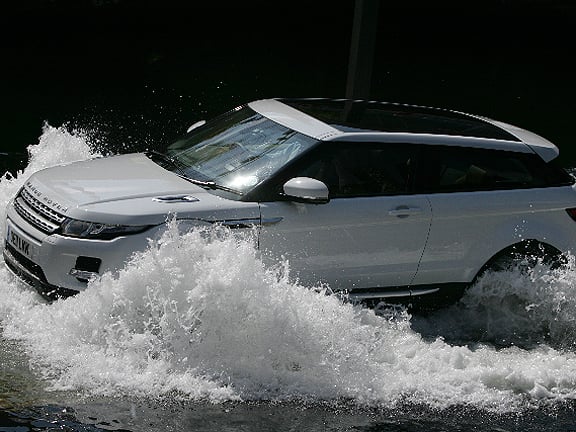 Land Rover is a brand whose credibility depends so much on tough off-road ability, and Evoque is its first-ever model designed primarily for on-road driving. Underneath, it's about 70 per cent Freelander. Oh, and being fashion-forward was part of the plan from the start, hence the involvement (sic) of Posh Spice in some design elements.
Really, Evoque could easily have turned Land Rover into a bit of a laughing stock. But it hasn't – the vehicle has been critically well received and embraced by many of the brand's enthusiasts. How did they do that, then?
First and foremost, Evoque retains a high degree of off-road ability – not as much as its biggest brothers, since it has a road-car chassis and suspension. But enough to truly surprise its owners and certainly more than your average soft-roader. It's also a great car to drive on-road – sprightly engines, sporting handling and ride comfort when you want it.
And the styling? Probably the most risky aspect of all. If Land Rover had made the Evoque too urban-looking, it might have emasculated the brand. Too tough and you're talking ironic consumption. Solution? Totally over-the-top concept-car styling, a bold move but one that paid off because it looks awesome. While still looking like a Range Rover.
Success, then. Not that the Evoque will ever be a big seller in New Zealand because it's a true Range Rover in another significant aspect: it's very expensive. We've driven two versions: a five-door in entry-level Pure specification with the least powerful TD4 2.2-litre diesel (110kW), and the bells-and-whistles Evoque three-door in Dynamic trim with the more powerful SD4 (140kW) diesel. The former is still $96,500, while the three-door starts at $106,490 – although our test car climbed to, ahem, $127,290 with a few choice options. That's a lot of money for something that's roughly the same size as a Toyota RAV4.
But it does feel like a prestige vehicle, not just in the way it looks but in the way it drives. It has real urge regardless of engine trim (the TD4 is perfectly strong, truth be told), a very smooth six-speed automatic gearbox and excellent ride/refinement.
Granted, the diesel engine is a Ford-sourced unit, a lot of the equipment you pay extra for in the Range Rover is standard on a $53k Mondeo and about 30 per cent of the Evoque's platform is borrowed from the more modest Freelander. In pure (excuse the pun) value terms it's quite hard to justify those (near) six-figure prices.
But it's unlikely that too many Evoque owners will be counting the dollars and cents in such a rational way when they're buying into the world's most famous luxury-off-road brand. The beauty of the Evoque is that it does feel like a real Range Rover; that's really all it has to do to succeed. Driving one is a special experience.