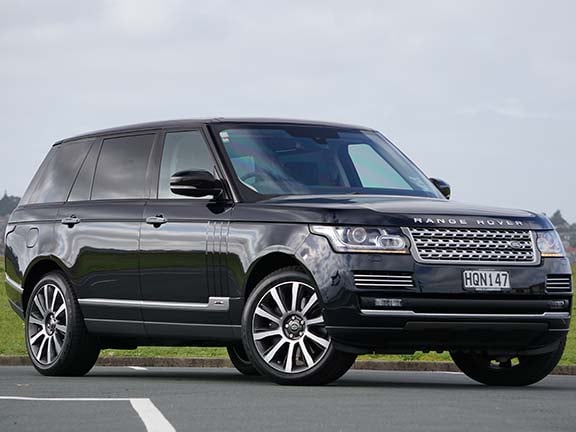 Base price: $218,000.
Powertrain and performance: 4.4-litre turbo diesel V8, 250kW/740Nm, 8-speed automatic with low-range, four-wheel drive, Combined economy 8.7 liters per 100km, 0-100km/h 7.2 seconds.
Vital statistics: 5199mm long, 1840mm high, 3120mm wheelbase, luggage capacity 909 liters, 20-inch alloy wheels.
We like: Sheer sense of luxury, vast rear-seat space, extra length cleverly assimilated into styling.
We don't like: Clunky infotainment system, still truly enormous in traffic.
How it rates: 9/10
WHAT DO I NEED TO KNOW? As well as being one of the world's most capable off-road vehicles, the Range Rover is also highly regarded as a top-line luxury model. In fact, Land Rover's Special Vehicle Operations division has just announced a super-luxury version of the big wagon called the SVAutobiography, which is aimed at the likes of Bentley, Mercedes-Maybach and even Rolls-Royce.
Whether there's a market for such an exclusive Range Rover in New Zealand remains to be seen. But the local lineup does offer a touch of super-luxury with the availability of a long-wheelbase (LWB) version, with an extra 198mm added into the already-imposing length of the Rangie.
The LWB adds $10,000 to the price of a standard Range Rover and is available with the 4.4-litre turbo-diesel (SDV8) or 5.0-litre supercharged-petrol V8 engines, in Vogue, Vogue SE or Autobiography specification levels.
Our test car sits somewhere in the middle: it's the SDV8 Vogue SE. If you haven't already spotted it as the LWB version from the pictures, don't feel bad. It's actually beautifully proportioned and hardly distinguishable from the standard model at a distance, despite an apartment-like overall length of 5199mm.
The long rear doors are the most obvious giveaway. The truly dedicated might also notice a tiny 'L' badge on the front guard.
WHAT'S IT LIKE TO DRIVE? Not too different from the regular Range Rover, surprisingly. It's already a massive thing of course, and aluminum construction means that the LWB configuration only adds 130kg to the overall weight of the vehicle.
So performance and handling are hardly affected. The LWB model is just 0.3sec slower to 100km/h than the standard SDV8 and no thirstier. The SDV8 turbo-diesel engine is a thing of wonder – or at least a thing of 740Nm, which is the same thing really. Once it gets rolling, it feels unstoppable.
A full-size Range Rover is no sports car, but the LWB version retains the supple ride (even on the optional $3000 21-inch wheels of our test car) and unerring cornering stability of the regular Rangie. Really, you don't notice the difference until it comes time to find a space to stop. Even then, you have automated parking (including an exit function) to ease the burden.
IS IT EASY TO LIVE WITH? Should we be worrying about what the Range Rover LWB is like to drive at all? While chauffeur-driven cars are still a rarity in New Zealand, you can't ignore the fact that this vehicle is designed to please those who travel in the back as much as the front.
The standard Range Rover is hardly short of rear legroom and occupants get a magnificent view out, thanks to the height of the vehicle and the large glass areas. The LWB version adds space to truly stretch your legs, and as much extra pampering as you are prepared to pay for.
Our test vehicle boasted a $14,000 package that added individual rear seats (making it a strict four-sweater) with extended power recline, climate control and massage functions for both front and rear chairs. Very acceptable indeed.
In both front and back the Range Rover's cabin design and quality is stunning. Perhaps second only to that other RR, Rolls-Royce, for sheer sense of well-being.
The only major stumbling block is the ancient and rather clunky touch-screen information and entertainment setup. Jaguar Land Rover (JLR) has a slick new system on the way in the Discovery Sport and XE, so the sooner that technology transfers to the company's flagship the better.
SHOULD I BUY ONE? Limousines are an odd thing in the context of the New Zealand car market; we're not really a nation where they're common or perhaps even acceptable. We're a little too egalitarian for that and business-people don't spend long periods of time on the road (or in traffic) like they do in Europe.
But if you are indeed a captain of industry who likes to be driven, there's very little to beat the experience of the Range Rover LWB: the interior ambience is equaled by very little in the luxury-car world, especially the commanding view from the elevated back seat.
It's possible that the Range Rover LWB might also appeal to a self-drive buyer who simply must have the biggest and most expensive model on offer. Extravagance is not unheard-of in the luxury-car market, after all. For that person, the LWB gives away virtually nothing in performance and handling to the standard model but adds a whole lot of presence and luxury.
EQUIPMENT CHECKLIST
Blind spot warning: Yes
Lane guidance: Yes
Cruise control: Yes
Automatic lights/wipers: Yes/yes
Parking radar: Yes with 360-degree camera
Self-parking technology: Yes with exit function
Head-up display: No
Satellite navigation: Yes
Keyless entry/start: Yes/Yes
Stop-start: Yes
Air conditioning: Four-zone climate
Heated/ventilated seats: Yes/No
Power seat adjustment/memory: Yes/Yes
Leather upholstery: Yes
Power boot or tailgate: Yes
Browse Autotrader's range of Range Rovers for sale.