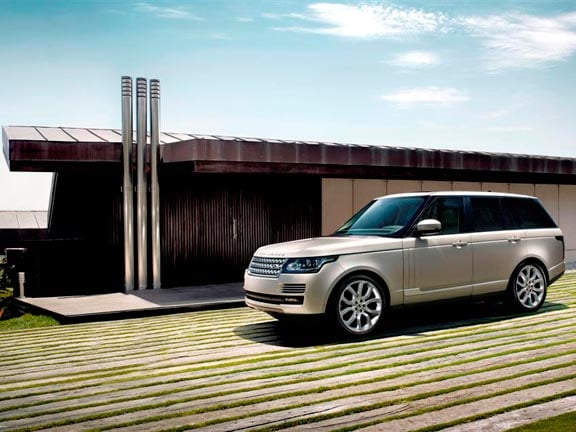 Base price: $180,000.
Powertrain and performance: 4.4-litre twin-turbo diesel V8, 250kW/700Nm, 8-speed automatic, four-wheel drive, Combined economy 8.7 litres per 100km, 0-100km/h 6.9 seconds.
Vital statistics: 4999mm long, 1835mm high, kerb weight 2360kg, luggage capacity litres, fuel tank 85 litres, 20-inch wheels.
We like: Sense of luxury, performance, all-around ability.
We don't like: Still no lightweight despite alloy construction, high cost of options.
How it rates: 9/10
WHAT DO I NEED TO KNOW?
First of all, what to call this thing. Land Rover's Range Rover brand (that's a mouthful in itself) now has three branches. The entry-level model is called the Range Rover Evoque, there's a Range Rover Sport in the middle and the flagship – which was once known as Range Rover Vogue in New Zealand – is now simply called Range Rover. Although Vogue continues as a specification level. Confusing.
So meet the all-new Range Rover SDV8 Vogue: all 700Nm and $180,000 of it. This is the middle child in a lineup that also includes the $160,000 TDV6 and the ferociously fast V8 petrol supercharged model.
WHAT'S IT LIKE TO DRIVE?
The move to all-aluminium construction has worked wonders for Range Rover, which is now up to 420kg lighter than the previous model. Combine that newfound nimbleness with the outrageous 700Nm of torque served up by the SDV8's 4.4-litre turbo diesel engine and you have a recipe for a highly satisfying drive.
Satisfying, yes. Sporty? Not strictly. The Range Rover remains a large, heavy vehicle (2360kg in this specification) and you certainly feel that on the road. The Vogue is softly sprung and rolls a lot in corners, but in true Rangie fashion in hangs onto the tarmac tenaciously, no matter how much it leans over.
At more sedate speeds the Range Rover remains a stunningly capable luxury car: smooth, quiet and with so much presence.
Off-road, the Range Rover is as light on its 20-inch rims as ever. The new trick for this model is an automatic setting for the Terrain Response controller. You can still select the modes manually, but if you leave it in auto the system will analyse what's happening underneath the car and choose the appropriate powertrain, torque distribution and suspension settings all by itself. Clever.
IS IT EASY TO LIVE WITH?
Sheer size notwithstanding, yes. The Range Rover has one of the most beautiful (and beautifully finished) cabins of any car at any price. The Rolls-Royce Phantom betters it for quality of materials, although even that "other" RR cannot match the Vogue for design and overall ambience.
On the outside, the Range Rover has taken on slightly different proportions – a longer tail and lower roof. But on the inside, it's as regal as ever. You sit upright, surrounded in absolute luxury and feeling very much at peace with the world.
Only a very few elements irk. One is the Jaguar Land Rover (JLR) multimedia touch screen system, which looks crude and is slow to operate compared with newer systems. Despite clever dual-view technology that allows the front passenger to see a different display to the driver, overall it's not a patch on the appearance and slick operation of the MyLink screen used in the Holden Commodore, for example.
You might also be surprised to learn that a few luxury essentials are still optional on this $180,000 machine. Adaptive cruise control – like you get on a Mitsubishi Outlander – is a whopping $4000. A front cooler compartment (free on a Peugeot 3008) is $700. A heated steering wheel, to match your mate's Jeep Grand Cherokee Limited, is $1200. The list goes on.
Perhaps this kind of customisation is part of the pleasure of the ordering process. Just as long as you realise the list price is simply a starting point.
SHOULD I BUY ONE?
The Range Rover is still a magnificent luxury car as well as being a magnificent off-road vehicle. Really, there's nothing quite it.
However, there's a potential spoke in the works coming in the form of the new Range Rover Sport early next year. True, some buyers simply must have the best and that's still the full-size Rangie (it's certainly still superior off-road).
But others might like to know that the new Sport is based on the same aluminium architecture, it's just as sexy, almost as luxurious, nearly as capable in the rough and sharper on-road thanks to host of new electronic driver aids. You can even have one with seven seats.
So while the credentials of the full-size Range Rover are undiminished, it's also possible that you might want to wait and see whether the impressive new Sport might suit you just as well.
EQUIPMENT CHECKLIST
Air conditioning: Three-zone climate
Audio: CD, iPod compatible
Automatic lights/wipers: Yes/yes
Blind spot warning: $1200 (with reverse traffic detection)
Bluetooth: Yes
Cruise control: Yes
Driver footrest: Yes
Gas discharge headlights: Yes
Head-up display: No
Heated/ventilated seats: Yes/Yes
Keyless entry/start: Yes/Yes
Lane guidance: No
Leather upholstery: Yes
Parking radar: Front and rear with surround camera
Power boot or tailgate: Yes, two piece (both powered)
Power seat adjustment/memory: Yes/Yes
Remote audio controls: Yes
Satellite navigation: Yes
Seat height adjustment: Yes
Self-parking technology: $1400
Split/folding rear seats: 60/40
Steering reach adjustment: Yes
Stop-start: Yes
Trip computer: Yes
Find a Range Rover Vogue HERE