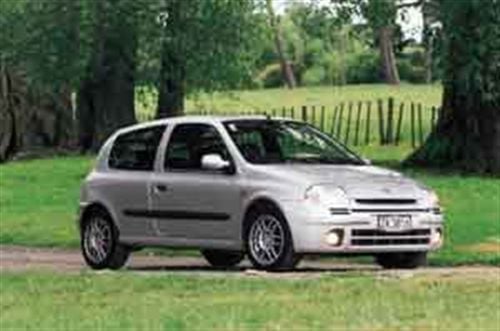 The New Mini will be 2001's most eagerly awaited four-wheeled fashion accessory but the range-topping supercharged performance Cooper S version must deliver more than just retro-styling. It needs to recapture the giant-killer Cooper S legend.
Set out to find sharp-edged small car performance and value in the 2001 market and you'll discover the Renault Clio RS 2.0 sets the standard.
Renault's slightly awkward teardrop three-door body shape doesn't have same visual impact and instant recognition as the Mini.
Nor will it be difficult for BMW to improve on the French car's dashboard layout and the fit and finish quality of the interior plastics.
But when it comes to bang-for-the-buck excitement and luxury grade standard appointment levels the new Cooper S will need to be more than just the latest fashion statement to match the $35,990 Clio RS 2.0.
Diminutive in stature and muscular in stance the Clio RS 2.0 is suggestive of a featherweight boxer. And its pace and agility are that of a tricky French fly-half.
Noticeably wider than any mainstream Clio hatch, the RS 2.0 also sits lower on uprated suspension. The 15-inch OZ alloy wheels fill out the flared guards to provide a wide-track stance. A colour-keyed body kit comprising a deeper front air dam, side skirts and rear spoiler complete the athletic look.
Beginning from the accomplished Clio II hatchback platform, Renault Sport – the same department responsible for Formula 1 engines and special cars like the mid-engined Clio V6 and Spyder – has followed the time-honoured formula of slotting a powerful engine into a small car.
The outcome is serious performance. This definitely is not a cooking hot-hatch but rather a fully-developed and sharply-focused performance car.
And from the moment the new Subaru Impreza WRX suffered a 30 percent price increase and leapt to almost $60,000 (since dropped to around $52,000, ed) the Clio RS 2.0 has been New Zealand's performance car value champion.
The punchy Renault Sport-tuned 2.0-litre 16-valve twin cam engine is matched by a chassis, brakes, tyres and firmly bolstered seating required to harness it.
Don't think of this car as a rival for the similarly-sized and slightly cheaper Peugeot 206 GTi. Rather it's more like a shrink-wrapped, budget-priced 306 GTi-6.
Tuning the Laguna-derived 2.0-litre powerplant involves modifications to the inlet manifold, a four-into-one exhaust system, performance camshafts and special Nimonic valves.
Those changes deliver a king-sized serving of mid-range muscle and a twin cam unit that revs out eagerly to provide hard-hitting top-end power delivery.
There's 124kW on tap at 6250rpm and 200Nm of torque peaking at 5400rpm in a car that weighs only 1035kg.
The potential for excitement is blatant. Such an engine output would make a Laguna-sized car an enthusiastic performer. Package it in a car the size of the Clio and the result is a car with real sizzle.
Renault claims 85 percent of peak torque – therefore always better than 170Nm – is available across a 2500 to 6500rpm band. It feels like it with the flexibility of the engine combining with the Clio's low weight to see it respond cleanly out of slow corners in third gear and able to provide surprisingly relaxed open road cruising with 100km/h achieved at 2800rpm in fifth gear.
The engine characteristics allow for two approaches to driving this car rapidly.
Work the slick-shifting five-speeder to keep it up in the revs and it's every bit as rapid as the output figures would suggest. But with the spread of torque it can also be deceptively rapid even if you grab the next gear well before the gearchange indicator light flickers its message.
You can use fourth gear in so many places that you quickly understand why Renault Sport hasn't bothered with a six-speed gearbox.
Although there's generous power in a small package the Clio chassis never feels overwhelmed. It gets a bit nervous with the firm sports suspension thumping a bit when you're hustling it through bumpy twists and turns and too much throttle in the lower gears will set the front tyres squirming.
But the hard-cornering neutrality of the chassis, confident grip from 195/50 x 15 V-rated Michelin Pilots, crisply informative steering response and powerful four wheel disc brakes are up to the assignment.
I found the Clio RS 2.0 an easy car to get in-tune with and enjoyed the way it demands just the right balance of fingertip finesse and physical effort when it's being hurried.
It manages to be involving without being particularly demanding and the crispness of its responses provide a level of entertainment only matched for under $40,000 by a decent motorcycle, a well-made kit car or Honda's Integra Type R.
And though the suspension is unmistakably firm the low speed ride retains a comfortable suppleness. It takes abrupt level changes and corrugations on city streets before any harshness becomes evident.
Seats are a vital and many times overlooked aspect of any serious performance car and the Clio RS 2.0 offers excellent support. The leather and Alcantara upholstered chairs complete with Renault Sport embroidered emblems look big inside the compact cabin and have cushion height and lumbar support adjustment.
The relationship of seating position to the steering wheel can be fine-tuned with the tilt-adjustable wheel but it's the prominent side bolstering, firm thigh support and the across-the-shoulders grip which keeps you securely in place that I appreciated during the cornering forces the RS has no difficulty generating.
Alongside the vivid driving experience Renault has made sure the Clio RS 2.0 appeals on a second level with a standard specification that stacks up as notably good value.
Safety technology is an arena where Renault has made an effort to stand up and make sure it gets counted in recent years and across the full Clio range there is a impressive standard safety package.
The Clio RS 2.0 has dual airbags (70 litres volume for the driver and 150 litres for the passenger), seat-mounted side airbags, ABS anti-skid brakes with electronic load-sensing compensator and Renault's Programmed Restraint System which co-ordinates the deployment of the airbags with the seatbelt pre-tensioners and force limiters.
The well-designed front headrests have height and angle adjustment and are designed to minimise whiplash injuries. In the rear the Clio RS has three-point seatbelts for all three passengers, three headrests and a load retention crossbeam to keep luggage from entering the cabin in an impact.
Included in the $35,990 package (up from the launch price of $33,990 last year) is air-conditioning, a four-speaker sound system with single disc Compact Disc player and steering column satellite controls, electrically-operated front windows and exterior mirrors, remote central door-locking, a trip computer and height-adjustable steering column.
The list continues with headlamp levelling, front foglamps, tinted glass and a rear wiper that automatically sweeps the screen whenever reverse gear is selected.
The interior theme is grey and silver with the sports seats smartly trimmed in a combination of leather and Alcantara (synthetic suede) and labelled with Renault Sport emblems. The small-diameter, thick-rimmed steering wheel is Alcantara-trimmed as well.
Further reinforcing the sporting personality are drilled alloy pedals, white faced instruments, a polished alloy gearknob and silver metallic finish on the dash and door trim panels.
It's a snug fit inside this pocket-rocket and taller rear passengers will find the tapered roofline robs some headroom as well as the big front seats restricting the rear kneeroom and footwell space.
With the rear seat upright there's a compact 255 litres of load space with a flat floor.
Fold down the split rear seat and the capacity expands to a useful 596 litres which adds a practical element to a hatchback that delivers big servings of performance and value in a small package.
Which pretty much sums up this hot little Clio: small package, huge fun and sharp value – exactly what you'd expect from a 21st Century Mini Cooper S.
C.M., AutoPoint Road Test Team. Reprinted courtesy of Auto Trader Prestige & Classic magazine.