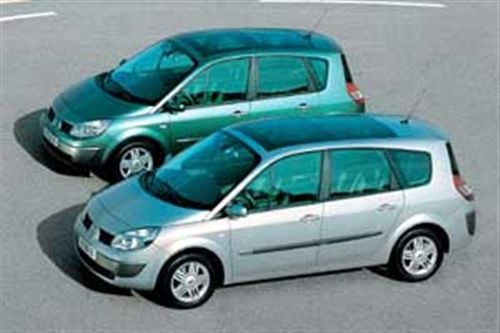 The Espace was a trend-setter in the early 1980s, and the latest version with 3.5-litre V6 power is still available,m at $80,000.
But it's the smaller Scenic, costing half as much, which attracts most attention.
A pair of seven-seater Grand Scenic models now joins the two grades of Scenic II.
This gives Renault five MPVs – more than any other franchise – in what is still a small sector of the market.
Sixteen different MPVs are sold locally, but total sales for the first quarter of 2005 were 187, headed by the Mitsubishi Grandis and close-running Scenic and Hyundai Trajet. Renault sold 25 MPVs, one more than Hyundai.
Clearly buyers are less enthusiastic about buying MPVs than four-wheel drives or small cars.
You'll need to look carefully to distinguish the new 4.49 metre Grand Scenic since the distinctive styling and cute rear end mirror the 23cm shorter Scenic II. Wheelbase goes up by 50mm to 2736mm and rear overhang is extended 180mm.
At $42,990 it costs $3000 more than the standard Scenic is imposed. An extra $4000 secures the Grand Scenic Privilege that adds leather upholstery, a six-disc CD player, 17-inch alloy wheels and cruise control.
All four Scenics sold here run the 2.0-litre, 16-valve petrol engine and four-speed automatic transmission. There's no demand for a diesel.
Although it was designed from the outset of the new Renault Megane programme, the Grand Scenic is the final component in the seven vehicle range.
We get the hatchback, sedan and coupe cabriolet, but not the station wagon, a role the Grand Scenic can fill. The third row of two seats folds flat into the floor to provide a good load area.
By simply pulling a red toggle, the two rearmost seats lift up from the floor. Both leg and headroom are limited – and more suited to children – and access is also a squeeze.
The second row seats are mounted on slides which allows seating flexibility. By varying the 120mm of travel, the luggage compartment volume ranges from 550 to 605 litres. Removing the second row more than trebles this room.
At 1445kg, or 45kg more than the shorter version, the Grand Scenic is relatively heavy, but the 98kW variable valve, four-cylinder engine eases the MPV to 100km/h in 12.1 seconds and on to a top speed of 190km/h.
Renault's four-stage automatic has a sequential shift manual function; there are disc brakes all round and an ABS with emergency brake assist.
MacPherson struts with rectangular lower arm and anti-roll bar form the front suspension; at the rear is a torsion beam with outboard attachment points.
Electric power assisted steering has variable assistance, and the standard model's 16-inch alloy wheels are fitted with 205/60 series tyres. The higher-grade variant's 17-inch rims also use 205/60 tyres.
Front foglights, headlight levelling, an air conditioned glovebox, climate-control air-conditioning, and a trip computer are standard. An electric panorama sunroof is $3000 extra.
There are front, side and curtain airbags, and all seats have three-point seatbelts.
Renault expects the Grand Scenic's to outsell its main rival, the Volkswagen Touran.
Even so, it expects sell only 40 to 50 Grand Scenics in the first year, compared to around 100 standard Scenics. In France the Scenic outsells the Grand Scenic three to one.
– Donn Anderson, Photographs: by Renault