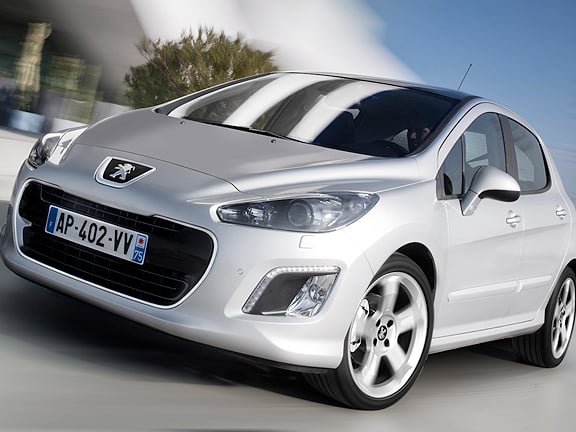 The Peugeot 308 HDi is one of those European cars that falls into an awkward space in New Zealand: its local distributor would like you to think of it as a premium offering, whereas its home market regards it as a completely mainstream family/fleet car.
So the facelifted 308 HDi lands somewhere in the middle in Kiwiland. It's a fact that European brands are still considered a cut above in New Zealand – rightly or wrongly – and a car like the 308 is priced accordingly. However, the design ethos is very much one of usability and practicality. For the $45,990 308 HDi Allure, flagship of the 308 hatchback range, fulfilling those dual roles is a big ask.
Mostly, it does well. Peugeot's facelift has been fairly minor, with the addition of the marque's new corporate logo to the bonnet, a reshaped front with blazing LED daytime running lights and some carefully applied strips of chrome front and rear. Changes under the skin have trimmed a little weight – around 25kg depending on model.
Peugeot's 308-era styling (it's gone the more conservative route more recently with models like 508) is an acquired taste, but if you like the look it's certainly distinctive and is ageing well.
Inside, the 308 benefits from the marque's contemporary focus on high-quality plastics and airy cabin design – once upon a time, Peugeot interiors were pretty average – and feels pretty classy. Like the huge class areas as well, including the French brand's signature panoramic roof.
Under the skin, little has changed. The 120kW/340Nm 2.0-litre turbo diesel engine and six-speed automatic continue. They're a good combination, with peak torque developed at just 2000rpm and impressive Combined fuel economy of 6.1 litres per 100km. For a long time, the French have struggled with the concept of automatic gearboxes – mostly because nobody in the domestic small-car market buys them – but in this generation of models, with a greater eye on export success, they're finally got it right.
Peugeot has also resisted the urge to go overboard with the footwear on its flagship 308 HDi. The Allure has a handsome set of alloys but they're still only 17-inch rims, which leaves plenty of sidewall to provide a comfortable ride. That's the right choice for this car – the chassis is competent in corners but the car's real strength is relaxed performance, cabin comfort and family-friendly cabin features.
New rivals like the Ford Focus have overtaken the 308 HDi in terms of overall sophistication, but here's where Peugeot has an edge. While some may baulk at paying $46k for a small Ford, there's still that odd acceptance that Peugeot is partly a premium brand (hey, it's French after all) and there's less resistance to paying a premium price.