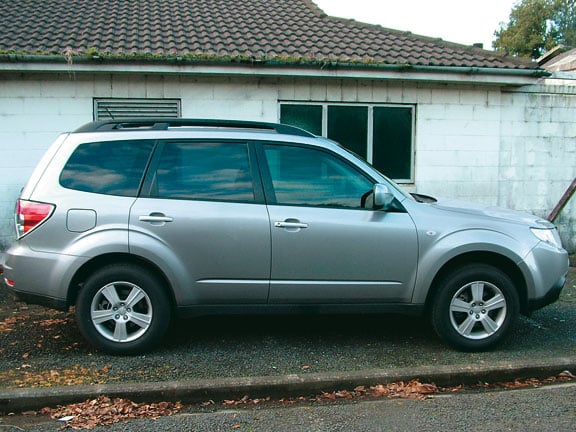 Perceptions can be hard to shake: people get an idea in their head, and that's it. I got to thinking about that the other day when I was discussing Subaru's Forester compact SUV with a friend. The friend's take was that, sure, it's a four-wheel drive – actually an all-wheel drive, in other words permanent four-wheel drive – but it's mainly an about-town vehicle for the morning and afternoon school run and the Saturday morning sports shift.
Agreed, that's probably what most Foresters will be used for but Subaru has some serious intent for its compact SUV, setting it apart from the soft-roader genre.
Manual versions have dual range final drive which is useful if the driver plans some real off-roading as against gravel or slippery wet road work.
It's also got a useful 220mm of ground clearance to avoid bottoming out in rutted off-road terrain.
The name gives an indication that Subaru isn't merely marketing a boxed up wagon version of the Impreza. In fact, our first introduction to the original Forester actually took us into the Waiuku forest using tracks – and in some places just the gaps between the trees – to navigate our way along the route laid out by Subaru's PR consultant and former rally driver, John Coker.
It was brave stuff, and there was quite a bit of larrikin behaviour as the over-aged hoons who pose as motoring writers cut loose among the conifers.
The Foresters came through largely unscathed – none hit or even brushed a tree – save for some scratching from undergrowth, which would have made Subaru's then-CEO, Wal Dumper, breathe a sigh of relief.
The route then took us down a paper road that looked fairly difficult but didn't really impress me because I'd driven the office hack front-drive Nissan Sentra up it a few weeks before to cover a special stage in the Targa rally. But Coker's pièce de résistance came a little further on when we were guided into what was little more than a glorified ditch, all clay-sided and waterlogged at the bottom.
I had my doubts but egged on by my co-driver I pressed ahead; the Forester lugged us through and then opened its lungs and tore through a long flooded stretch of dirt road that ended uncomfortably close to the main highway.
But the Forester had won its spurs – in my eyes at least, and I've had a lot of respect for it ever since.
Fast forward to the current, bigger and much more sophisticated model.
Coker's plan to have us drive an almost continuously gravel track and off-road route through the forests near Taupo was thwarted by the then high fire risk.
Much of the replacement route was on sealed roads, though Coker diverted us onto some gnarly ex-rally of NZ gravel roads where the Forester showed itself to be agile and dogged.
Subaru NZ refers to the new Forester as having "more rugged 4WD SUV" styling but to me it's lost some of the appeal of the first generation car.
It could now pass for the product of any mainstream manufacturer, much in the way that the new Impreza fits the universal mid-sized hatchback mould.
What was distinctive and that little bit different is now mainstream and bland. It's still boxy and practical, but the old car had a certain something about the way it looked that this one lacks.
The new Forester is 110mm taller than the old model, 25mm wider and has a useful 90mm of extra wheelbase.
The door openings are wider, making it easier to get into and out of.
A double wishbone rear suspension layout impinges less on cargo space, which is 450 litres with the rear seatbacks upright and an excellent 1660 with them folded.
The test car was a Forester XS, a well-equipped wagon with high build quality and Subaru's willing 2.5-litre four-cylinder boxer engine.
The motor produces 126kW – 5kW better than the old model's engine – and gets a 3Nm torque boost, to 229Nm, available at 3200rpm, 1200 revs lower than in the old model.
The test car used the four-speed automatic with Sport Shifty manual override. Subaru says that combo can achieve 9.6 litres/100km on the combined fuel economy cycle, though we averaged 11.4.
The engines gives the Forester good performance and is generally very quiet, without – sadly in our view – that V8-like beat that used to be so much a part of the Subaru driving experience.
The only time the engine is obtrusive is when it kicks down – say as you floor the throttle out of a slow-speed corner – the engine emitting a cammy mechanical shriek as the revs soar towards the redline.
Handling is good, the Forester being able to tackle with aplomb roads requiring frequent changes of direction.
Roadholding is stupendous in true Subaru AWD fashion: wet road grip outshines most cars' on dry roads and the car is simply unflappable.
However, the greater height and mass means the new Forester is less car-like in its sealed road manners.
It now feels much more like an SUV, and demands a little more respect that its chuck-it-around-like-a-WRX predecessor.
I have a tendency to enter corners too fast and on one demanding 80kph bend, I felt the rear end step out as the weight transferred to the outside rear wheel and the Subaru gave a lurch before the Vehicle Dynamics Control (electronic stability and traction control) did its stuff and brought everything back on to an even keel.
It wasn't a truly dramatic moment but without VDC it might have meant a lurid tailslide.  It was a reminder that the new Forester has really entered the ranks of the SUV and is no longer a more rugged take on the Impreza.
The seats were comfortable, the controls well laid-out, the instrumentation easy to read.
The test Forester was well-equipped, with climate-control air-conditioning, tinted rear windows, self-levelling rear suspension and a six-disc in-dash CD stacker with seven speakers.
Other kit, shared with the base model X, includes 16-inch alloy wheels, headlight auto-off, front foglights, roof rails, cruise control, six airbags, remote-control central door-locking, power windows and exterior mirrors, an immobilizer security system and rear seat recline.
The XS is priced at $40,990 with the auto or $1000 less with the manual.
Forester prices start at $36,990 for the X manual and $37,990 to the X auto.
It's a roomy, practical SUV with high levels of active and passive safety, a well-balanced chassis and phenomenal levels of roadholding – and permanent rather than selectable four-wheel drive. Definitely worth considering if you're in the market for an easy-to-drive, well-built and pleasant everyday SUV with genuine offroad ability.