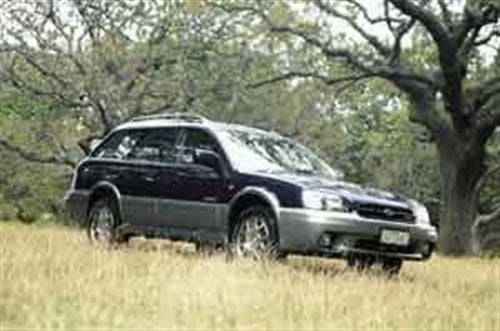 But the futuristic SVX four-wheel drive Coupe with its glass-look roof was a very different sort of vehicle to Subaru's new six-cylinder flagship.
Where the SVX was all long lines, sleek curves and a ground-hugging stance, the Outback H6 stands tall on its long-travel suspension, looking ready to demonstrate its off-road capability.
SVX's were expensive, as befitted a flagship and as befitted a car that had supercar-style looks (though the handsome Coupes can now be nought cheaply as Japanese used imports).
The H6 is also the most expensive car in Subaru's line-up, selling for just short of $70,000.
But maker's badge, flagship status, all-wheel drive and flat six engine layout are pretty much all the two vehicles have in common.
And Subaru is at pains to say the six in the new car bears no relationship to the one that graced the SVX.
The new unit is much more compact for a start. Though it's 3.0-litres, the motor is only 20mm longer than the 2.5-litre four cylinder in standard Outbacks. And it's only 40 kg heavier.
Compact dimensions and minimal weight increase were essential if the engine was going to fit easily into the existing Outback body and was going to have minimal adverse effect on handling balance.
It was clear that taking the easy way out – tacking two more cylinders on to the existing four-cylinder block – would push the engine too far forward of the front wheels with the domino effect of the extra mass and weight increasing understeer.
The challenge was to devise an engine that was little longer than the four and which retained the low centre of gravity that makes the boxer layout attractive.
The solution was to reduce the cylinder bore size and pitch and replace the rubber camshaft drive belts with timing chains.
The bore pitch on the four is 113mm: Subaru engineers got it down to 98.4mm. That was made possible by reducing bore size from 99.5mm to 89.2mm and by casting each cylinder bank as a one-piece unit. Cylinder cubic capacity is 500cc compared with 614cc on the four.
Opposing cylinders fire sequentially on opposite banks, improving engine smoothness. On the four, number one and the number three cylinders fire – both on the right bank – followed by two and then four, both on the left bank.
In the car that translates to a much smoother, if maybe less characterful engine feel than you encounter in the four cylinder Outback.
The engine is silky-smooth and unobtrusively-quiet. At idle at traffic lights, it's uncannily so and you find yourself checking that the rev counter needle is indeed indicating the engine is running.
Totally absent is the beaty thrum that is a Subaru characteristic.
The 2999cc Double Overhead Camshaft six is a free-revver, producing its maximum power at a heady 6000rpm, and meaty peak torque of 282Nm at a relatively-high 4400rpm. However, 220Nm is available from around 2000rpm which means there's good accelerative punch right through to the 4400rpm torque peak.
The H6's motor 34 percent more power and 27 percent more torque than the 2.5 four in the standard Outback. A variable induction valve boosts torque and throttle response at moderate engine revs.
The motor has four-valves-per-cylinder and electronically-controlled multi-point fuel-injection.
The engine gives the H6 strong performance. Top speed is limited electronically to 210km/h, and Subaru says the Outback six will hit 100km/h from standstill in 8.9 seconds and run the standing 400 metres in 16.4 seconds.
On the road that translates to brisk performance, and the H6 gets along very nicely.
The power delivery is smooth and progressive.
Its puts on the road by all four wheels, with a slight bias towards the rear wheels.
The H6 has a Vehicle Dynamics Control (VDC) system (not fitted to the 2.5 Outbacks) which uses part of the ABS anti-skid braking system and the computer-controlled four-speed automatic gearbox. The VDC's control unit receives inputs from the ABS and the gearbox and from sensors which track steering position and front, rear and sideways g-forces.
The VDC can react to that information in 200 to 400 milliseconds and will apply the brakes to individual wheels and reduce or increase the amount of power going to the wheels.
Subaru's VDC controls understeer or oversteer and counteracts sliding or spinning. When the H6 oversteers (slides its rear wheels), the VDC applies the brakes to the front and rear outside wheels to counteract the slide.
In normal running the VDC is just a monitoring system, but as the car approaches its limits the set-up gives the driver more control, says Subaru.
Outbacks tend to understeer a little, and the H6 is no exception. The relatively tall ride height to allow for off-road use contributes to the effect, though it's by no means obtrusive till you're really pressing on demanding winding roads.
Then the H6 has a tendency to run wide on exits from corners. It's maybe a little more noticeable than in four-cylinder Outbacks because the extra power means your approach speed tends to be greater and the response stronger as you accelerate out of the corner.
For quick driving on winding roads, the classic front-wheel drive technique of an early turn-in and early throttle application works best.
The automatic gearbox shifts smoothly and kickdown is instant and free of excess jerkiness.
Steering is well-weighted and offers good feedback, and the grip from the big Yokohama Geolander tyres provide excellent on-road grip. They're chunky an multi-purpose but don't generate excessive road noise.
We didn't run the H6 on more than easy-going off-road terrain, but previous experience with four cylinder models leads us to believe the vehicle – though more road-biased – has sufficient off-road abilities to suit most people.
Ride quality and bump absorption from long-travel suspension is a Subaru long suit, and the H6 doesn't disappoint, aside from some rear wheel ride choppiness over rough surfaces at low speed and with a light load on board.
The driving feel is decidedly car-like, and unlike many pick-up truck-based four-wheel drive wagons, the Outback is very manoeuvrable in the city. In carparks, for instance, it's no more clumsy than a front-wheel drive car.
If we wanted a vehicle that would be used for occasional light off-road work and spend most of its life in the urban jungle we'd choose the H6 – or any Outback of Forester for that matter – ahead of bigger four-wheel drive wagons.
Except for those with three rows of seats it has as much passenger room. It just seems more sensible to use a car-based vehicle that is easier to manage if 98 percent of its running is to be on city streets.
You still get a higher driving position than you'd get in most cars, but in a vehicle that is very easy to drive, and to manoeuvre in tight places.
The quiet, smooth engine, good ride, automatic gearbox and quiet and sumptuously-furnished cabin make the H6 a pleasant place to be in commuter traffic.
On the open road it's a relaxed cruiser, with a rock-solid feel, especially in the wet when the four-wheel drive and electronic stability and traction aids add an extra touch of reassurance.
To cope with the greater potential performance, the H6 has larger front disc brakes than the four cylinder Outback.
The 290mm front discs are ventilated, and the 286mm rears are solid.
An ABS anti-skid system is standard.
The rear suspension has self-levelling to cope with heavy loads.
Official Australian tests revealed a combined average fuel consumption of 9.74 litres per 100 kilometres.
The car runs on 16-inch diameter alloy wheels, has dual airbags, climate-control air-conditioning, leather upholstery, electrically-wound windows and electrically-adjustable exterior mirrors.
The Compact Disc sound system has six speakers and produces high-quality sound.
The remote-control central door-locking incorporates an engine immobiliser.
The steering wheel is finished in leather and highly-polished mahogany wood, and has a nice chunky feel to it.
The driver's seat is power-adjustable.
The H6 has two electrically-operated sunroofs, though I find sunroofs superfluous on air-conditioned cars. The rear roof encroaches slightly on rear cabin headroom.
The rear seatbacks fold forward in a 60/40 split, increasing cargo area length to 1630mm from 1105mm.
Total cargo volume with the seatbacks down is a good 1644 litres.
Subaru of New Zealand general manager Wallis Dumper says he expects the H6 to appeal to buyers who haven't previously considered the Outback because it only had a four-cylinder motor, and Subaru hopes to sell around 100 Outback H6s each year.
In summary it's a refined, exceptionally well-built and solid station wagon that blends good road manners and performance with genuine off-road abilities.
At $10 less than $70,000 it's not cheap. But Subaru NZ takes the position that though its cars may be more expensive than some equivalently-specified front or rear-wheel models, they all offer full-time four-wheel drive which is a value-added – if not visible – bonus. You may pay a little more than some rivals, but you get the active safety of four-wheel drive as part of the standard package.
Whether buyers see it that way, well…
AutoPoint road test team: photography by Elan Phillips.