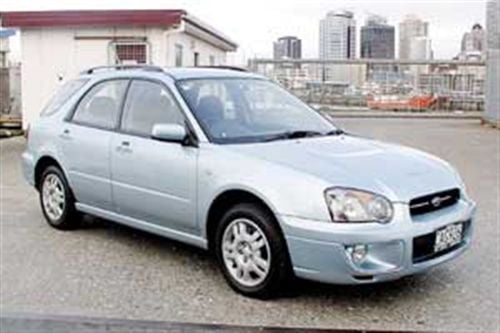 Yeah right, and guess who knew more about marketing cars, Subaru NZ or we motoring hacks?
Well, Subaru NZ, of course. It said it was using the car to tackle the used import trade head-on – for a limited time – with a special edition model.
The received wisdom among many motoring journalists was that the punters would still plump for the used import (many of them turbocars) despite the GX's sticker price of $24,990, a figure described by one salesman as making the GX a new car at a used car price.
Which was exactly how consumers saw it: the chance to buy a brand-new, all-wheel drive Impreza for $25,000, used import price territory.
Auckland dealer Winger Subaru sold its 22-car allocation in two weeks, and managed to "upsell" customers who missed out into the more upmarket and several thousand dollars more expensive Impreza RX.
It seems almost certain there are none of the 150 cars from the limited run on a dealership floor anywhere in New Zealand. So what was this fast-selling car, and what was it like to drive?
It was a naturally-aspirated 2.0-litre All-wheel drive (AWD) version of the Impreza wagon.
All had five-speed manual gearboxes, a dual range transmission and a good level of standard equipment.
They were available in three colours: white, silver and reddish-blue.
The GX had four-wheel disc brakes equipped with an ABS anti-skid system; dual front airbags, air-conditioning and a Compact Disc sound system.
Other standard features included remote control central door-locking, cruise control, power rack and pinion steering, and electric windows and door mirrors.
The cars had body coloured bumpers, door handles and mirrors, front foglights and a rear spoiler.
There was a cargo space cover/blind, height-adjustable steering column and height-adjustable driver's seat. The rear seat had three point seatbelts for all three occupants and split 60/40 to extend the load carrying capacity.
The 2.0-litre fuel-injected boxer engine ran on 91 octane fuel and produced 92kW at 5600rpm and 184Nm of torque at 3600rpm. The silver GX which came our way proved to be a very appealing package.
The non-turbo motor's exhaust note had more of a Subaru boxer beat than is common on ex-factory turbocharged Subarus.
The engine provided brisk, if not sparkling, performance. Its biggest drawback was a lack of torque low in the rev range.
The GX needed to be rowed lower in the gears to tackle steep hills. That relative lack of initial torque also made it necessary to use a few more revs than usual when accelerating from standstill.
But the general performance was more than acceptable, the car quick in traffic and a comfortable open road and motorway cruiser.
The five-speed manual shifted precisely enough and was pleasant to use, with a solid, chunky feel.
The chassis and handling were the GX's real strongpoints – aside from its price.
The test car rode on the standard 15-inch diameter steel wheels shod with 195/60 tyres that gave excellent grip (alloy wheels could be ordered as an added-cost option).
Turn-in to corners was instant and the level of cornering grip phenomenal, especially in the wet. AWD Subarus will do comfortably on a wet road what many front-wheel drive cars struggle to achieve in the dry.
Comfort levels were good and the sports-style seats offered good lateral support, a real requirement in a car which can generate such high cornering forces.
In all ways the AWD Impreza GX was an appealing package. Our only qualm was the relative lack of torque; if we were making the choice we'd probably opt for the more potent (and more expensive) RX with its naturally-aspirated 2.5-litre flat four, a car that is the hidden star in the Subaru galaxy.
But the match of equipment, chassis capability and all-round driving enjoyment made the Impreza GX a tempting proposition.
If you could buy one new we'd say go and have a good look at one because at the price it made a lot of sense.
All we can suggest is that you keep an eye out for one on the second-hand market.
Words and photographs: by Mike Stock
An auto version?
We've heard rumours that an automatic gearbox version of the Impreza GX might become available locally near the end of the year.
It would have strong appeal in Auckland where traffic congestion can make manual gearbox cars wearying commuter transport.
It's been suggested an auto GX might sell for around $26,000 – still a bargain.