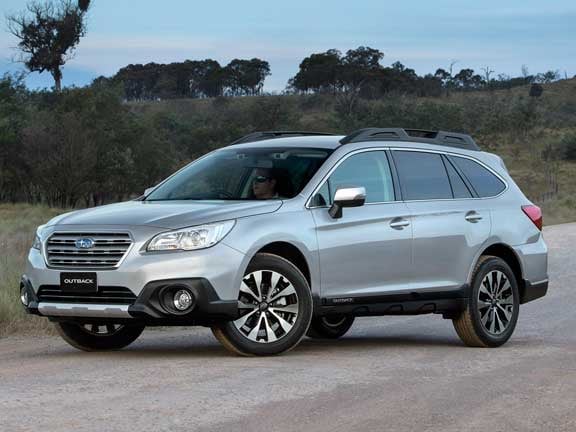 Base price: $54,990.
Powertrain and performance: 2.0-litre turbo diesel four, 110kW/350Nm, continuously variable transmission, four-wheel drive, Combined economy 6.3 litres per 100km.
Vital statistics: 4815mm long, 1675mm high, 2745mm wheelbase, luggage capacity 512-1801 litres, fuel tank 60 litres, 17-inch alloy wheels on 225/65 tyres.
We like: Effortless diesel, clever transmission, communicative chassis.
We don't like: Big price premium for diesel, still doesn't get EyeSight safety system.
How it rates: 8/10
WHAT DO I NEED TO KNOW? The Subaru Outback has been such a global success that it's killed the Legacy wagon. More evidence of the growing domination of the sports utility vehicle (SUV) segment perhaps and a bit sad for those who have owned and enjoyed load-carrying Legacy models over the years, but there it is: you can still buy a four-door Legacy, but if you want a wagon version of same it's Outback or nothing.
Legacy lament aside, the Outback has always been a winner. It was arguably the first production crossover back in 1996 (nobody had really thought of blending a station wagon and off-roader before) and has always been an impressive machine in its class; the class that it created.
The all-new Outback range launched in February this year comprises three engines and three specification levels. The 2.5-litre petrol and 2.0-litre turbo diesel versions come in standard (called Sport in petrol guise) or Premium specification. Our test car is the 2.0D Premium. There's also a 3.6-litre petrol six with an even higher level of equipment than the Premium(s), but that's a story for another day.
WHAT'S IT LIKE TO DRIVE? Diesel it may be, but the 2.0D is something of a quiet achiever in the Outback range. The 2.5 remains the mainstream choice, but the turbo diesel has almost as much power (just 19kW less) and a whole lot more torque, with a peak of 350Nm from 1600-2800rpm (the four-cylinder petrol has 235Nm at 4000rpm).
Just as importantly, the diesel works brilliantly with the Subaru Lineartronic Transmission (SLT) – continuously variable by any other name – that is very much favoured by the Japanese maker now.
SLT is one of the best such gearbox systems on the market anyway: it's responsive and assiduously avoids the high-rev flaring of so many other CVTs. But it's even less stressed when combined with the torquey turbo diesel, which lopes along in ultra-relaxed fashion at optimum revs on the open road.
Diesels are not really made for full-throttle driving, but do so in the Outback 2.0D and the engine is remarkably free-revving. You know, for a diesel.
When the engine hits the redline, the SLT also knocks back the revs instantly, giving the impression of traditional gears at work. Not entirely necessary with a CVT, but a nice old-school touch that treads the line between efficiency and enthusiast appeal.
The Outback is a large car at over 4800mm long and it rides relatively high, with 213mm of ground clearance. But Subaru has always had the knack of combining compliance with chassis balance, so while there's some understeer and body roll, it remains highly adjustable and hugely responsive to steering and throttle inputs.
A good measure of the Outback's dynamic adeptness is its behavior on gravel: cool, calm and easily collected when things go sideways.
All New Zealand Subarus are all-wheel drive, of course. Off-roading is not out of the question and the new Outback comes with an X-Mode setting that optimises the powertrain for off-tarmac work.
IS IT EASY TO LIVE WITH? Interior design has never been a Subaru strong point but it's getting there. The Outback's cabin architecture is still slightly dour looking, but quality and fit/finish are a huge improvement on what's gone before.
The Premium adds quite a bit of garnish: leather upholstery, power-adjustable and heated front seats with memory for the driver, touch screen with satellite navigation, keyless entry/start, rear air vents and power tailgate.
In truth, the leather seats aren't as comfortable and supportive as the cloth in the entry-level 2.0D, but overall it's a comprehensive and appealing package for $7000 over the standard diesel model. You also get 18-inch alloys, power sunroof and black trim accents.
What you don't get in the Premium diesel (but you do in the petrol equivalent) is Subaru's outstanding EyeSight active safety system. It uses stereo cameras (hence the name) to monitor the road and offer features like adaptive cruise control, lane-keeping assist and autonomous braking.
It's been an anomaly that has existed since the previous-generation Outback when EyeSight was launched, because the diesel is European-specification while the petrols are available with a broader mix of equipment.
SHOULD I BUY ONE? For our money the 2.0D has the most accomplished and satisfying powertrain in the Outback range. But then it does cost $4000 more than the petrol-powered 2.5 Premium, which has EyeSight as standard. So that's a big price premium (excuse the pun) for this machine.
The best engine or the cutting-edge active safety system? You can't have both. It's a tricky one.
Here's a thought: not having Eyesight in the 2.0D Premium is a bit of slap in the face, so save yourself $7000 and buy the entry-level diesel.
EQUIPMENT CHECKLIST
Blind spot warning: No
Lane guidance: No
Cruise control: Yes
Automatic lights/wipers: Yes
Parking radar: Yes with camera
Self-parking technology: No
Head-up display: No
Satellite navigation: Yes
Keyless entry/start: Yes
Stop-start: Yes
Air conditioning: Dual climate
Heated/ventilated seats: Yes/no
Power seat adjustment/memory: Yes/driver
Leather upholstery: Yes
Power boot or tailgate: Yes
Split/folding rear seats: 60/40
Browse Auto Trader's range of Subaru Outbacks for sale.