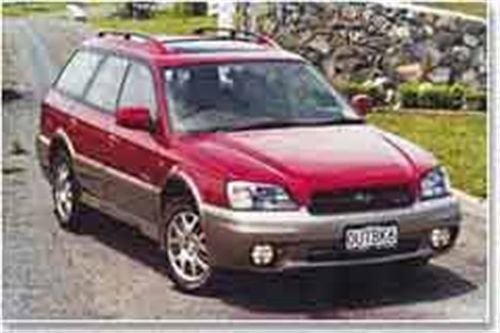 The Outback H6 sells for $69,990.
The motor – an all-new unit that shares only its boxer layout with the flat-six used in the old SVX coupe – is very compact. It's only 40kg heavier and 20mm longer than the 2.5-litre flat four used in other Outback models.
It's a double overhead camshaft, four-valve-per-cylinder unit with electronically-controlled multi-point fuel-injection.
It develops 154kW of power at 6000rpm and 282Nm of peak torque at 4400rpm. The motor is 34 percent more powerful and 27 percent torquier than the 2.5 four. A variable induction valve boosts torque and throttle response at moderate engine revs.
Official Australian tests revealed a combined average fuel consumption of 9.74 litres per 100 kilometres.
The H6 has a Vehicle Dynamics Control (VDC) system (not fitted to the 2.5 Outbacks) which uses part of the ABS anti-skid braking system and the computer-controlled four-speed automatic gearbox. The VDC's control unit receives inputs from the ABS and the gearbox and from sensors which track steering position and front, rear and sideways g-forces.
The VDC can react to this information in 200 to 400 milliseconds and will apply the brakes to individual wheels and reduce or increase the amount of power going to the wheels (like all Subarus sold in NZ, the H6 is four-wheel drive).
The VDC controls understeer or oversteer and counteracts sliding or spinning.
When the H6 oversteers (slides its rear wheels), the VDC applies the brakes to the front and rear outside wheels to counteract the slide.
In normal running the VDC is just a monitoring system, but as the car approaches its limits the set-up gives the driver more control, says Subaru.
Other features not standard on the four cylinder Outbacks are dual tandem electrically-operated sunroofs; an eight-way electrically-adjustable driver's seat; larger front disc brakes, and a self-levelling rear suspension system.
The car runs on 16-inch diameter alloy wheels, has dual airbags, a Compact Disc sound system, climate-control air-conditioning, and leather upholstery.
Subaru of New Zealand general manager Wallis Dumper says he expects the H6 to appeal to buyers who haven't previously considered the Outback because it only had a four-cylinder motor. "Initial reaction seems to suggest our dealers will retail about 100 a year."