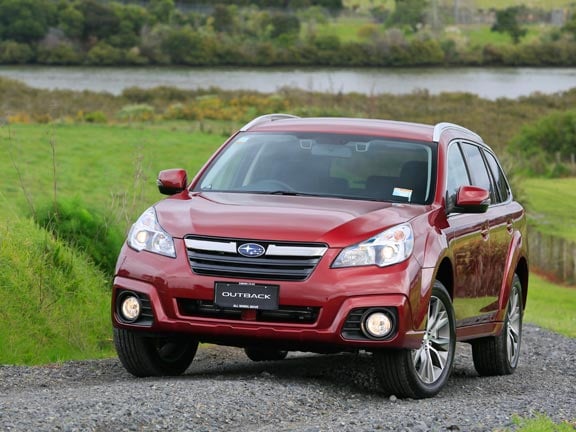 Base price: $59,990.
Powertrain and performance: 2.0-litre turbo diesel four, 110kW/350Nm, continuously variable transmission, four-wheel drive, Combined economy 6.3 litres per 100km, 0-100km/h 9.7 seconds.
Vital statistics: 4790mm long, 1690mm high, luggage capacity 490-1690 litres, fuel tank 65 litres, 18-inch alloy wheels.
We like: Strong diesel, continuously variable transmission with character, now better value.
We don't like: Awkward styling not to all tastes, cabin styling lacks sophistication.
How it rates: 8/10
WHAT DO I NEED TO KNOW?
Two significant things have happened to Subaru's Outback diesel recently. Earlier this year the diesel model gained what it so desperately needed: an automatic gearbox, in the form of Subaru's Lineartronic continuously variable unit. Trouble was, at $59,990 it was just a bit pricey for an Outback with cloth upholstery. For $60k it seemed a bit, well, humble.
That situation has been addressed with the facelifted model, which is now available in Premium specification – leather, eight-way adjustable power seats and sunroof – for the same $59,990. The lower-specification version continues, but at a more realistic $54,990.
WHAT'S IT LIKE TO DRIVE?
Brilliant. Subaru might be a small company but it refuses to compromise on engineering. So the Outback's diesel was developed in-house (it could easily have bought one in) and so was the continuously variable transmission (plenty of those around as well).
The diesel has lots of character and is very strong. Even if you don't like CVT – or SLT as Subaru calls its version – it works really well in this car. The low-down torque of diesel suits the gearless SLT and the transmission avoids the worst over-revving tendencies of CVT by 'stepping down' when it gets near the redline, mimicking the effect of a conventional gearbox, yet still keeping the engine on the boil.
The Outback chassis feels initially quite soft but it's beautifully balanced and telegraphs changes in attitude clearly. It's especially responsive to the throttle: understeer is easily addressed with a little lift, while the tail can be effectively trimmed with more power. To really appreciate its talents, try the Outback on gravel – confidence-inspiring and a lot of fun.
IS IT EASY TO LIVE WITH?
It's relatively big and high off the ground, so yes. Some might consider it a bonus that you get many of the advantages of an SUV/crossover but without the unfortunate image, since the Outback is based on a conventional wagon (the Legacy) and doesn't have a body shape that pays homage to a two-box truck.
However, the Outback is showing its age inside. Despite a strong level of standard equipment, the cabin design is pretty ordinary and the switchgear confusing at times – a consequence of squeezing more technology into a car that wasn't designed for it in the first place.
You gain a lot in going for the Outback diesel, but you do miss out on something rather important: Subaru's outstandingly good EyeSight twin-camera active safety system, which does everything from automatically preventing nose-to-tail crashes to providing excellent adaptive cruise-control capability. EyeSight is standard on all other Outbacks, so it's doubly disappointing that it's not fitted to this one.
SHOULD I BUY ONE?
The Outback was the original crossover in the 1990s and it's still a fantastic car now. There's no denying it's feeling a bit old on the surface – especially when compared with Subaru's own Forester – but underneath the engineering and driving experience is as solid and confidence-inspiring as ever.
Outback is still a feel-good car that does a fantastic job.
EQUIPMENT CHECKLIST
Air conditioning: Dual climate
Audio: CD, iPod compatible
Automatic lights/wipers: Yes/yes
Blind spot warning: No
Bluetooth: Yes
Cruise control: Yes
Driver footrest: Yes
Gas discharge headlights: Bi-xenon
Head-up display: No
Heated/ventilated seats: Yes/No
Keyless entry/start: Yes/Yes
Lane guidance: No
Leather upholstery: Yes
Parking radar: Yes with camera
Power boot or tailgate: No
Power seat adjustment/memory: Yes/Yes
Rear ventilation outlets: Yes
Remote audio controls: Yes
Satellite navigation: Yes
Seat height adjustment: Yes
Self-parking technology: No
Split/folding rear seats: 60/40
Steering reach adjustment: Yes
Stop-start: Yes
Trip computer: Yes
Find a Subaru Outback Premium Diesel HERE