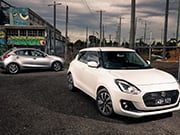 The current-generation Mazda2 has been around since 2014 and is one of the few models in the light car segment that doesn't compromise between price, quality and driver enjoyment. Mazda has continued tweaking the 2 over time, improving road noise levels, adding G-Vectoring Control for improved handling, and rolling out automatic emergency braking as standard across the range.
The range-topping GT variant is the ultimate Mazda2 that brings all these improvements together with a classy interior, and nifty additions such as a head-up display.
In the red corner, the fourth-generation Suzuki Swift is one of the newer kids on the light hatch block. It is completely redesigned and re-engineered compared with the previous model, growing in size, performance, efficiency, safety and value. Its deceptively spacious interior and generous equipment levels has thrust the Swift in the super mini class alongside the likes of the Mazda2, Volkswagen Polo, Skoda Fabia, Citroen C3 and Renault Clio.
The GLX Turbo is most expensive and best performing Swift before graduating to the Swift Sport hot hatch. Its gutsy 1.0-litre three-cylinder turbo will bring a smile to the face of anyone who enjoys their driving.
Price and Equipment – Winner:  Suzuki Swift GLX Turbo
The version of the Mazda 2 GT hatch we tested was equipped with a six-speed automatic transmission, which retails for $23,680. The Suzuki Swift GLX Turbo is also equipped with a six-speed auto with a drive-away price of $22,990. Each is covered by a three-year warranty, with Mazda offering unlimited kilometres and Suzuki capping them at 100,000km.
Both cars are similarly equipped.
The GT is generously equipped with a head-up display, cruise control, rear parking sensors, 7.0-inch touchscreen, digital radio, satellite navigation, LED headlights with LED daytime running lights, climate controlled air-conditioning, digital speedo, 16-inch alloy wheels, push button start and auto-folding door mirrors. Active safety in the Mazda 2 GT includes low-speed automatic emergency braking, rear-cross traffic alert and blind-spot monitoring.
The Suzuki Swift GXL Turbo brings a 7.0-inch touchscreen, infotainment with Apple CarPlay/Android Auto connectivity, 16-inch alloy wheels, LED headlights with LED daytime running lights, climate control air-conditioning, adaptive cruise control, push button start and paddle shifters. Active safety includes automatic emergency braking, lane departure warning and a weaving alert.
The Mazda's head-up display is a nice feature that makes driving easier, while the Suzuki doesn't even have a digital speedo. The Swift does win points for its infotainment system, though, largely down to its smartphone pairing that Mazda stubbornly refuses to install.
If prices were the same you'd lean to the Mazda, but the Swift's driveway pricing makes it a better all-round package in terms of value.
INTERIOR AND VERSATILITY – Winner: Mazda 2 GT
The Mazda 2 GT is attractively presented with two-tone leather upholstery and soft-touch materials along the dashboard and door trims. The seats are comfortable and there's enough room in the back to seat two adults comfortably, though headroom is a little tight for taller passengers. Smaller people will have trouble looking out because of the rising window line.
Storage is okay for a car this small – the glovebox is a fair size and there are two cup holders between the front seats and a couple of small tubs in which to put things such as phones and keys. The back seats benefit from a pocket behind the passenger's seat, though there are no door bins.
The Mazda's boot space is 250 litres, which is a little below average for a light hatch. The back seats fold down in a 60:40 split to carry bigger loads.
The Suzuki has a spacious interior thanks to the upright windscreen. It's well put together but harder plastic surfaces are more evident. Cabin storage is similar to the Mazda's, while the back seats offer class-leading legroom with taller passengers less likely to bump their heads.
The 240-litre boot space is even less than the Mazda's, though the rear seats also fold down 60:40 to carry more cargo.
Again there's not much separating the two cars, and while the Suzuki has a little more interior space, the Mazda's bright and classy trim gives it a certain wow factor. 
ON THE ROAD – Winner: Suzuki Swift GLX Turbo
This is where the Mazda2 shows its age. Despite improvements to noise levels via a recent upgrade, there's still quite a bit of road and wind noise at higher speeds. And while it's an excellent little city car, the comfort levels do start slipping on longer drives.
The hard-working 81kW/141kW 1.5-litre engine is a great unit with the manual gearbox and does well with the six-speed auto, though it is a little sluggish from a standing start in normal drive mode. Sport mode sends revs to redline, although sometimes you need to double tap on the accelerator for it to gear down again. The normal drive mode does a much better job of holding engine torque once you get going.
The ride quality is good and it handles well in all but the tightest of corners thanks to Mazda's G-Vectoring Control, which manipulates the engine when you turn the steering wheel – transferring weight to the front tyres in a way that is said to improve feel and response from the steering. 
The Swift's ride is not quite as refined as the Mazda's. Lateral movement is more pronounced and it's more prone to bottom out over bumps, especially with back-seat passengers in tow. Nevertheless, this is a car that makes you want to drive, with more engaging steering than the Mazda.
Despite being 30 percent smaller than the Mazda's engine and missing a cylinder, the Suzuki's 1.0-litre three-cylinder turbo is more powerful, pushing out 82kW and 160Nm, with the extra torque providing more than enough shove for the spunky little hatch to eat up hills. 
The only downside is the so-called manual mode, which should make driving even more fun via the paddle shifters. However it limits revs to around 5000rpm, well before redline, which makes you wonder why they bothered.  That said, the automatic gearbox does its job nicely so you're never wanting for torque.
VERDICT – Winner: Suzuki Swift GLX Turbo
If we compared any of the lower-spec variants of these two models it's likely the Mazda2 would come out on top. But the GT badge and the similar price to the well-equipped and fleet-footed Swift GLX Turbo meant driveability was always going to be big factor.
Both cars represent excellent value, and the while the Mazda is nicely presented its ageing powertrain and underpinnings are shown up against the Swift's fresher and tauter platform designed with driving dynamics in mind.
While the Swift's interior isn't as classy as the Mazda's, it's still a nice place to be and the upright windscreen has an original Mini Cooper feel about it that's matched by its playful exterior design.