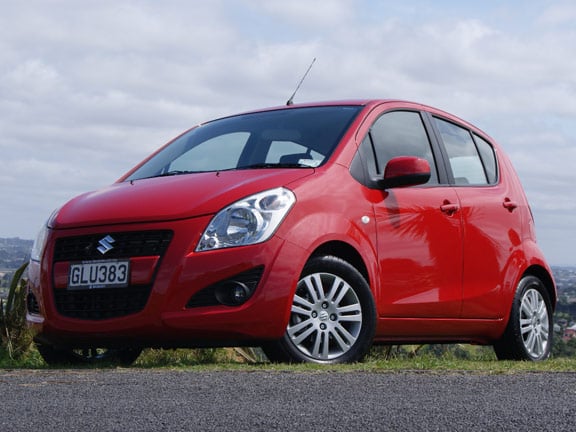 The Splash, as you may know, is a hatchback that fits into a space that nobody really imagined could exist: in between the best-selling but quite small Swift supermini and the minuscule Alto city car.
What's new? Splash has been facelifted with a new front bumper, grille and bonnet, there's new trim inside (new cloth, black inserts replace silver) and the 69kW/118Nm 1.2-litre engine has been tweaked to give better fuel economy: 5.7 litres per 100km for the four-speed automatic model on test.
The Splash starts at $18,500 and it's that entry-level model that gets the most benefit from the model-upgrade because it has finally gained electronic stability control. The top Limited model has always had it, but also gains 15-inch alloy wheels, body-colour doorhandles, keyless entry and pushbutton start over the base car.
Cars like this are commonplace in Europe but do still seem like a bit of an oddity in New Zealand: we don't really have the congestion and parking restrictions to warrant such compromise in styling and dynamics for the sake of a small footprint.
Compromise there certainly is. The powertrain is perky but requires tough love to keep up with fast-moving city traffic. The Splash is fine on the motorway and it certainly doesn't shy away from open-road driving, but you have to accept that when you stray away from city streets and/or the suburbs you taking the car to the limit of its abilities. As you would be with any similar-size machine.
Which is perhaps the reason why there really aren't that many similar-size rivals on sale in New Zealand. The Splash is a better car than the Holden Barina Spark (and you can't have an automatic one of those either), but the Korean-sourced Holden is a lot cheaper. It lines up nicely against the Kia Picanto, but falls short on sophistication compared with the Kia.
More to the point, the Splash veers too close to established superminis like Swift, Ford Fiesta and Toyota Yaris to really make sense.
Contrary to how it might seem, I do think I 'get' the Splash. It's a car aimed at older buyers who appreciate the massive glass areas (although rearward visibility is severely compromised by the thick C-pillars) and what Suzuki calls a "walk-in" cabin – meaning that you don't really have to bend over to get into the thing because it's 80mm taller than a Swift and the seats are mounted high.
However, I really do think you'd have to be very old indeed to buy the Splash because the Swift remains a brilliant little car in most respects and you're giving up a lot to move from that to a Splash.