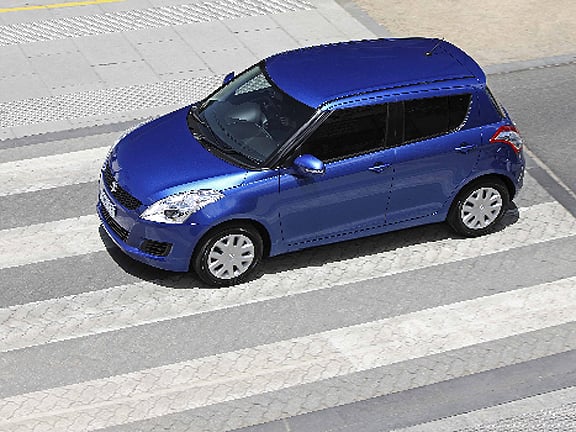 Not least Suzuki New Zealand, which suddenly had a winner on its hands after years of being a niche player. It's been a consistent top-five performer in the local charts – on occasion number one overall.
What was the secret? Well, small cars have been on the rise for the last few years, but there's more to it than that. Style surely plays a part – the Swift might have ripped off every significant design cue from the Mini, but it looked great all the same. Driving dynamics helped – it was fun. Well-built for a supermini, too.
All of that contributes to the real secret of the Swift's success. It had something so often missing in budget small cars: character. It was a supermini that not only did a job, it did everything with brio. So it must have been a great relief for the New Zealand distributor to find that the all-new third-generation swift, launched in 2010, was simply a reboot of exactly the same styling/engineering formula. Seems to be working: Swift was the number-two selling passenger car in New Zealand overall for 2011.
It's particularly entertaining in manual-transmission form: our five-speed Limited test car is not exactly a Swift Sport (although there is a new one of those being launched this month), but the slick-shifting transmission gets the best out of what is a fairly modest 1.4-litre powerplant. That engine is actually a little less powerful than the previous model but not so as you'd notice – and economy is now truly impressive, with a Combined figure of 5.5 litres per 100km.
The automatic – the one that most buy – is not as frugal (6.2 litres) and is also one of the very few disappointing aspects of the new model, as it's still a four-speed unit. Many rivals now have five or six-speed automatic transmissions.
The electric power steering has a progressive feel, there's plenty of grip and the extra 25 percent roll stiffness has added more cornering ability.
Don't come shopping for a Swift if you're after passenger and load-carrying capability for four-plus passengers – it's still one of the smallest cars in its class and the boot is tiny at 210 litres. But it's a great city car that doesn't shy away from occasional open-road work – or even a few demanding corners. Try it, you'll like it. Lots of other people do, apparently..
At $23,500, our top-specification Limited is excellent value: it comes with the crucial safety kit like stability control and the airbag package even includes one for the driver's knee. Sadly, no Bluetooth cellphone connectivity or climate control for the air conditioning, though. Both are standard on the dressed-up RS version, which sells for $24,990 and boasts other comfort and convenience features such as telescopic adjustment for the steering wheel (the Limited is tilt-only).
The Swift is a hugely likeable little car whose appeal belies the budget price. The RS is billed as a limited-edition but it's really what the flagship Limited should be: that extra $1500 is money well spent.