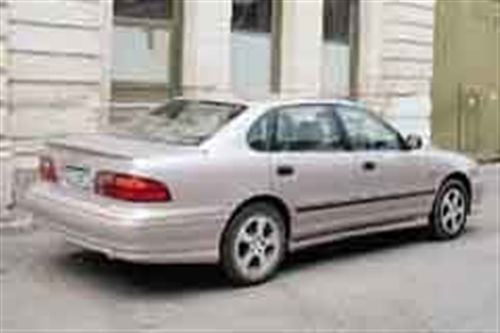 Forget about it cruising down leafy roads, its body so wide it knocks the mirrors off rivals.
Think instead of a well-designed, efficient car that offers good performance, plenty of space, a very useable boot, refined cruising and good road manners.
Stack against that early 1990s, ultra-conservative, rather dull if clean-lined styling, and a lack of charisma.
Not that charisma is something that's essential in a family or business car where the emphasis is on ease of use, reliability and practicality.
The Avalon has those qualities in abundance as we discovered during a 1500 kilometre, week-long sojourn with one in the South Island.
The test car was the rat her inapproprisately-named Conquest, the well-priced ($41,800) base model of the range.
Inappropriately-named? If it were really in there conquering the hearts of Falcon and Commodore owners and turning them into conequest-sale Avalon afficiandoes (conquest is the motor industry buzzword for a sale you make at another manufacturer's expense), then maybe the name would be appropriate.
We rather tend to think it's more of a car in search of a market niche than it is a conquistador.
Which is not to say it isn't a good car in its own right.
Because despite its rather outdated styling – the bodyshell used for NZ and Australian Avalons is the one from the previous US-market model of the mid-1990s and it looks its age when put against the Holden and Ford – the Avalon is a very good car. It has a pleasing array of standard features and a good collection of real-world motoring abilities.
The Avalon is a big car, there's no question about that. It's almost as long as and nearly as roomy as the Falcon and taller though narrower.
So aside from a little less elbow room and rear seat headroom than the big Ford, the Avalon provides almost as spacious a cabin.
There's plenty of legroom for driver and front seat passenger, and rear seat legroom is generous.
The boot will hold 523 litres of cargo and swallowed a huge amount of luggage and gear during our South Island trip. Though shallow, the boot is well-dimensioned and everything remained stowed in it easily accessible.
The Avalon weighs in at 1535kg. Its Camry-based 3.0-litre V6 produces 145kW at 5200rpm, and peak torque of 284Nm at 4400rpm.
It's a quiet and refined engine and produces effortless performance in all but the hilliest of country. When the going gets steeper you need to flick the transmission to Overdrive:off.
The motor is smooth, quiet and seldom obtrusive. When you ask it to lift its work rate it responds instantly and smoothly and with a nice – if muted – cammy sound.
The Conquest was in its element as a refined open road tourer. It loped along the relatively-busy mid-summer roads of Canterbury and Otago in fine style, with enough power on tap to pass campervans and other slower traffic with ease.
A generally well-sorted chassis meant it could also pack a good number of kilometres into an hour with minimum effort. It turned in excellent cross-country times without exceeding the speed limit (a testimony to its ability to maintain momentum with a well-matched blend of performance and good handling). And it was all done totally without fuss. It never once cornered with anything less than aplomb, despite my being caught out occasionally by the somewhat tricky-to-read undulating roads of Otago.
The standard sound system is a radio/cassette set-up which produces good quality sound.
I drove another Avalon – the top-of-the-range Grande – on more familiar roads close to home and in a couple of hours of hard driving found it to be surprisingly-agile with totally-unflappable roadholding and extremely forgiving handling.
The car may not have been intended for that kind of driving, but it acquitted itself extremely well, was even rewarding to drive, and produced no nasty surprises on roads that were true hot hatchback country. The only downsides were slight brake fade after a particularly twisty section of road, and a touch of sledging on tight corners taken hard.
To get the best out of the car on demanding roads you need to shift the four-speed automatic gearbox manually. It does it without complaint, though not as well as the Falcon's sweet-shifting auto.
Left in Drive in normal running, the gearbox is beautifully smooth and gearshifts are almost imperceptible on light throttle. Upshifts are marked only by a whisper-change in the engine note and a flickering of the rev counter needle.
The well-weighted power steering offers good feel and firms up nicely at open road speeds.
Turn-in to corners is crisp and direct.
Ride comfort is excellent.
The 205/65 R15 Bridgestones provided excellent grip and complemented the accomplished chassis.
In long sweeping corners, the chassis balance is excellent and the car is very satisfying to drive.
One of the Avalon's major faults is its poor turning circle. Even on reasonably wide surburban streets it needed to make three-point turns.
The parking brake is foot-operated (both engaging and releasing) and was very strong.
The velour-upholstered seats are comfortable for long journeys and provide good shoulder support.
The Conquest's interior is understated – the dashboard looks much better than the woodgrain-festooned one in the Grande – and the grille is body-coloured rather than chrome-accented. There are plenty of storage spaces.
The Avalon's cabin is comfortable and quiet: only the harshest chip surfaces produce much in the way of tyre roar – and wind and mechanical noise are muted. The car gets slightly upset by crosswinds.
Like most Toyotas', the Conquest's controls are user-friendly and the car is full of thoughtful touches. Driving it and using its features you get the feeling the designers have really thought about its end-users.
Without doubt the Avalon Conquest is a good car, let down by ageing styling and a bland look that belies the very good car underneath.
I don't see it as a Falcon or Commodore rival in any true sense.
But it's an honest, refined, reasonably-rapid big front-wheel sedan with accomplished road manners.
It hasn't achieved the sort of sales targets Toyota was initially predicting, and you could probably negotiate a good deal if you wanted to buy one new.
Or you could wait till they filter on to the used car market. As a colleague puts it, Avalons might turn out to be the best used car bargains among big cars.
AutoPoint Road Test Team.