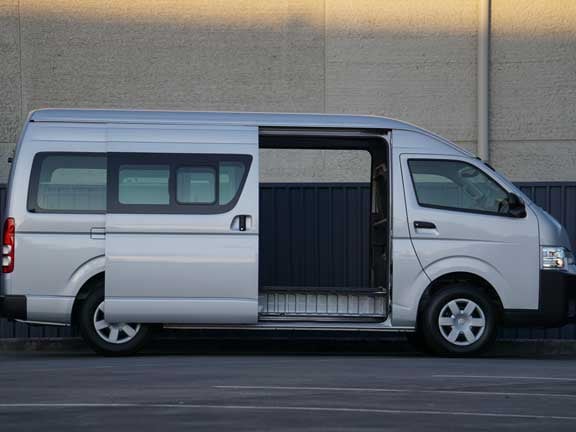 Base price: $58,330.
Powertrain and performance: 3.0-litre turbo diesel four, 100kW/200Nm, 4-speed automatic, rear-drive, Combined economy 9.2 litres per 100km.
Vital statistics: 5380mm long, 2285mm high, 3110mm wheelbase, load space 3470x1730x1635mm, fuel tank 70 litres, 15-inch alloy wheels on 195/80 tyres.
How it rates: 6/10
WHAT DO I NEED TO KNOW?
Owners and/or operators of light commercials may scoff, but here's something we didn't realise about the Toyota Hiace until we came to road-test the latest facelifted model: there are actually two completely separate versions.
The ZL is the standard van and comes with petrol or diesel engines, in panel, half-panel or full-glass body body styles.
The ZX tested here might look exactly the same, but that's because everything has been scaled up in perfect proportion: it's actually longer, wider and taller than ZL, with 540mm more floor length and 300mm more load space than its smaller sibling.
Our test ZX was the full-glass van, but you can also have the same shape as a minibus.
WHAT'S IT LIKE TO DRIVE? The Hiace is by far the best-selling van in New Zealand and often one of the best-selling vehicles overall.
It's safe to say that's by virtue of its heritage (over 40 years) and the marketing/pricing power of Toyota New Zealand than any great claim to class-leadership in drivability or fuel economy.
The Hiace simply chugs along and gets on with business. Ask any courier.
The 3.0-litre turbo diesel is strong, with peak torque delivered at just 1200rpm. It's also lazy and quite loud, with a great deal of vibration intruding into the cabin. It's almost as if you're sitting right on top of the engine – which you pretty much are, as the cab-forward body puts the front seats right over the motor.
The most significant change to Hiace for 2015 is the addition of electronic stability control, which is now required by law. It's a worthwhile addition to a vehicle that's designed to carry a lot weight and can be a bit wayward when empty. It's rear-drive and in the wet, the crude rear suspension can bounce and wriggle over bumps.
There's one great advantage in the Hiace being shaped like the boxes it's designed to carry: visibility is excellent all around the vehicle and you even get a tiny reversing camera in the rearvision mirror to assist with parking. Not a bad idea when the tailgate is so very far away.
IS IT EASY TO LIVE WITH? The most salient point about the Hiace ZL is that it's massive. The sliding doors (fitted to both sides) and tailgate open wide and the loading lip is extremely low. It's tall, too: over 1.6 metres from floor to roof in the cargo bay.
Given that the ZL body shape is bespoke, it's curious that it retains the conventional tailgate of the smaller ZL model. It's a massive door to open and having it top-hinged means that it swing s long way out and is quite heavy to lower again. A barn door-style arrangement would seem to make more sense on a van of this size.
Fit and finish in the cabin is excellent, with clear instrumentation and large remote controls for the audio system. The stereo unit itself is a Toyota-standard model with Bluetooth connectivity and a USB output for a media device.
Where the Hiace cabin falls down in comparison with many European vans is the attention to detail. Where they tend to be packed with surprise-and-delight features like spring-loaded clips for paperwork and a multitude of storage spaces, the Toyota seems rather basic. There's a large centre-console unit with a lidded bin and some smaller trays, but it's all made of such hard plastic that anything you put on there (mobile phones, for example) slide around and crash into each other.
It's not that easy hauling yourself up into the cabin, either. Where many vans have a low step in the door opening to assist ingress, the Hiace's is high enough to require a bit of a leap in itself.
SHOULD I BUY ONE? Like the Hilux ute, there's such an everyman culture and heritage surrounding the Hiace that it's hard not to like it. It sells in such numbers that it's also safe to say the transactional price for fleet buyers makes it almost irresistible.
Viewed as a light commercial van in its own right, Hiace is crude compared with rivals from the likes of Fiat, Mercedes-Benz or Volkswagen. But it just keeps boxing on at the top of the charts and you have to admire that.
EQUIPMENT CHECKLIST
Blind spot warning: No
Lane guidance: No
Cruise control: Yes
Automatic lights/wipers: No
Parking radar: Rear camera
Self-parking technology: No
Head-up display: No
Satellite navigation: No
Keyless entry/start: No
Stop-start: No
Air conditioning: Manual
Heated/ventilated seats: No
Power seat adjustment/memory: No
Leather upholstery: No
Power boot or tailgate: No
Browse Autotrader's range of Toyota Hiace vans for sale.