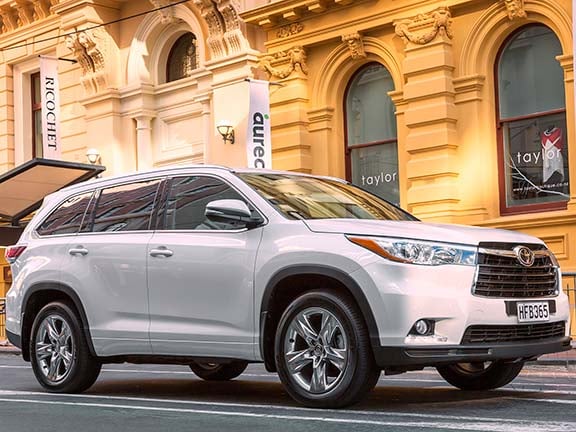 Base price: $80,990.
Powertrain and performance: 3.5-litre petrol V6, 201kW/337Nm, 6-speed automatic, four-wheel drive, Combined economy 10.6 litres per 100km, 0-100km/h 8.7 seconds.
Vital statistics: 4863mm long, 1730mm high, 2790mm wheelbase, luggage capacity 813-1172 (with third row seats up 192) litres, 19-inch alloy wheels on 245/55 tyres.
We like: Outstanding refinement, good active safety gear, practical cabin features.
We don't like: Thirst, corner-averse chassis, hard to reach some switchgear from driver's seat.
How it rates: 8/10
WHAT DO I NEED TO KNOW? If you think large seven-seat sport utility vehicles (SUVs) with equally large petrol engines are an endangered species, think again. Toyota's Highlander remains a force to be reckoned with, mostly because it's such a popular machine in the business and rental markets: seventh most popular rental car overall year-to-date, for example, and there will no doubt be another big surge as we head into winter and ski season.
So in some respects, it's business as usual for Highlander. But with the latest model, Toyota New Zealand is also taking aim at high-end private buyers with a new version called Limited ZR. At $80,990 it's a premium price, but it's loaded with equipment.
The most obvious rival is Hyundai's equally expensive Santa Fe Elite Limited, but the Highlander-with-everything is also pitched at people who might be considering an entry-level European SUV in that price range, such as the Volkswagen Touareg.
WHAT'S IT LIKE TO DRIVE? The Highlander comes exclusively with a 3.5-litre petrol V6 engine and six-speed automatic gearbox, carried over from the previous model.
You might think diesel is a no-brainer for a car like this (refer Hyundai above), but that's not the case where the big Toyota comes from: this model is designed for America and built there. It's a place where petrol is cheap and the Highlander is a compact SUV. Toyota corporate-speak defines it as "medium soft", meaning that it's not full-size and is designed more for on-road use than off, although this model does have four-wheel drive.
The V6 engine is deliciously quiet and smooth, the gearbox utterly unobtrusive. There's no question that the Limited ZR meets expectations for luxury-car levels of refinement. It's quick, too – at least in a straight line – and the four-wheel drive system gives it excellent traction in all weather.
What the Toyota won't do is match European levels of handling and roadholding. It's heavy, softly sprung and not really made with quick cornering in mind. Or perhaps even corners, given its country of origin.
Know what? That's fine. Highlander is what it is – and it is a large SUV that puts quiet cruising ability and comfort way ahead of anything else.
The Limited ZR is fitted with a number of active safety and driver-assistance features over and above the Limited: it has pre-crash safety technology, dynamic radar cruise control, full LED headlights and lane departure warning.
IS IT EASY TO LIVE WITH? It might be from America, but the Highlander picks up the Toyota Japan corporate interior styling philosophy. There's a heavily layered dashboard design, tight fit and finish and a generous eight-inch touch-screen infortainment system in the centre console.
Some of the American influence does show through in the cabin design detail, though, both good and bad. Good are the neat knook for your iPod, including a removable lug that allows you to thread the cord through to the USB port, and enormous storage bins such as the one between the front seats.
Bad? Well, the centre-console cupholders are slurpie-sized and therefore big enough to lose an average cup of coffee in. Meanwhile, the dashboard is just so massive that you can't reach the centre-console controls without leaning forward. Quite a bit.
Both the Highlander Limited and Limited ZR models have wood trim, power-operated seats with heating and ventilation, satellite navigation, rear DVD/Blu-Ray player and power tailgate.
Highlander remains a genuine seven-seater – even more so than the previous model, with substantial improvements in size and comfort to the second and third rows.
SHOULD I BUY ONE? Is Toyota New Zealand being too ambitious with an $80k Highlander?
You could argue yes, on the grounds that premium-brand models are not a lot more and carry higher perceived status. Or you could argue no, on the grounds that the Toyota brand carries a level of trust and lack of pretension that will appeal to many. The Limited ZR is certainly not short on styling presence, with its Chromatic Iridium-finished 19-inch wheels/roof rails, and the overall quality is excellent.
The fuel consumption has still got to hurt for a private buyer paying their own bills, when virtually every rival offers a diesel alternative. The only similar all-petrol effort is the Nissan Pathfinder, although that's now available as a hybrid.
Toyota does offer a hybrid Highlander in America, but with New Zealand and Australia now the only right-hand drive markets for the car, the cost of conversion is deemed too high. At least for now.
EQUIPMENT CHECKLIST
Blind spot warning: Yes
Lane guidance: Yes
Cruise control: Adaptive
Automatic lights/wipers: Yes/yes
Intelligent headlights: LED with automatic high beam
Parking radar: Yes with camera
Self-parking technology: No
Head-up display: No
Satellite navigation: Yes
Keyless entry/start: Yes/Yes
Stop-start: No
Air conditioning: Dual climate with separate rear system
Heated/ventilated seats: Yes/No
Power seat adjustment/memory: Yes/No
Leather upholstery: Yes
Power boot or tailgate: Yes
Split/folding rear seats: 60/40 (second row) and 50/50 (third row)
Browse Autotrader's range of Toyota Highlanders for sale.