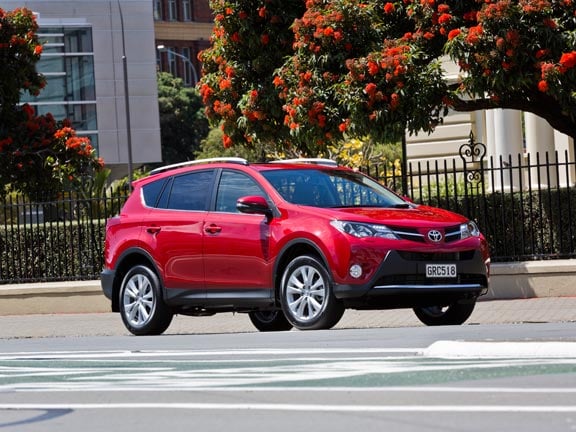 Base price: $62,790
Powertrain and performance: 2.2-litre turbo-diesel four, 110kW/340Nm, 6-speed automatic, four-wheel drive, Combined economy 6.5 litres per 100km, 0-100km/h 10.0 seconds.
Vital statistics: 4570mm long, 1705mm high, kerb weight 1660kg, luggage capacity 506 litres, fuel tank 60 litres, 18-inch wheels on 235/55 tyres.
We like: Interesting interpretation of Toyota corporate styling, strong powertrain, practicality.
We don't like: Engine noise, road noise, mysterious sloshing noise.
How it rates: 7/10
WHAT DO I NEED TO KNOW?
Know this: there is such a thing as a $60k-plus Toyota RAV4.
The original RAV4 played a huge part in popularising the 'crossover' concept when it was launched back in 1994: it looked like an off-roader but was built around road car underpinnings. That's very much the norm for four-wheel drives now; easy to forget it was a radical idea back then.
The RAV4 has certainly grown a lot since then, both in size and status. So it might surprise you to learn that the flagship version of the latest generation, in the most luxurious Limited specification and with a 2.2-litre turbo diesel engine, costs well over $60,000. Is the price justified?
WHAT'S IT LIKE TO DRIVE?
The 2.2-litre turbo diesel four is essentially the same engine that was offered in the previous-generation RAV4 (a European-specification short-wheelbase model, if you recall). But there has been a significant addition to the powertrain with the new car: a six-speed automatic gearbox is now standard, whereas the old car was only available with a manual gearbox – which just about made it sale-proof in the New Zealand market.
Many modern diesel engines are so refined, you'd hardly know there was compression-ignition at work. This isn't one of them. This Toyota diesel clatters at low speed and pushes quite a bit of vibration into the cabin under load. If you're downsizing from a Land Cruiser Prado it might not be an issue; if you're used to some of the more refined RAV4 competitor vehicles, it might bother you quite a bit.
But it is a gutsy engine and the six-speed automatic is smooth. You can even select a sport mode that changes the calibration of the powertrain and apportions more torque to the rear of the car. Throttle-blips during downchanges, as well.
Such things should not surprise in a RAV4. The little Toyota might not have the sportiest image around these days, but it's always been quite driver-focused. The original three-door was intended to be an alternative to hot-hatches of the time – if not in sheer performance and handling, then certainly in character and entertainment value.
You wouldn't go so far as to call the new RAV4 a driver's delight, but it is pleasingly precise in terms of steering and chassis behaviour. It's certainly a lot more entertaining than its modern-day rental/fleet image suggests.
The RAV4 Limited comes with a suite of driver-assistance safety features, including blind-spot warning and lane-departure warning.
IS IT EASY TO LIVE WITH?
Noise is an issue for the RAV4 diesel. Engine noise we've already covered. But it is affected by road noise on coarse-chip surfaces, which is made worse by what seems a lot of resonance around the RAV4's spacious cabin. To make matters worse, there was a mysterious sloshing sound that engulfed the cabin of our test car every time it went around a corner or over a bump – at least for the first few days on test. Fuel tank perhaps? Odd, slightly annoying.
The cabin styling is very much in line with Toyota's corporate style: from Corolla to this car is not a great leap. It's definitely not dull and that's a good thing, with a sweeping dashboard shape that runs across to the passenger's side and generally high standards of fit and finish.
There are plenty of hard plastics to be found but that's not unusual in a mainstream model these days. What is less acceptable is the strange lack of ergonomic sense in evidence, with some controls (like the Sport model button) buried under the top dashboard layer so that they can hardly be seen from the driver's seat.
The RAV4 has some fabulously practical touches. The rear seatbacks can be set at a variety of angles and there's a clever cargo net to hangs on two rails in the boot, which means you can simply throw small items (or even the grocery shopping) in there and nothing will roll around.
The awkward side-hinged tailgate has finally been dropped from the RAV4. In its place is a conventional top-hinged hatch, which comes complete with power-assistance in the Limited. Nice feature, although it requires some patience as it isn't exactly quick to raise or lower.
SHOULD I BUY ONE?
There's plenty to recommend the RAV4, but in Limited diesel form two things conspire against it compared with the competition (which is very strong in this segment): lack of refinement and a high price.
The two most accomplished cars in this class are the Mazda CX-5 and Ford Kuga. Both are quieter and more luxurious-feeling than the RAV4, and the flagship versions of both (Limited and Titanium respectively) are better equipped and at least $5700 cheaper than the Toyota.
On the RAV4's side, the Toyota brand and a kind of everyman appeal that comes with driving a RAV4. So should you buy one? Perhaps, but only at a transaction price that starts in a much lower bracket.
EQUIPMENT CHECKLIST
Air conditioning: Dual climate
Audio: CD, iPod compatible
Automatic lights/wipers: Yes/yes
Blind spot warning: Yes
Bluetooth: Yes
Cruise control: Yes
Driver footrest: Yes
Gas discharge headlights: Xenon
Head-up display: No
Heated/ventilated seats: Yes/No
Keyless entry/start: Yes/Yes
Lane guidance: Yes
Leather upholstery: PVC
Parking radar: Yes with camera
Power boot or tailgate: Yes
Power seat adjustment/memory: Yes/No
Remote audio controls: Yes
Satellite navigation: Yes
Seat height adjustment: Yes
Self-parking technology: No
Split/folding rear seats: 60/40
Steering reach adjustment: Yes
Stop-start: No
Trip computer: Yes
Find a Toyota Rav4 Diesel HERE