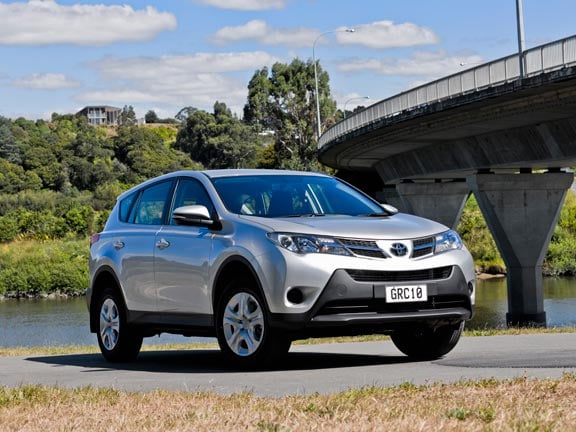 Base price: $39,990.
Powertrain and performance: 2.0-litre petrol four, 107kW/187Nm, continuously variable transmission, front-drive, Combined economy 7.4 litres per 100km, 0-100km/h 11.1 seconds.
Vital statistics: 4570mm long, 1750mm high, luggage capacity 60 litres, kerb weight 1500kg, fuel tank 60 litres, 17-inch alloy wheels on 225/65 tyres.
We like: Almost as cheap as a Corolla, space, open-road handling.
We don't like: Untidy dashboard design, CVT, plastic wheeltrims on base GX model.
How it rates: 7/10
WHAT DO I NEED TO KNOW?
A crossover doesn't necessarily have to be four-wheel drive. Toyota has joined the growing trend for offering off-road-style vehicles with a two-wheel drive option – which makes perfect sense, as "crossover" vehicles are primarily on-roaders anyway.
Not to mention the fact that Toyota was one of the pioneers of the genre back in 1994, with the original RAV4. In fact, it's always offered front-drive versions in Japan (many of which have made their way here as used imports). But now, we have an official New Zealand-new version.
The front-drive configuration is limited to the lower-end versions: GX and GXL specification.
WHAT'S IT LIKE TO DRIVE?
The front-drive RAV4 powertrain is essentially the same as that you'll find in a Corolla, albeit with a few extra kW/Nm: a 2.0-litre petrol engine and continuously variable transmission (other RAV4s have conventional automatics).
The CVT is an acquired taste but also a very popular choice among Japanese carmakers: Toyota, Honda, Nissan and Subaru all make extensive use of this "gearless" transmission technology. While it's an efficient system, one major issue with CVT is the tendency to rev too long and hard under heavy throttle. The RAV4 gearbox has a protocol that addresses this problem by matching engine speed more closely to road speed than your typical CVT.
The Toyota transmission also has Eco, Sport and manual modes; the latter is useful for engine braking but there's still enough slippage to be reminded that it's not really manual at all.
The RAV4 has always had a relatively firm chassis and this one is no exception. It could do with a bit more compliance around town – especially when you consider the mainstream/fleet application of this entry-level model – but no complaints about how it handles on the open road.
Four-wheel drive would be useful in winter weather or on gravel roads, but the gap between this and all-paw RAV4 models is not as great as you might expect. The front-drive RAV4 has an excellent stability control system and even a bespoke traction control setup that mimics the effect of a limited-slip differential.
IS IT EASY TO LIVE WITH?
A high seating position and lots of cabin space will be the main drawcards for this front-drive RAV4 over a conventional hatchback or wagon. The interior styling is very Corolla-like – stylish, if a little bit ergonomically confused.
No complaints about practicality through, with a rear that's not only split 60/40 but can also be adjusted in a variety of backrest positions for passenger-comfort or to get a few extra centimetres of volume in the boot.
The RAV4's signature side-hinged tailgate is no more in this new model: good job too, for the conventional top-mounted hatchback is far more practical in tight parking situations.
Oddly, the front-drive RAV4 doesn't have a very good tow rating: just 800kg braked, compared with 1300kg for the smaller Corolla.
SHOULD I BUY ONE?
At $39,990 the entry-level RAV4 is a snip more than the Corolla GX and substantially under the cheapest four-wheel drive model (which is over $47). The CVT is certainly a step back from the fine six-speed automatic in other RAV4s, but all things considered this is a winning package in terms of metal for your money and sheer ease-of-use.
More so because you really can't tell which RAV4 is which from the outside. So the neighbours will never know…
EQUIPMENT CHECKLIST
Air conditioning: Manual
Audio: CD, iPod compatible
Automatic lights/wipers: No/no
Blind spot warning: No
Bluetooth: Yes
Cruise control: Yes
Driver footrest: Yes
Gas discharge headlights: No
Head-up display: No
Heated/ventilated seats: No/no
Keyless entry/start: No
Lane guidance: No
Leather upholstery: Yes
Parking radar: Yes
Power boot or tailgate: No
Power seat adjustment/memory: No
Rear ventilation outlets: Yes
Remote audio controls: Yes
Satellite navigation: No
Seat height adjustment: Yes
Self-parking technology: No
Split/folding rear seats: 60/40
Steering reach adjustment: Yes
Stop-start: No
Trip computer: Yes
Find a Toyota Rav4 GX HERE