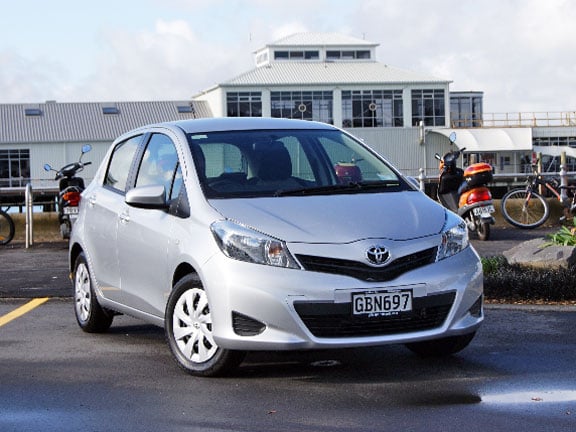 It's become quite grown-up, really: out goes the cutesy design detail inside and out, in favour of sharp edges and corporate styling. It's still compact, being less than four metres long, but lots of effort has gone into making it more people-friendly: the wheelbase is 50mm longer, the cabin is 60mm wider and new-design front seats have liberated extra legroom for rear-seat passengers. The boot's bigger, too: up 14 litres to a grand total of 286 litres.
What hasn't been completely rethought is the powertrain: the 1.3 and 1.5-litre engines are carried over in mildly modified form and the automatic transmission is still a four-speeder. Disappointing in what's otherwise a mature package.
So where's all the fun gone? It does exist, in the back-to-basics 63kW/121Nm 1.3-litre YR model with five-speed manual gearbox. With the three-pedal transmission (not available for the larger 1.5-litre powerplant), you don't just get more control over the car – you get a hint that some of the verve of that cheeky original (when it was called Echo) is still there.
That sense of fun does come in a vastly more refined and solid package. The Yaris platform is completely new and it really shows on the road: the whole car feels more solid, assured and comfortable in the way it rides and handles. It's no ball of fire (although 1.3 manual is way more frisky than the 1.5 auto), but it's not difficult to keep the momentum up when the chassis is so confident.
It might look a little basic on humble steel wheels, but the YR is not lacking in standard equipment. It has stability control, nine airbags (including protection for the driver's knee), a multi-information display, Bluetooth cellphone connectivity and steering wheel-mounted audio controls. Impressive.
The cabin has design flair, with an interesting variety of colours and textures, but the layout is utterly conventional: instruments in front of the driver, analogue dials and so on. Not like Yaris used to, although whether that's a good or bad thing is entirely a matter of personal taste.
The price is certainly right this time around. Toyota has responded to the increasingly good value to be found among the supermini competition and rethought its Yaris retail sticker-structure. Our YR manual five-door is $23,790, or $25,290 with the two-pedal transmission. If you must.