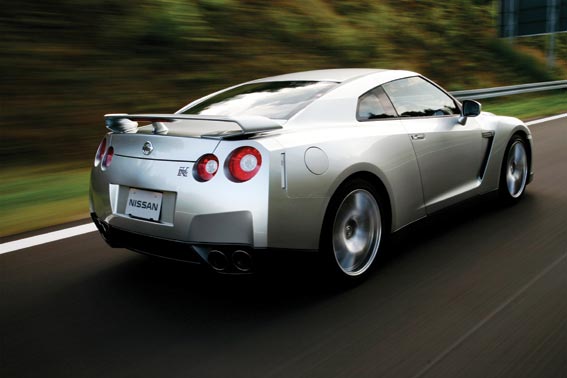 There was endless speculation about the engine, which various pundits declared was a V8 or a turbocharged V6.
Those who predicted the latter were right on the button. The GT-R, which replaces the Skyline GT-R as Nissan's performance flagship, runs an all-new 3.8-litre twin turbo V6 VR38 engine.
It has plasma-sprayed cylinder bores and a special twin-turbo exhaust manifold system. A secondary air management system enables the newly designed powerplant to provide strong torque during ordinary low-rev driving.
It gives an optimum air-fuel ratio for around-town efficiency and helps the GT-R meet ultra-low emission vehicle (U-LEV) standards in Japan.
The motor develops 353kW at 6400rpm and peak torque of 588Nm from 3200 to 5200rpm.
Putting the power to the ground is an all-new GR6-type dual clutch transmission, with paddle shifting and a Borg Warner six-plate dual clutch for direct control.
The GT-R has a newly-developed Premium Midship package, including the world's first independent transaxle 4WD developed independently by Nissan.
The GT-R was the talk of the Tokyo Motor Show when it was revealed last week, and has dominated motoring news headlines in Japan and around the world.
"All they're talking about up there is 'GT-R, GT-R, GT-R'," a Nissan source said this week.
Nissan says it has created a "Human-Machine Interface (HMI)" for the GT-R, offering "advanced high performance for secure and enjoyable driving by minimising the effects of climatic, road condition or driving technique limitations."
Carbon fibre, aluminium and steel components are assembled with a special high-precision process, which includes a series of vibration tests.
Engines and transmissions are assembled by a single craftsman in a "clean room" environment.
The Premium Midship package uses what Nissan says is the world's first application of an independent transaxle 4WD system. The transaxle's layout places the dual-clutch transmission, transfer case and final drive at the rear of the vehicle (instead of the usual front location), which enables vehicle weight to be evenly distributed throughout the car.
Suspension duties are handled through a special Bilstein DampTronic 1 system, which gathers information and provides appropriate damping for all situations and helps maintain a high level of control for straight-line driving, cornering, and braking.
GT-R brakes use large Brembo full-floating drilled rotors, low steel-high stiffness brake pads and Brembo monoblock six-piston front and four-piston rear calipers, which in combination minimise fade and provide stable braking.
The car has run-flat tyres.
The coefficient of drag is 0.27, with high front and rear downforce, which provides the GT-R with enhanced grip in all weathers.
Aero blades on the front fenders' leading edges provide optimum airflow around the tyres and along the body. The scoop in the fenders' trailing edges helps provide front downforce to optimise side airflow.
The GT-R's instrument panel surrounds the driver, with all meters and multi-function meter at a uniform height to minimise the driver's head movement when travelling at high speeds.
A special "set-up switch" in the centre of the instrument panel enables the driver to adjust transmission shifts, shock absorbers and the Vehicle Dynamic Control (VDC-R) in three settings – Normal, Comfort or R, the high-performance setting designed for the Nissan GT-R's supercar application.
The BOSE sound system includes two forward-facing woofers in the rear centre armrest area combined with traditional door speakers. All speakers are mounted in rigid aluminium die cast panels.